Here's how to actually enjoy a solo night out
Does the thought of a night out alone fill you with fear? You're not alone.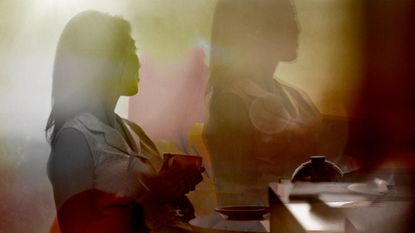 (Image credit: Getty Images / Michael Blann)
TikTok has fast become our go-to for a multitude of sins: from TikTok beauty hacks to this clever TikTok sleep hack and even that Brigderton challenge. But we didn't expect it to play a role in the dating realm.
A viral TikTok video showed one woman going on a solo night date—solo dating, if you will—but failing miserably. So we consulted, Francesca Specter, author of Alonement, to look at practical ways to enjoy some alone time.
---
---
If you're the kind of person who dreads sitting at a bar alone, even if it's just waiting for a date to arrive or a friend to return from the washroom, then the idea of a solo night out might sound akin to torture. Yet that's exactly what TikToker Angelica Peck @angelicaexplainsitall set out to do—chronicling a multi-stop nightlife experience by herself to her followers: she got dressed up in a seriously fierce black outfit, did her hair and makeup, and went to a couple of bars in Philadelphia, where she lives. And despite her best intentions, the night out for one ended in tears. "It was embarrassing," Angelica told her followers. "It was crowded and there was nowhere to sit. That was really hard."
The Solo Night Out videos struck a chord with me. I wrote my book Alonement: How To Be Alone & Absolutely Own It after realizing—in 2018, in the wake of a break-up—that I didn't want my then-fear of time alone to define my life's parameters. I reasoned that, if I wanted to go for brunch alone, then I should—ditto, traveling to Berlin or going for a three-course meal. After three years (and interviews with countless experts, case studies, and inspiring people), I've mastered the art of what I call alonement—a word I coined to describe quality time alone.
Having said that, principles are all well and good, but the process of learning to spend time alone, as Angelica rightfully put it, is "really hard". It's a worthy journey, though. In the words of Glennon Doyle, we can do hard things—and in the case of a solo night out, we absolutely should. Once you learn to value alonement, you never forget it—in fact,t it's one of the most empowering practical skills you can have: being able to enjoy things alone, not just with other people. That's why I'd like to offer some advice to Angelica, and anyone else in the same position, on how to enjoy a solo night out alone.
Accept discomfort
Here's the thing: going out alone will most likely be uncomfortable the first time, and that's because you're not used to doing it. There's no getting around that there's a certain amount of exposure therapy (i.e. exposing yourself to situations or activities you're uncomfortable with) in alonement. But, like that presentation at work, it will get easier. "If you're feeling overwhelmed, foster self-compassion: hold your head high and take some breaths," advises clinical psychologist, Dr. Marianne Trent.
Schedule in your solo date
A plan with yourself is a valid plan—so make sure you schedule it in, rather than treat it as a back-up plan. 'If you want the benefits of solitude, you have to make a solitude date with yourself and then keep that date, in spite of all the other demands people make of you,' Dr. Virginia Thomas, a developmental psychologist, tells me. Think about it: would you ditch a date night, or a long-awaited dinner with your friends, at the drop of a hat? No! Making (and keeping) a date with yourself reinforces a message that you, and your quality time alone, matters. Besides, it's always nice to look forward to something.
Be organized
In a video reflecting on her failed night out, Angelica says, "I need to be doing things that I would expect a date to do without me, like making reservations or having a back-up plan," she says. As the cliche goes, failure to prepare is preparation to fail—so show yourself the same consideration you would a friend or date, to help set you up for a successful solo night.
Set your intention
It might sound like a yoga cliche, but a sense of intention is key. As Angelica said, part of where she went wrong on her first Solo Night Out was 'thinking I was going to meet people but also thinking I was going to enjoy my own company.' Both are valid forms of alonement (there's no rule that a 'solo night out' has to be spent entirely alone), but they are 'two conflicting things'—as Angelica discovered—so it's no wonder that her night out felt like a flop.
Indulge your positive selfishness
We regard being "selfish" as a negative term—but it doesn't have to be. One of the most triumphant uses of alonement time is to do the things you'd love to do, but don't know anyone in your immediate circle who'd like to join: like going to a life drawing class if you've always fancied it, or going to see a comedian you love.
Pick the right venue
Once you've got your plan and your intention down, it's worth thinking about the most appropriate location. For instance, if you want to go on a night out, and you'd like to meet people, then an interactive salsa class or an ambient bar with stool seating is going to be better than a noisy location with individual, spaced-out tables. On the flip side, if you'd like a solo dinner out, and you'd like to enjoy your food and maybe dip into that novel you've been enjoying (I alternate between reading between courses, and people-watching)—you're probably better off somewhere with more space.
Dress for the occasion
There's a temptation to think what you wear won't matter as much, if there's no one specific to impress. But this is about you. Stepping out in your most flattering look might just give you the confidence necessary to elevate your solo night out, whether that's asking to be seated at a better table for dinner, or flirting with that hot bartender (see—this is valid whatever your intention for your night out).
Be mindful—and put your phone away
When you're feeling uncomfortable, it's easy to dip into your phone: to shut out the world while looking like you're "doing" something. Books or notepads are fine—these can serve as "props" which are there if you need them, without grabbing your full attention. But the all-consuming nature of your phone—effectively a distraction machine—stops you from being present in your surroundings; you might as well be scrolling at home alone. Trent advises being wary of all things you might use as "crutches" in social situations, like drinking too much (a cocktail or two is also fine!). Instead, try engaging mindfully with what you're doing: like savoring your food slowly or people watching. Set aside solo nights out as a gift, to be enjoyed in a distinct way to how you enjoy socializing (where you're more distracted from your setting). Besides, if your intention is about meeting people—or even just having a few moments of light conversation to mix up your solitude—having a phone in front of your face is like carrying a giant "Go Away" sign. The main thing, however, is that this is time for you – and you. And all of this advice is aimed towards you enjoying the joyful, empowering experience that is alonement. Good luck.
Francesca Specter is a freelance journalist and the author of Alonement: How to be alone and absolutely own it. Based in north London, she's previously worked for Yahoo Lifestyle, Express.co.uk and Healthy magazine, and has written for the Telegraph, Red and Huffington Post.