Is April from 'The Ultimatum' pregnant? Here's what you need to know
Are congratulations in order? April from 'The Ultimatum' seems to have baby fever, but is there a bun in the oven?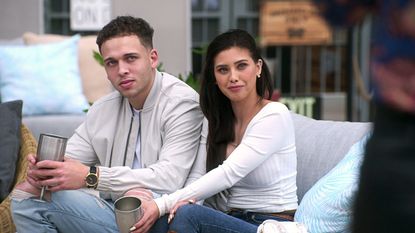 (Image credit: Netflix © 2022)
April from The Ultimatum certainly threw viewers—and her partner—for a curveball.
Upon signing up for Netflix's new nail-biting reality series, she and her boyfriend, Jake, were not on the same page, particularly when it came to children. (Lauren and Nathan, another couple from The Ultimatum cast, were facing similar issues.)
Despite discrepancies, April shocked viewers and peers alike when she decided to go on a booze ban. Does this mean that she and Jake are expecting? Are her assumptions accurate?
Now that The Ultimatum reunion has debuted, we'll get you updated on April's baby status. Oh, and things are a tad different for her in the relationship department as well. We knew this would series would deliver on the drama.
Is April from 'The Ultimatum' pregnant?
From the very beginning of the show, April talked about how much she wanted children. She also revealed that she and Jake never used protection, so she assumed this meant he was interested in a forever union and everything that comes along with it.
But the two decide to move forward with the experiment and pair up with new partners. After the couples reunite in episode six with their original significant others, Jake and April were still on rocky ground, and Jake had lingering feelings for Rae. Let's not forget about the incident where April checked Jake's phone when he was passed out and airdropped herself videos Jake filmed of Rae twerking on him. Oof.
However, it's during Alexis' bachelorette party that the plot truly thickens. April asks if she can have something non-alcoholic as she has an ultrasound because she's 12 days late.
The show loved to make us wait, naturally, so we didn't get the intel until episode eight, right before Jake had to make a decision about a proposal. After all the worry, April was not pregnant.
In April's defense, "Why is my period late?" is a fairly common question, and as it turns out, she was 12 days behind due to the stress of the show and her rocky relationship.
Kirsten Karchmer, founder of menstrual wellness company Brazen and TikTok period expert says: "stress is the most underrated" reason for missed cycles. Guess this whacky experiment is proof!
Do April and Jake get engaged at the end of 'The Ultimatum?
Where The Ultimatum couples stand is varied: some are looking forward to a happily ever after, but others are not on solid ground. So what does this mean for April and Jake?
During the reunion, we learn that the two had a clean break. Now, however, April is in a relationship with an older man who wants to move forward with marriage. Though little is known about her new beau, it seems as though it might be a more appropriate union.
We certainly went through some ups and downs alongside the brave contestants who decided to air out their dirty laundry on TV—no easy feat. As entertaining as the drama might be, here's hoping that everyone finds their appropriate match...and never has to issue an ultimatum again.
If you're not ready to part ways with the debut season, do check out other shows like The Ultimatum to add to your watch queue.
Liv is a freelance journalist currently studying English at university. She loves covering everything from entertainment and politics to lifestyle and travel. As well as writing for My Imperfect Life, Liv has bylines in The Times, HuffPost, Den of Geek, Bustle The Metro and The Bookseller.