Your ultimate guide to 'The Ultimatum: Marry or Move On' cast
Excited about the new Netflix dating show? Us too! Let us get acquainted with the contestants...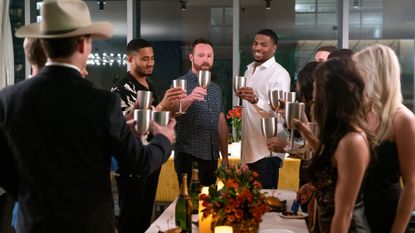 (Image credit: Jody Domingue/Netflix © 202)
If you love a good Netflix reality show, you'll be obsessed with The Ultimatum: Marry or Move On. The new social experiment à la Love is Blind has drama, love and... did we mention the drama?!
The show sees couples who are at a crossroads in their relationship—one ready to tie the know, one ready to run for the hills—work through the ultimatum they've been issued by the most commitment-friendly half of the couple. So who will stay together and who will break?
Might as well familiarize yourself with the original couples now—these pairings might not make it until the end of the series... So without further ado, let's meet the cast!
Quick guide to 'The Ultimatum' contestants
Shanique and Randall have been dating for a year-and-a-half, and Shanique issues the ultimatum
Alexis and Hunter have been dating for two years, and Alexis issues the ultimatum
April and Jake have been dating for two years, and April issues the ultimatum
Lauren and Nathan have been dating for two-and-a-half years, and Nate issues the ultimatum
Rae and Zae have been dating for two-and-a-half years, and Rae issues the ultimatum
Madlyn and Colby have been dating for one-and-a-half years, and Colby issues the ultimatum
---
---
Meet The Ultimatum contestants
Alexis Maloney
Alexis knows exactly what she wants and that is for her boyfriend Hunter to propose to her. She also knows when she wants it which is now because, in Alexis' words, "Tying the knot is hot". And that's why she issued the ultimatum to her boyfriend Hunter.
Alexis' favorite sport is accessorizing and from her Instagram pics, it's something she does it well. Her last picture with Hunter was in July 2021, so it's not clear if the two are still together after the show.
Hunter Parr
Age: 28
Partner: Alexis Maloney
Instagram: @papa_parr
Hunter's Instagram is filled with pictures of his hobbies, from motorcycling and boxing to wine tasting and surfing. His last picture with Alexis on his Instagram is on November 11, 2019. Interesting...
Madlyn Ballatori
Madlyn is a Texas A&M University alum and was issued the ultimatum by her boyfriend Colby, who she's been with for a year and a half. From the trailer, we see their relationship being a bit of a rollercoaster, going from some loving moments to Madlyn screaming, "Fucking leave! Walk!" at Colby. While this doesn't bode well for their future, Madlyn's Instagram post (from February 28) does show the hint of a very engagement-looking ring on her ring finger—so we could be wrong!
Madlyn currently works as an IT project manager and is the owner of two beautiful Maltese dogs. Her Instagram also shows she loves a good night out with friends and trips away. To date, she does not have any pictures of Colby on her Instagram.
Colby Kissinger
With only 15 pictures on his Instagram profile, Colby has no pictures of him and Madlyn either. In fact, there are no posts to even reference he's on the show. However, his bio does read "Survivor of Reality TV @ultimatumnetflix", which suggests his experience on the show will be a journey to say the least and we can't wait to see it.
Shanique Imari
Texas-based but Jamaica-made, Shanique wants a ring from her boyfriend Randall and so has issued him with an ultimatum.
An alumnus of Texas Southern University, having graduated in 2018, Shanique is the proud owner of her own lingerie line SYN. Shanique makes her own money that pays for all the fabulous outfits she wears in her Instagram posts. She often embraces her island roots when she goes on holidays to Jamaica as well as some other beautiful locations. However, if you're looking for a picture of Randall, you're not going to find it. The only men decorating her Instagram are her brother and her dad.
Randall Griffin
Age: 26
Partner: Shanique (Nikki) Imari
Instagram: @rl_griffin
Randall, a Florida A&M University alumni, has been dealt the ultimatum by his girlfriend Shanique and it's not that he doesn't want to propose—it's more that he wants to be more financially stable so that he and Shanique can live a great life together. Do we believe him? If only all guys were that considerate... Randall also has no pictures of Shanique on his Instagram.
April Marie
April has shared some stunning shots of herself with her 55K followers but none of her and boyfriend of two years, Jake. April issued the ultimatum to her boyfriend Jake and the trailer shows April saying "I love you to death, but I just cannot wait any longer." Her Instagram also shows her running on a beach with the caption reading "It's either effort or EXCUSES."
Jake Cunningham
With only 12 posts on his Instagram, we don't know a lot about Jake except that he used to be in the military. There's no hint of April to be found but that doesn't mean they aren't still together—it just means we'll have to wait and see.
Lauren Pounds
Lauren has been issued the ultimatum by her boyfriend Nathan. Lauren is the founder of Shake Shake Pour, which is an Instagram page that showcases Lauren's cocktail recipes (that we may or may not be making to drink alongside the show). Lauren has a bunch of pictures of her with friends but none with Nathan—nor is there the hint of an engagement ring on her finger in any of her recent Instagram pictures.
Nathan Ruggles
Nathan issued the ultimatum to his girlfriend Lauren. From his Instagram, we know he works in real estate development, has a dog called Charlie and loves spending time outdoors with his friends.
He has a picture of him and Lauren on a boat on his Instagram from June 8, 2020, which definitely gives us hope for the couple.
Rae Williams
Rae, an HBCU alumnus, has issued an ultimatum to her boyfriend Zay. She wants marriage and then kids. With no pictures of Zay or any boyfriend on her Instagram profile, we could only spot stunning pictures of her out with friends and on vacation—and no, we're not complaining!
Zay Wilson
The winner of the least amount of social media posts goes to Zay. With only eight posts (what is he hiding?), there is nothing suggesting Zay is currently in a relationship. He does however have a bunch of pictures taken by well-known photographer Demarcus Adams and f that's all Zay is giving us right now, we'll take it.
Liv is a freelance journalist currently studying English at university. She loves covering everything from entertainment and politics to lifestyle and travel. As well as writing for My Imperfect Life, Liv has bylines in The Times, HuffPost, Den of Geek, Bustle The Metro and The Bookseller.