Is 'Spoiler Alert' streaming? Where to watch the sweet dramedy
If you've been after 'Spoiler Alert' streaming info, we've got the intel for you. But be warned: you'll want to grab some Kleenex!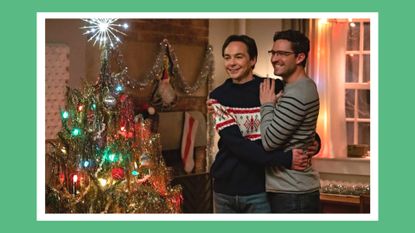 (Image credit: Focus Features)
'Tis the season for tearjerkers! And when you finally have that Spoiler Alert streaming session, you'll know what we're talking about: the new romantic dramedy had us reaching for the tissue box over and over again.
That's not to say there aren't laughs and swoons to be had in the Michael Showalter-directed flick—this is the guy who brought us The Big Sick, after all. The film is based on the 2017 memoir Spoiler Alert: The Hero Dies by Michael Ausiello and stars Jim Parsons (The Big Bang Theory) and Ben Aldridge (Fleabag) as Michael and Kit, a longtime gay couple dealing with a terminal cancer diagnosis.
Spoiler Alert joins fellow high-profile LGBTQ movies this year including Bros and Fire Island—and, given that it charts the couple's relationship through more than a decade's worth of Christmases together, it's both a Christmas movie and one of the best rom-coms of the year.
But is Spoiler Alert streaming yet? And if so, where can we watch it if we're after a good cry? Here's all of the info you need.
Is 'Spoiler Alert' streaming? Where to watch it:
Spoiler alert: the film is currently available to stream in the United States, but a Spoiler Alert streaming release date has sadly not yet been announced in the United Kingdom.
At the moment, Spoiler Alert is available to rent for $19.99 or buy for $24.99 via on-demand digital platforms including Amazon Prime Video, Apple TV, Google Play, Vudu and YouTube in the US. It is not yet available on a subscription-based streaming service.
However, since the film is being distributed by Focus Features, whose parent company is NBCUniversal, it's safe to assume that Spoiler Alert will eventually be hosted on Peacock's streaming platform—though we don't yet have an update on when that will be.
That means that you will need a Peacock subscription: currently, plans include the Premium subscription, an ad-supported option for $4.99 per month, or Premium Plus, a commercial-free experience that also allows you to download and watch content offline, priced at $9.99 a month.
Spoiler Alert had a limited theatrical release in cinemas on Friday, December 2, with a wider release set for a week later, Friday, December 9. In December 2021, NBCUniversal announced that a 45-day streaming window would go into effect in 2022 for titles from Universal Pictures, Focus Features, DreamWorks Animation Films and other studios in its catalog. Going off that, we should see Spoiler Alert streaming on Peacock around 45 days after its theatrical and PVOD release—a.k.a. sometime in mid-January 2023.
In the UK, it looks as though there are currently no Spoiler Alert streaming plans, with the film unavailable to watch anywhere in the region. But as soon as there is any update, we'll share the news!
Will 'Spoiler Alert' be on Netflix?
Likely, no. Since Spoiler Alert is being released by Focus Features and is therefore under the NBCUniversal umbrella, it will likely not be available on Netflix and instead will be eventually added to Peacock's streaming catalog.
This doesn't mean that a deal won't possibly be done in the future to make that Spoiler Alert Netflix dream a reality—but it's unlikely to happen any time in the near future. So if you're keen to watch the emotional movie, it'll pay to get yourself onto either one of the above subscription services!
What is 'Spoiler Alert' movie based on?
Spoiler Alert is based on the heartbreaking true story of entertainment journalist Michael Ausiello (whom Jim Parsons portrays in the film) and his partner of 13 years, photographer Kit Cowan (played by Aldridge), who tragically died in 2015 at the age of 42 from a rare form of neuroendocrine cancer.
Ausiello—who was a regular presence on the set of the movie—previously recounted the real-life story in his 2017 memoir, entitled Spoiler Alert: The Hero Dies, which chronicled his relationship with Kit, including their marriage in 2014.
As depicted in the film, the journalist IRL worked at TV Guide and Entertainment Weekly before founding his own television news site, TVLine, in 2011. Over the years, Ausiello has made several acting cameos on series including Gilmore Girls, Veronica Mars and Scrubs.
Watch the 'Spoiler Alert' trailer:
'Spoiler Alert' cast: who's who?
Along with Parsons and Aldridge as our main couple, the Spoiler Alert cast includes the always-iconic Sally Field, as well as a certain Queer Eye star:
Jim Parsons as Michael Ausiello
Ben Aldridge as Kit Cowan
Sally Field as Marilyn Cowan
Bill Irwin as Bob
Antoni Porowski as Sebastian
Nikki M. James as Nina
Jeffery Self as Nick
Tara Summers as Mrs. Ausiello
Want even more movies to watch at home? Here's streaming info for recent releases including Aftersun, Bones and All, Triangle of Sadness and My Policeman.
Christina Izzo is the Deputy Editor of My Imperfect Life.
More generally, she is a writer-editor covering food and drink, travel, lifestyle and culture in New York City. She was previously the Features Editor at Rachael Ray In Season and Reveal, as well as the Food & Drink Editor and chief restaurant critic at Time Out New York.
When she's not doing all that, she can probably be found eating cheese somewhere.