The Jennifer Lopez workout routine will get you as toned as a triple threat
The 'Shotgun Wedding' star is famous for her gym discipline. These Jennifer Lopez workout tips are just the fitness inspo we need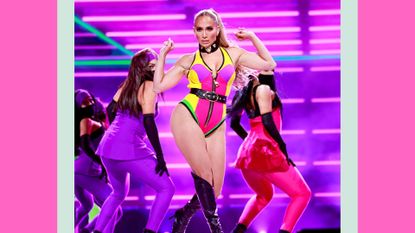 (Image credit: Emma McIntyre/Getty)
Need a little kick in the butt when it comes to fitness inspiration? Look no further than the Jennifer Lopez workout routine.
Just like her thriving triple-career as a singer, actress and businesswoman, the 53-year-old doesn't exercise half-heartedly—and getting to grips with how exactly she trains can provide you with plenty of motivation to get moving, too.
Indeed, the Shotgun Wedding star has devised such a perfect workout schedule for herself that even she admits that her toned body is looking better than it ever has. "I see pictures of myself in my twenties and go, 'Oh, I look better now!' Lopez told US Weekly. "I embrace who I am. I feel sexy, I feel youthful, I feel pretty sometimes." And she puts that down to taking care of herself more—including a dedicated fitness routine.
Just like the Selena Gomez workout routine, the way JLo trains is about more than aesthetics, focusing on her mental as well as physical health. Above all, feeling strong and energetic for the stage has helped her become increasingly body confident with age.
"Men in their 20s are very confident and cocky, and women are super insecure," she previously noted to W Magazine. "And then it flips: Men get super insecure, and women get comfortable in their own skin, in a way that makes them more beautiful."
With that in mind, here's how Jennifer Lopez works with what she's got and gets hustling in the gym...
The Jennifer Lopez workout tips that get results
1. Consistency is key
Lopez sure has a busy schedule (speaking of which, here's what we know about her net worth), but she always makes time for regular workouts each week.
She revealed to US Weekly that she trains "three to four" times per week for an hour at a time, focusing on a different body area, and finds mornings to be her best time to exercise. "I don't like doing it later; it's harder to get there when I have my day going already," she explained.
The performer's exercise routine began in earnest when she had her three-year Las Vegas residency from 2016 to 2018, requiring her to train in the morning and perform at night—and during which time she watched as her body got stronger and stronger. These days, if she's short on time, then her personal trainer David Kirsch has shared her speedier 32-minute routine with People, which requires gliders, a resistance band, dumbbells and a medicine ball.
2. Killer dedication
The star has also given us some insight into how she motivates herself to keep exercise frequent. "Very rarely will I skip my workout," Lopez told US Weekly. "Sometimes, I work too late the night before, and I'm like, 'Ugh, I can't do this.' But I tell myself, 'Just do it. It's only an hour.' It's just talking yourself off the ledge of being a lazy bum."
Kirsch noted to People that while his A-list client is certainly "genetically blessed", she's also "physically gifted with an incredible amount of physical energy, but also this beautiful amount of mental and emotional energy. She's very connected to her body, and she's got crazy discipline." We're sure that dressing in the best workout clothes helps, too!
Speaking to Vogue, Kirsch revealed that he incorporates plenty of variety in their training sessions in order to challenge her. "We mix some cardio, plyometrics, full body, core and lower body into her workouts—they are very, very intense and she takes it very seriously, which is exciting for someone like me," he explains. "You say, 'We're going to do this', and she's like, 'Great!'."
3. Lower-body moves
With a world-famous behind, it is unsurprising that Jennifer takes time to focus on toning up her lower body. Kirsch told Vogue that her sessions involve boxing and Pilates movements, as well as specific exercises like single-leg deadlifts and the "platypus walk." The latter, which is also known as a sumo walking squat, is "great for your inner thighs and butt," he adds.
Similarly, another of her trainers, Dodd Romero, shared with Us Weekly a typical "leg day" routine they might do together—and it's not for the fainthearted, involving resistance training and plenty of weights (or, perhaps, one of the best resistance bands). This includes five sets of the following:
Supported lunges with dumbbells into weighted rope crunches
Single dumbbell sumo squats into hanging leg raises
Weighted leg presses into calf raises
Seated leg extensions into weighted lying leg curls
Weighted hip thrusts into calf raises
4. Ab work
As well as her bottom, JLo is also revered for her core of steel. As previously mentioned, she'll focus on particular body areas each session. When it's "ab day," Dodd says she'll work her core to exhaustion.
As Jenny said, love don't cost a thing—and neither will these ab moves. The star does the following for three sets, without any breaks, for 50, then 35, then 21 reps:
Hanging ab raises
Rope crunches
Incline sit-ups with a 45-pound plate
5. Upper body exercises
With her core and lower body out of the way, Jenny From The Block doesn't neglect her upper half. According to Kirsch in Self, she does variations of "spiderman push-ups" to tone her arms—which involves bringing your knee to your elbow as you lower to the ground. She also likes to lift weights, as per her Instagram. (Speaking of which, here are the best dumbbells for women if you want to follow her lead).
What's more, JLo had to dramatically strengthen her upper body to become an authentic pole-dancing pro in the film, Hustlers. Speaking on Jimmy Kimmel, she said: "It's like acrobatic; it's [working] different muscle groups. The things [pole dancers] do with their legs and everything, and go upside down…it's hard. I have a lot of respect for people who do the pole."
6. Dance cardio
Talking of dance, it is—understandably—a central part of how JLo keeps her cardio up. "It's no secret that I love dancing, so it doesn't even feel like exercise to me," the star told People. "I freestyle dance with [personal trainer] Tracy Anderson five times a week. We'll incorporate light weights (3 lbs/ 1.4 kgs) for the arms and moves that focus on the butt and thighs and engage the core."
Lopez echoed this in an interview with Hello: "Dance has always been a huge part of my life and taking the time to move my body and do something that's so good for me is key to my happiness," she explained. "When my confidence is lagging, I dance. There's something about seeing what my body is capable of and feeling the endorphin rush that comes with a good dance session that really helps boost my confidence and my mood. I still consider myself a dancer at heart and I love it."
7. Recovery time
Lopez ensures her nutrition and rest time are both on point, which in turn allows her to give her all in the gym. "Jennifer is meticulous about her eating, sleeping and generally about everything in her life," Kirsh told Vogue. "It's not just a physical thing—it's about transforming every aspect of your life."
However, there's one area, in particular, that's key. "The common denominator is always sleep," the trainer added. "Resting and restoring is so important for your recovery and overall wellness." And the star herself told InStyle that "the number one tip is to always get enough sleep. I can't stress this enough. Ideally, I would love to get nine or 10 hours of sleep, but either way, I always make sure I get at least eight."
Lauren is a freelance writer and editor with more than six years of digital and magazine experience. Most recently, she has been the Acting Commissioning Editor of Women's Health—where she co-produced the Going For Goal podcast—and has previously also written news and features for titles including The Telegraph, Grazia, Stylist, Dazed, The Sun's Fabulous, Yahoo Style UK and Get The Gloss. She covers all aspects of lifestyle, specializing in health, beauty, and travel. Can't live without: oat milk lattes, new podcast episodes, long walks, and great skincare.