Latex versus fabric resistance bands: which is best for building strength?
Haven't got space for bulky weights? Go for latex versus fabric resistance bands instead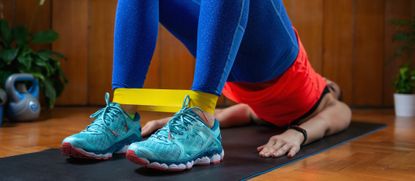 (Image credit: Getty)
Dumbbells aren't the only strength-building tool out there—latex versus fabric resistance bands can help you make gains and bulk up, too.
Nope, we're not talking bodyweight exercises, which may make for a very decent home workout, but won't challenge you to the max. If you're keen to sculpt, tone, and carve muscle from the comfort of your own home, the best resistance bands for women are a highly effective, convenient and affordable solution used by the likes of Candice Swanepoel, Ashley Graham and Shay Mitchell.
So, what are resistance bands?
Resistance bands are large, thick elastic bands that you can place around areas of your body to work them harder so that you build strength. Like any weights, they function by providing an external resistance that your muscles have to work against.
"There are two types—fabric and latex—and both work by helping you maintain a consistent level of tension," says David Wiener, training specialist at fitness app Freeletics. "They allow people to perform resistance-based strength training workouts without the need for free weights."
Indeed, common resistance band exercises that incorporate the activewear accessories include a squat with a band wrapped around the lower thigh, or a bicep curl with the band tucked under the feet. However, it's their ability to carve a peachy behind that has boosted their profile and spawned hundreds of related YouTube workouts.
The best bit is that, unlike free weights, you can swiftly roll up your resistance band and store it away easily. Similarly, they're highly portable so you can throw one in your handbag and take it to the park (and perhaps on holiday).
Now that you know about resistance bands in general, let's get into the nitty-gritty about the differences between latex versus fabric resistance bands.
Latex versus fabric resistance bands: What's the difference?
So what are the key differences between latex versus fabric resistance bands? Latex resistance bands are, of course, made from latex. "They are the most popular type," says Wiener. "They usually come in a pack of three to five with each one providing various levels of tension—from extra light to extra heavy—allowing you to do a variety of exercises at different resistance levels."
Similarly, fabric resistance bands are made from a very strong material. "They are normally sold separately, and come in three levels—light, medium and heavy," adds Wiener.
Latex versus fabric resistance bands: Which is better for building strength?
Choosing between latex versus fabric resistance bands, the latex resistance band is a firm favorite of Jay Wall, a PT specializing in HIIT at LIFE The Fitness Company. "It's able to be used in almost the same way a standard weight can be used because we are able to mirror the movement whilst using the resistance band with the added bonus of it being in a more joint-friendly position," he explains.
Katie Anderson, head of training at FLY LDN agrees: "Latex bands are great for exercises with a bigger range of movement. For example, lower body exercises like donkey kicks, lateral leg lifts and more ballet-inspired movements, like first and second pliés, and upper body exercises including bicep curls, rows and chest openers."
However, latex resistance bands aren't without their downsides. First, you'll need to wear leggings. "They can be uncomfortable as latex can cling to the skin," notes Wiener. What's more, latex isn't a long-lasting material. Anderson explains: "Over time, the resistance on the bands can decrease, and they may also snap after lots of usage."
Fabric bands also have their pros and cons, depending on your goal. "They are much stronger than latex bands, adding a great amount of resistance when performing leg exercises—such as squats, hip thrust and lunges," reveals Wiener. "They are also a lot more comfortable and have a built-in grip which ensures they do not go anywhere when you are working out."
Anderson adds that as well as being "really good for helping maintain and stabilize certain positions, they usually last longer," making the fact they tend to be more expensive a bit more worthwhile.
"However, fabric bands are not as versatile, as they can't be used for upper and lower body workouts because of the lack of stretch in the fabric," points out Wiener. Anderson agrees: "The different resistances aren't always accurate. With some of the 'heavy' bands, you can hardly pulse against them as you have little range of movement. Some of the "light" bands can be too big and fall off the leg."
So when choosing between latex versus fabric resistance bands, definitely take into account what kind of workouts you'll be doing, as one type may be better suited than the other.
Lauren is a freelance writer and editor with more than six years of digital and magazine experience. Most recently, she has been the Acting Commissioning Editor of Women's Health—where she co-produced the Going For Goal podcast—and has previously also written news and features for titles including The Telegraph, Grazia, Stylist, Dazed, The Sun's Fabulous, Yahoo Style UK and Get The Gloss. She covers all aspects of lifestyle, specializing in health, beauty, and travel. Can't live without: oat milk lattes, new podcast episodes, long walks, and great skincare.