Activewear accessories: Everything you need for your best workout ever
From gym bags to jump ropes, these activewear accessories will up your fitness game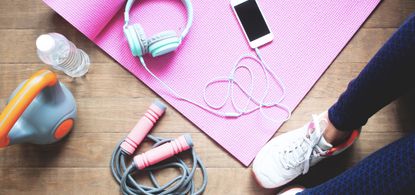 (Image credit: Getty)
You've already got the best yoga mats and yoga accessories, but what about other activewear accessories? We're talking about those jump ropes, balance balls, gym towels, sports socks and similar fitness gear that can help take your workout routine to the next level.

Whether you're a seasoned pro or are simply getting into a new physical activity like biking, skiing or running, these gym-time essentials will make those workout sessions more comfortable, more convenient and, best of all, more effective. And, of course, we can't have function without a little fashion, so you'll find plenty of stylish options throughout our activewear accessories edit below.

So grab your best reusable water bottles (we love the Chilly water bottle)—we're all about sustainable activewear accessories here, people—and get ready to get your sweat on with these primo fitness picks.
The best activewear accessories to add to your fitness routine
1. The best gym duffle
Herschel Novel Duffel
A stylish carryall that will take you beyond the gym
Equally suited for gym trips and weekend getaways, the versatile Herschel Novel Duffle Bag combines a functional, mid-range capacity and classic good looks.

Beneath that handsome exterior—complete with synthetic leather hardware—you'll find plenty of storage, including a large main compartment for your workout clothes and a handy, side-access shoe compartment to house those SoulCycle sneakers.

Best of all, it's one of those activewear accessories that's stylish enough that you won't look like you're going to the gym when toting it around town.
---
2. The best jump rope
Tangram Smart Rope
An intuitive, modern upgrade to a cardio classic
The adage says work smarter, not harder. This Bluetooth-enabled jump rope will have you doing both. Paired with the Smart Gym mobile app (iOS and Android), the Tangram Smart Rope lets you track up to 100 sessions of data, including jump counts, calories burned, and workout times.
All of the basics that you want from a traditional jump rope—stuff like adjustable rope length, evenly weighted handles and a good, easy swing—are given a tech-y boost, thanks to upgrades like accurate motion sensors, a long-lasting battery, and LED lights that remind you when it's time for recharging.

Plus, you can get extra motivation to stick to your fitness goals by unlocking awards and competing with friends right on the app.
---
3. The best balance ball
Trideer Exercise ball
A strong and sturdy stability ball you can rely on
We don't know about you, but one of our fitness nightmares is having a stability ball not live up to its name and fly out from under us while at the gym. To avoid that embarrassing commotion from ever happening, opt for a dependably durable option like Trideer's Exercise Ball.

Made from extra thick, non-slip PVC, this balance ball is seriously heavy duty—it remains anti-burst even as it supports 2,200 pounds at a time—and can withstand everyday use, whether you're doing online Pilates classes, or simply using it as a posture-improving alternative to your office chair.

Conveniently, the Trideer Exercise Ball comes in five different sizes (ranging from 18 to 33 inches wide) and is also packaged with a foot pump for an easy AF set-up.
---
4. The best cycling gloves
La Passione PSN Gloves
A refined answer to sporty cycling mitts
If you're an avid biker, you know how annoying it is to get palm blisters after a particularly strenuous cycling session, especially during those sweaty warm-weather months. Keep those hands dry and that grip secure by pulling on a pair of lightweight, fingerless cycling mitts, like La Passione's PSN gloves.

Available in 14 colors, including this sunny papaya yellow, the La Passione PSN gloves boast many durable features beneath their sweet looks, such as a cushioning comfort padding throughout, perforated palms for ventilation, and easy pull-on and off tabs.
---
5. The best running armband
Tribe Armand
Practical but chic too
It's vital that we keep our smartphones secure while we're jogging—if only so that our motivational Lizzo playlist is soundtracking us every step of the way—so a running armband is one of the key activewear accessories to add to your fitness fit.

Fitting a wide array of both smartphones (Apple iPhone, Samsung Galaxy, Android) and phone cases (even the #thicc Otterbox), the Tribe Armbands are smartly designed with dual buckle loops and plush adjustable bands that are water and sweat resistant, so they won't go flying off while you sprint.

Other nice features on these activewear accessories are a nano-sheen reflective strip for night jogs, a handy hidden key compartment, and headphone holder to keep cords out of the way while you move, so you can focus on your stride (and Lizzo!) without any distractions.
---
6. The best cooling towel
Alfamo Cooling Towel
An anytime, anywhere aid for heat and sweat relief
A versatile, absorbent cooling towel is always a great addition to your gym bag, especially if you've got a vigorous, sweat-inducing workout planned, like Bikram yoga.

The extra length of the Alfamo Cooling Towels mean that you can more easily tie it around you than with other competitors, so you can use it as a cool-down bandana, head cover or neck wrap if you're running or doing a lengthy hike in the sun. The towel can stay chilled (but, thankfully, not sopping wet) for up to three hours. Speaking of sun, an extra perk of the Alfamo towels is that they provide UPF 50 sunscreen protection, so you don't need to worry about sunburn while you exercise in the great outdoors.

The cooling towels come with a storage case equipped with carabiner clips, which can conveniently be attached directly to your gym duffle or daypack for easy access.
---
7. The best snow goggles
Smith Squad MAG
Cushioned, quick-changing eyewear for every weather condition
If snow-bunny sports are your thing, you're going to need a good pair of snow goggles so that you can keep clear sight of the slopes beneath you. The Smith Squad MAG snow goggles are an iconic choice, in part thanks to their lens innovations.

Each pair comes with two interchangeable ChromaPop performance lenses for bright light and low light conditions, each equipped with anti-fog tech, so weather conditions won't affect clarity while you ski or snowboard.
Beyond the lenses, the frame and fit are also best-in-class, with comfortable, ultra-wide straps that fit easily beneath your helmet, layers of DriWix foam that wicks moisture away from your face, and built-in Airflow technology for better ventilation while you board. On top of all that, they're available in nine chic colorway combos, so you'll effortlessly be the most stylish person on the chairlift.
---
8. The best performance socks
Smartwool Light Hike Socks
A versatile pair that will keep you cool and comfortable
Merino wool is the gold standard for performance socks for numerous reasons: unlike synthetic materials, it regulates temperature, wicks moisture, neutralizes odor (a much-welcome feature for socks!), and is naturally soft.

Smartwool uses the stuff in pretty much every pair they make, including these light wool performance socks. They're durable and padded enough to wear under your ski boots in the winter, but still lightweight and breathable enough for those summertime hiking trails.
An elasticized arch brace keeps your socks secure no matter what activity you're doing, and a flat knit toe seam offers even more comfort.
---
9. The best waist bag
Nike Lean Waist Pack
A lean, mean bum bag to hold only the essentials
Listen, when we're huffing and puffing away on mile five, we don't want a bulky, bloated bum bag weighing us down. We want a running belt that's simple, streamlined, and won't slow down our pace with any extra heft.

The Nike Lean Waist Pack is just that—this lightweight belt has an expandable mesh pocket to hold small-scale essentials like your keys, hair bands, and some cash, but features a low-profile design and secure fit to cut down on bounce and bulk while you run. An one-button adjustable band means you can easily customize your fit, whether you want to wear it around your waist or across your chest.
10. The best swim cap
TYR Sport Long Hair Silicone Swim Cap
Swimming with long locks can be a hassle. You have to manage to fit a whole head of hair under a snug swim cap or risk your precious strands and scalp to the harsh effects of chlorine, and then deal with the pain and pressure of a too-tight cap while you're just trying to get a few laps in.

The TYR Sport Long Hair Silicone Swim Cap is here to the rescue—the cap was designed specifically with long-haired folks in mind. A new asymmetric design and contour cut around the ears gives extra slack to fit your mop underneath and reduce any unwanted tension around the head, while still ensuring that you'll get the speed optimization and drag reduction you'd expect from any high-quality swim cap.

And if you're more into swimming in open water rather than in an enclosed pool, bright colorways like mint green (pictured), neon pink and electric blue will make certain that you will be visible to fellow swimmers and lifeguards.
Christina Izzo is the Deputy Editor of My Imperfect Life.
More generally, she is a writer-editor covering food and drink, travel, lifestyle and culture in New York City. She was previously the Features Editor at Rachael Ray In Season and Reveal, as well as the Food & Drink Editor and chief restaurant critic at Time Out New York.
When she's not doing all that, she can probably be found eating cheese somewhere.