Who is Loujain Adada's late husband from 'Dubai Bling'?
Everything we know about the late Arabian billionaire and Loujain Adada husband from the Netflix series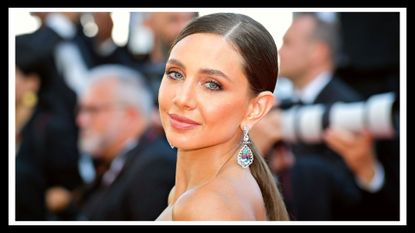 (Image credit: Dominique Charriau/WireImage)
Loujain Adada's husband is one personality on the Netflix reality show Dubai Bling that sparked the curiosity of TV fans, after LJ Adada spoke honestly and openly about her late spouse.
One of the Dubai Bling cast members, and one of the wealthiest, most well-heeled residents of the United Arab Emirates, is Loujain Adada, a 33-year-old Lebanese model and TV host. She has spoken about her late husband; a much-older Saudi businessman whom she married when she was just 21 years old. In the first episode of Dubai Bling season one—which debuted on Netflix on Thursday, October 27—Adada discussed her past marriage and her extravagant nuptials, saying, "The wedding was like a fairytale. I felt like a princess."
Fellow cast member Zeina Khoury also revealed of the big day in 2012, "They had a wedding that remained the talk of the town for a long time afterward. Her wedding cost more than $10 million. She wore a necklace worth more than $2 million. She even wore a Karl Lagerfeld dress that was worth more than $200,000. Everyone was flown to her wedding in Venice on private jets."
But who was Loujain Adada married to? As we wait for news on Dubai Bling season 2, here's what we know about the reality star Loujain Adada's husband, and their relationship.
Loujain Adada husband: who was she married to?
Loujain Adada was married to billionaire Arabic businessman Walid Ahmed Juffali from November 2012 until his death in July 2016. Born on April 30, 1955, Juffali was 57 years old at the time of his wedding to Adada, and 61 at the time of his death in Switzerland.
Given that LJ is now 33, she confessed that people had concerns about their age gap at the time. "Many people criticized me because the age difference between us was almost 30 years," Adada said of her late husband. "But love knows no age."
Speaking on the Netflix show, LJ, of Dubai Bling fame, said, "Sadly, he [Walid] passed away from cancer," discussing her late husband. "And it happened just one month after I gave birth to my second daughter." Juffali had six children altogether, including the two—seven-year-old Talia and six-year-old Lana—he shared with Adada.
"The only cure for grief is to grieve. Everyone has their own way of grieving. It is not a sign of weakness, it is an emotional, physical and spiritual necessity, the price you pay for love," Adada told the luxury publication Ccercle in 2019. "The loss of Walid, my late husband and father of my two young daughters, was so hard and challenging for me. One never knows how strong they are until being strong is their only choice."
She continued: "Up till today we talk about him, we miss and we pray for him. Walid was an inspiring man with a wide heart and had great love for life. One of his favorite sayings was, 'Life isn't about waiting for the storm to pass, it's about learning how to dance in the rain.'"
Loujain Adada's husband was the chairman of E. A. Juffali and Brothers, the largest privately owned enterprise in Saudi Arabia, a position he assumed after the death of his father Ahmed bin Abdullah Al Juffali. He was also the chairman of W Investments, a privately held investment company located in Zurich.
In the 2019 book Moneyland: The Inside Story of the Crooks and Kleptocrats Who Rule the World, author Oliver Bullough wrote of Juffali: "His wealth was, according to a later court judgment, immeasurable: 'in common with men of his wealth and background, he crosses and re-crosses the world, largely by private jet, staying in properties in various countries owned by, or on his behalf, through elaborate financial structures.'"
"His family ran extensive infrastructure projects in Saudi Arabia, and his father had made its fortune by securing partnership deals with Western companies, such as Electrolux, Mercedes, IBM, Siemens and others. Walid took over as chairman of the family firm, E.A. Juffali & Bros, in 1994," Bullough wrote.
"Besides the £100 million mansion near Windsor, he also owned a converted church in Knightsbridge, a country retreat in Devon, and property in Saudi Arabia, Switzerland and elsewhere. In a 2005 charity auction, he spent almost half a million pounds on two photographs: one of a nude Tamara Mellon; the other of a nude Kate Moss."
Was LJ Adada's husband married before?
Before his marriage to Loujain "LJ" Adada, Juffali was married to fellow Saudi, Basma Al-Sulaiman, from 1980 to 2000 and had three children with her. When they divorced, Al-Sulaiman received a £40 million settlement.
His second marriage was to American model Christina Estrada from 2001 to 2014; the couple had a daughter together.
Juffali was actually still legally married to Estrada when he married Adada. (Per Saudi law, as a Muslim, Juffali could take up to four wives.) He divorced Estrada under Islamic law without her knowledge via the controversial use of triple talaq, in which a man can legally divorce his wife by saying "I divorce you" three times.
Upon their divorce, Estrada won a settlement of £75 million, including a cast payment of £53 million. Estrada released a statement after the ruling, per The Guardian: "I never wanted to be here. I always wanted to resolve the matter amicably. This process has been incredibly bruising and distressing. Walid and I were happily married for 12 years and have a beautiful daughter together. He took both a second wife and divorced me without my knowledge."
Loujain Adada net worth: what is it?
Per an obituary in The Independent, Walid Ahmed Juffali's fortune at the time of his death was estimated at £8 million. Most of Loujain Adada's net worth comes from her inheritance of her late husband's assets, which were also split between his former wives and his children. Adada's own current net worth is valued at $4 million, one of the highest numbers when comparing the Dubai Bling cast's net worth—with Ebraheem al Samadi firmly at the top of the list.
Now, presumably, with Dubai Bling, Loujain also makes a decent income from her work on the reality show.and if her Instagram page is anything to go by, she may well also make an income from various different modelling jobs.
In the first episode of Dubai Bling, the reality star shares that despite the loss of her husband in 2016, she is now ready to move forward with her life. She said, "I've been in Dubai for almost a year now, and now I feel that I'm ready to be with someone else and have a fresh start in my life."
Season one of Dubai Bling is currently available to stream on Netflix. Will we get a Dubai Bling season 2? Stay tuned!
Christina Izzo is the Deputy Editor of My Imperfect Life.
More generally, she is a writer-editor covering food and drink, travel, lifestyle and culture in New York City. She was previously the Features Editor at Rachael Ray In Season and Reveal, as well as the Food & Drink Editor and chief restaurant critic at Time Out New York.
When she's not doing all that, she can probably be found eating cheese somewhere.