Your guide to all the 'Love in the Flesh' contestants
Meet the 'Love in the Flesh' contestants...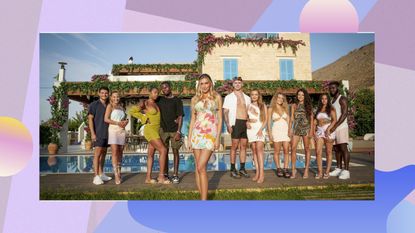 (Image credit: BBC Three)
Who are the Love in the Flesh contestants? The new BBC Three dating show hit our TV screens a couple of weeks ago and now that it's about to wrap up with the finale airing tonight, we're more invested in the fate of the cast than ever. Will they get their romantic happily ever after or will everything end in tears?
The show, which is best described as a hybrid between Love Island and MTV's Catfish, initially followed five real-life potential couples who had already formed relationships via dating apps and social media but had never actually met in real life. They went on the show to determine whether their digital dating could actually be the real deal as they finally came face-to- face for the first time in a Greek villa.
Hosted by fellow Love Island contestant Zara McDermott, Love in the Flesh proved to be as dramatic as it sounds from episode one, and even more so over the weeks as the couples were joined by new singletons throughout the season to really put their connection to the test.
If you've yet to start it, we'll forgive you for being slow—you've probably had your hands full with Bridgerton season 2, not to mention our reunion with the Topboy cast—so here's your introduction to the contestants. Oh, and if you need help figuring out how to watch Love in the Flesh, we've got you covered too.
Meet the Love in the Flesh contestants
All of the Love in the Flesh contestants—past and present—are right here to learn everything about...
Christos and Niki
Instagram: @christosgabriel_ and @missnikiclarke
Semi-pro footballer Christos, 19, and restaurant manager Niki, 22, first connected online three months before appearing on the show. The two connected over their shared Greek roots and family values after meeting on Instagram, where Christos slid into Niki's DMs. While he lives in Worcester, Niki is a Brighton girl and the two have been keeping their spark alive via regular FaceTimes.
Hannah and Brandon
Instagram: @brandon_leee97 and @hannahhgracey
Legal assistant Hannah, 24, and poet Brandon, 23, had been messaging for six months before heading on Love in the Flesh. Having exchanged many steamy messages, the two clearly have sexual chemistry online but can it translate to real life? While Hannah has made it clear that she is looking for something serious, Brandon initially wanted the opposite and the two even broke things off when they first had the conversation. However, they rekindled a couple of weeks later and have spoken every day since.
Jess and Kwame
Instagram: @jessica_ajx and @kwamehimself
Jess, 24, and Kwame, 28, have been talking online for five years (yes, five years) and not only haven't they met, they haven't so much as FaceTimed each other. Naturally, this has Jess's guard up a little and she thinks Kwame could be a catfish.
Their lifestyles are also very different, with Kwame living as a single man who loves family but also has big dreams for his future, while Jess is a single mum and a full time carer.
Chibz and Shazelle
Instagram: @chibzno10 and @shazellelouisa
Personal trainer Chibz, 23, and receptionist Shazelle, 21, met on Instagram two years ago but have never come face-to-face in real life. In fact, Shazelle has stood up Chibz twice.
While she's loud in environments where she feels comfortable, Shazelle can be shy around new people. She's been single since leaving secondary school five years ago and has been catfished in the past, hence her hesitation when it comes to online dating. Meanwhile Chibz, who developed vitiligo at the age of 14, has his own hang-ups when it comes to relationships.
Millie and Shelby
Instagram: @milliemclay and @shelbybarrettxo
23-year-old Londoner Millie and 24-year-old Leicester native Shelby have been messaging for ten months and are both hopeful that they have found The One with each other. The two had plans to meet, however, they were put on hold when Millie got in a horse-riding accident and ended up needing five surgeries and a metal cage on her leg to get back to health.
Yes, we know. It's so dramatic it sounds fake but it actually happened and she even recorded her recovery progress on TikTok, which earned her 600,000 followers. She has worries that her large social media following is the reason why podcaster Shelby wants to date her. But does she simply want Millie to boost her own brand or could there be something real between them?
Ana
Instagram: @anna.asatiani
Ana is one of the new arrivals when the show introduces six new singletons. She's a 24-year-old bartender from Aberdeen and is a self-proclaimed hopeless romantic who says online dating in her home city is a lost cause. She hopes to find "the one" during her time on Love in the Flesh.
Caz
Instagram: @cazmilligan
Caz is a 26-year-old business owner from Fife. According to him, he never has any trouble attracting women but has yet to have a serious relationship- the one thing he feels is missing in his life.
Dan
Instagram: @danwillls
Dan, 26, is an Insurance Broker from Chepstow. Dating in his small town is difficult, as he says you end up either matching with someone you've been with or your mate's ex. He believes Love in the Flesh will open up the door to a window pool of women to date. Especially given the romantic background of a Greek island.
Edwyna
Instagram: @edwynajessyca
Edwyna is a 25-year-old beauty advisor from London. She's a deeply spiritual person and wants someone to get to know her for her to form a true connection.
Joe
Instagram: @joekell_
Joe is a 14-year-old engineer from York. He is on every single dating app and spends time messaging multiple girls. However, he hoped his time on Love in the Flesh would change him for the better and finally make him ready to settle down.
Lauren
Instagram: @lauren_kent_
27-year-old Lauren is a personal assistant from Coventry. She believes dating in real life is better than online dating as she's a people person and values in-person experiences over messages. She's looking for the real deal.
Sagal is a journalist, specialising in lifestyle, pop culture, fashion and beauty. She has written for a number of publications including Vogue, Glamour, Stylist, Evening Standard, Bustle, You Magazine, Dazed and Wonderland to name a few.