Who plays Lucia in 'The White Lotus'? Get to know Simona Tabasco
Meet the actress behind season 2 standout Lucia, White Lotus' sweet Sicilian sex worker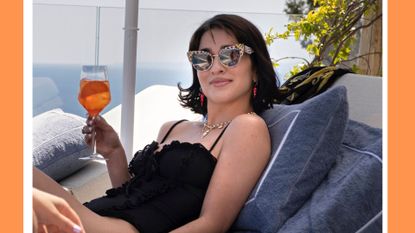 (Image credit: Fabio Lovino/HBO)
In a cast of true characters, Lucia, White Lotus' hustler with a heart of gold, is a standout.
Lucia and her aspiring singer BFF Mia (Beatrice Grannò) are two of the Sicilian locals on The White Lotus season 2, who use their youth and beauty to entice several of the hotel's wealthy guests to invite them to stay in the luxurious Italian property—from Theo James' trou-dropping Cameron to Michael Imperioli's divorced dad Dominic.
Lucia is one of the few Italian natives that the show follows, which mostly chronicles a week in the life of the seriously rich, seriously self-involved vacationers portrayed by actors like Aubrey Plaza, Adam DiMarco, Haley Lu Richardson and Jennifer Coolidge in the cast of The White Lotus season 2.
But who plays Lucia? Let's get to know the Italian White Lotus actress behind the season 2 newcomer.
Who plays Lucia, 'White' Lotus season 2 character?
Lucia in The White Lotus is played by Neapolitan actress Simona Tabasco. (Yes, that is—awesomely—her real last name and, yes, she does have a tattoo of a chili pepper on her forearm. Perfetto!)
While the Lucia White Lotus actress is from Naples, she recently revealed to Vogue that she has lived in Rome for the last 10 years whilst working on her acting career.
Since The White Lotus' second season finished airing last year, Simona has emerged as the breakout star of the series. So could we be seeing her in some other big Hollywood projects over the coming years?
Simona Tabasco age: how old is she?
Simona Tabasco was born in Naples, Italy, on April 5, 1994, which currently makes her 28 years old. She is an Aries.
It's not clear how old her character Lucia White Lotus is meant to be, but we reckon it's safe to assume that they are both around the same age.
Simona Tabasco Instagram: what's her handle?
You can find Simona Tabasco on Instagram at the handle @simonatabasco, where she has more than 291,000 followers—up from 176,000 followers back in November 2022!
The actresses Instagram is largely full of cool selfies, editorial shots, candids taken in personal life, and of course, promotional shots for The White Lotus. She's even shared some amazing fan art that viewers of The White Lotus have created to honor Lucia!
Simona has also shared interviews that she has done promoting the HBO show—so if you want to read more about the series everyone is talking about, you may want to head over to her Instagram!
White Lotus season 2 Lucia: what does Simona think of her character?
As mentioned, Simona has spoken a lot about her much-loved character Lucia since the show aired.
Sharing her thoughts on the standout character, the White Lotus actress told Cosmopolitan: "She is a free spirit. Sex work for her is empowering. If I had to name a reason she got into it, I would say money. She loves money. It fuels her ambitions. I don't think Lucia anticipated sex work would lead to so much self-realization and personal growth, though. She's looking for something more."
The actress also said in an interview with Vulture that parts of Lucia remind her of herself. She explained, "The main thing with her is she has a lot of energy, and we see her as being hungry for life, for things—for having them, taking them, almost eating them.
"She wants to build a connection with what she has around her, and that's close to my personality. I want to get to the bottom of things, to authenticity, to feel them in their rawness. Characters are, in general, a bit of a reflection of the actors that play them. You can study a lot and go far away from what you are, but you can't get too far away."
Simona has also reflected on the enormous success of the show, sharing in an interview with Vogue what the massive reaction has been like.
She said, "It's been amazing. I feel like I'm living in a really special moment. Now that the finale has aired, I've received a lot of outreach and Instagram messages of love, especially from people in the US, which is great because here in Italy, people aren't watching quite as much."
Simona Tabasco and Beatrice Grannò—are the two friends in real life?
Most of Tabasco's scenes as Lucia in The White Lotus season 2 are opposite Beatrice Grannò, who plays her best friend Mia. Ironically, the actresses didn't have to fake their friendship, as they'd known each other for a decade before being cast in the HBO hit.
"We met ten years ago in film school, when we were just starting to go down this road. Afterward, she moved to London to study acting and I remained in Rome. Four years ago, we met again on set for a TV series that we shot together in Italy, and that's when we became real friends. That's the chemistry you see onscreen," the White Lotus Lucia actress told Vulture.
She continued: "When I got the White Lotus audition, I didn't know that she had also gotten a White Lotus audition. I called her to practice my self-tape, and we realized we were both trying out for this show. We were both saying, "this can't happen," but we both got it!"
Simona Tabasco movies and TV roles
While The White Lotus is her first foray into American television, Simona Tabasco is well-known and prolific in her native Italy, having starred in TV series like I bastardi di Pizzofalcone, DOC - Nelle tue mani, È arrivata la felicità and Fuoriclasse. She also starred as the lead, Nora, in Netflix's Italian series Luna Park, in 2021.
On the big screen, she's featured in films like 2020's The Ties, 2018's Bob & Marys and 2016's I babysitter.
It's not yet clear what Simona plans to do as her next project, but if her performance in White Lotus is anything to go by, we're sure it'll be a great one!
Catch up on Simona Tabasco's performance as Lucia on The White Lotus season 2—by watching on HBO Max or Hulu with HBO Max in the US. In the UK, you can catch up on the series on Sky, or by subscribing to NOW TV.
Christina Izzo is the Deputy Editor of My Imperfect Life.
More generally, she is a writer-editor covering food and drink, travel, lifestyle and culture in New York City. She was previously the Features Editor at Rachael Ray In Season and Reveal, as well as the Food & Drink Editor and chief restaurant critic at Time Out New York.
When she's not doing all that, she can probably be found eating cheese somewhere.