This is how Mercury Retrograde will affect each zodiac sign
We've prepared a special Mercury retrograde horoscope because desperate times call for desperate measures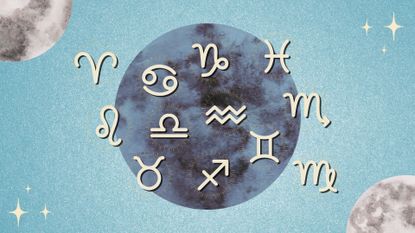 (Image credit: Future)
It's back! Arguably the most feared astrological phenomenon, the second Mercury retrograde of 2022 is here to add another layer of complexity to an already astrologically super-charged month (remember your May horoscope?). From May 10 to June 3, the planet of thought and communication will perform its second retrograde of the year, which will cover two different zodiac signs, Gemini and Taurus.
As we mentioned in our weekly horoscope, Mercury initiates its retrograde in Gemini, an intellectual air sign that it likes and that rules communication, community, and social interaction. Since Gemini is very social by nature, we are bound to feel its effects whenever we are in touch with the outside world. Commitments of all kinds will also be a theme, as Mercury will be activating asteroid Juno in Pisces (here's what it means if you break up during Mercury retrograde). If you recently sealed the deal on a contract or romantic relationship, be prepared to revisit some of the clauses or terms you agreed on. Use this time for introspection, and if you can, delay any long-term changes until June 11, which is when Mercury will be moving at full speed.
May 22 is an important date along this journey, as today, Mercury leaves Gemini and enters Taurus in retrograde motion. Unlike Gemini, Taurus is not a zodiac sign Mercury likes to be in, so we will feel this shift more intensely, as it will most likely tank productivity quite considerably. During its retrograde journey through Taurus, Mercury will be locked in a square with stern Saturn, which will bring delays involving authority figures. Since Saturn is a teacher planet, the effort and introspective work we do now will have positive and long-term consequences.
As with every Mercury retrograde, we can expect the usual communication mishaps, delays, and surprises (all the stereotypes behind the meaning of Mercury retrograde...). At a deeper level, Mercury retrograde is an amazing time to slow down, review, and reconsider our current approach to life. While it is challenging to our minds, Mercury retrograde helps us see things from a different perspective. So, if we use this transit properly, we can gain an incredible amount of depth that will inform our future decision-making. So get your Mercury retrograde crystals, sit back and get ready for one of the most important astrology events of 2022...
What will this Mercury retrograde mean for your zodiac sign?
Aries
Mercury begins its retrograde in your sector of communication, meaning that you must stay on top of your interactions and technological gadgets. Keeping your impulsivity in check will be important, as will backing up all your docs, carrying battery packs, and closing all your apps and windows to avoid losing critical info. On May 22, Mercury begins to activate your financial sector, until June 3. During these days, watch your spending, as some payments could be delayed. It's also a great time to re-evaluate your budget and your financial strategies.
Taurus
At the beginning of the retrograde, Mercury will be in your sector of personal values, heralding a few days in which you might question your outlook towards life in general. Life is changing incredibly fast for you, so use this time to sit back and reflect on what truly matters most to you. Starting May 22, the focus shifts towards your first house of self, which might drive you to consider an image upgrade. If you aren't fully happy with how others perceive you, this transit can help bring the inside and outside together, restoring confidence.
Gemini
It's time for a makeover, Gemini! The first area of your life that Mercury will touch is your first house of physical persona, which includes your public image. If you don't like how you come across, it's time to align what's inside with what's outside. Then from May 22 to June 3, the focus shifts towards your sector of solitude. Although it goes against your nature, spending time alone will be critical for you on these days, as Mercury will be sending you valuable messages when you're in a resting and meditative state.
Cancer
At the beginning of the retrograde, Mercury will be in your sector of subconscious mind, asking you to lower your work hours and retreat from the social scene as much as possible. Your dreams will be the vehicles of valuable insight at this time. Once Mercury enters Taurus, the effects of Mercury retrograde will be more noticeable when you're interacting with your community. Watch your interactions during this period, as gossip and misunderstanding could be the name of the game. However, these events will help you realize who your real friends are, Cancer.
Leo
At first, Mercury retrograde will be activating your friendship sector, most likely instigating change within one or more of your social groups. Stay away from the drama, Leo, because what you say to one person now could have long-term consequences. Starting May 22, Mercury's attention moves to your sector of career and reputation. Patience and a cautious approach are key now, as there might be the need to revisit or redo an important project. If you aren't happy with your career, it's the perfect transit to re-evaluate what you do for a living.
Virgo
Mercury will begin its retrograde in your sector of work and public visibility, asking you to rethink your approach to important projects. Some might even need to go back to the drawing board, which might make them more successful in the long run, so see delays as blessings in disguise. The second part of the retrograde will have you in a more thoughtful mood, as it will be activating your sector of life philosophy. Mercury retrograde could drive you to truly understand a big truth: Your beliefs create your reality.
Libra
You are a mental sign, Libra, and the beginning of the retrograde will have you thinking about some of life's biggest questions. As life shifts around you, so do your beliefs, and Mercury will help you re-adjust yours between May 10 and May 22. The second part of the retrograde has a more psychological tone for you as Mercury brings themes of money and intimacy to deal with. If you are in a serious relationship, it's time to speak the truth so you can better understand each other's needs.
Scorpio
For you, Scorpio, this entire Mercury retrograde will be about making adjustments in one of your closest bonds. For the first ten days, from May 10 to May 22, you will be touching on sensitive subjects, weighing the give and take and the resources you share with either a romantic or business partner. Then from May 22 to June 3, the focus moves to re-negotiating your terms as well as re-defining the established boundaries. Cooperation on your part will be key, as having a fixed frame of mind could work against you, dear Scorpio.
Sagittarius
If you are in a serious business or romantic partnership, Mercury retrograde could bring old issues back to the surface during the first ten days of the retrograde (May 10-May 22). While having difficult conversations is hard, airing your feelings could bring you closer together. Then starting on May 22, the retrograde effects move to your sector of health. Use the days between May 10 and May 22 to test a new schedule, new workouts, eating habits, and sleeping patterns—then make the necessary changes once June 11 arrives.
Capricorn
At the beginning of its retrograde, Mercury puts your life routine under a microscope, showing you what's been working and what's not. If you have been struggling to keep a healthy work/life balance, Mercury retrograde can really help you to re-formulate a schedule so it can truly work for you starting June 11. The second part of the retrograde (May 22 to June 3) activates your fifth house of creativity and fun. This is a fabulous time to take time off and do something that feeds your inner child and brings you joy.
Aquarius
If you've been dating someone recently, Mercury retrograde in your fifth house of love affairs could bring a little bit of drama due to miscommunication or even an old flame suddenly re-appearing. Re-kindling a romance sure sounds fun, but do things seem different this time? Most likely not, Aquarius! The focus of the second part of the retrograde shifts to your home life once May 22 arrives. This time, it could be a situation with a roommate, a family member, and even a parent. Investing time and energy in figuring it out will be important.
Pisces
A home situation will require your attention as Mercury initiates its retrograde in your sector of home and family, Pisces. An appliance could break or if the energy has been stuck, you might decide to make changes so your home feels more comfortable. The second part of the retrograde moves to your communication sector, so it will be key that you think before you act, speak, and send important messages and emails. Slowing down your pace of communication now will allow you to fine-tune your processes and make things easier in the long run.
Cute astrology-themed gifts
Brand
Colour
Price
Refine ☵
Sort By
Athena Antares is a traveling writer, astrologer, and mystic who believes in adding a touch of magic to everyday life. She has written horoscopes for numerous lifestyle publications and has dived deeply into astrological magic and manifestation spell work. In her spare time, Athena enjoys exploring new places, spending time in nature, and reading charts for her worldly clientele.