Meet Michaela McManus, Joe's new obsession on 'You' season 3
Curious about 'You' star Michaela McManus? Here's everything you need to know about the actress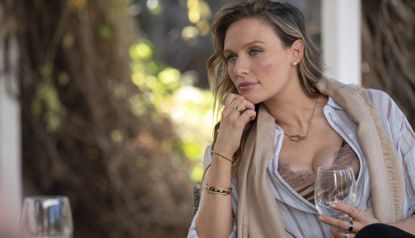 (Image credit: JOHN P. FLEENOR/NETFLIX)
Welcome to the You madness, Michaela McManus! Season three of the hit psychological thriller has finally landed on Netflix and we are basically as obsessed with the new season as Joe Goldberg is with McManus's new character.
In the latest installment of the Netflix series, which is made up of ten hour-long episodes, our favorite serial killer Joe (played by Penn Badgley) has found the new apple of his eye: Natalie Engler. We first saw Joe lay eyes on Natalie (played by McManus) at the end of season two and very early on in season three, we see her become absolutely irresistible to him.
---
---
Like with previous seasons, season three shifts the story to a new setting to not only give us new characters but also allow Joe to keep going about his misdeeds.
So when season three opens, Joe and Love (played by Victoria Pedretti) have moved to a suburban town to raise their newborn son, Henry Forty Quinn Goldberg. As the pair try to adjust to their new life as the new family on the block, one would think Joe's infant son would be his focus—but then in comes the sexy and flirtatious Natalie. This causes Joe's eye to wander and essentially fall off the wagon he wasn't too firmly on, to begin with.
Here's everything you need to know about Michaela McManus and her character Natalie Engler on You season 3.
*WARNING SEASON 3 SPOILERS AHEAD*
Who is Michaela McManus?
Michaela McManus is an American actress who joined the third season of the Netflix hit, You, and has 30 acting credits to her name.
Where is Michaela McManus from?
McManus was born in Warwick, Rhode Island. She presently resides in Los Angeles, California.
How old is Michaela McManus?
Michaela McManus turned 38 years old in 2021. She was born on May 20, 1983, making her a Taurus.
How tall is Michaela Mcmanus?
The actress stands at 1.75m (5 foot 7 inches).
Did Michaela McManus go to university?
Yes, she graduated from Fordham University in New York City. She also attended New York University's graduate acting program before she moved to Los Angeles to pursue acting professionally.
Who is Michaela McManus in 'You'?
Michaela McManus plays Natalie Engler, one of Joe and Love's new neighbors. She's presented as mysterious and secretive, which intrigues Joe, leading to him becoming absolutely obsessed with her and feeling that Natalie is the woman he should be really with.
But we know Love and we know that she's not just going to stand by and watch that happen. It goes without saying that things get quite dramatic between the three this season.
Apart from 'You,' what else has Michaela McManus been in?
Some viewers may recognize Michaela McManus from her role as Lindsey Strauss, Lucas's fiancée, on the fifth and sixth seasons of One Tree Hill. OTH was not her only teen drama; she was also in The Vampire Diaries for six episodes as a werewolf and Mason Lockwood's friend, Jules.
McManus was also a regular on Season 10 of Law and Order: SVU as A.D.A. Kim Greylek, but was written off once character Alexandra Cabot (played by Stephanie March) came back.
Other roles included Grace Karn on NBC's period crime drama Aquarius in 2015, The Orville, SEAL Team, The Magicians, Necessary Roughness, and The Village. Talk about some great shows!
Is Michaela McManus in a relationship?
Yes, she has been married to writer-producer Mike Daniels since June 3, 2011.
The couple has three children together: two sons born in 2014 and 2016, and one girl born this year on May 12, 2021.
Will we see Michaela McManus in 'You' season 4?
Nope, unless she comes back as an apparition or something. Natalie dies a brutal death in You season 3—like really brutal, with an axe and everything.
Let's just say Love doesn't take kindly to Joe finding another woman more interesting than her and so gets rid of the problem. Whoever said suburban life was boring?
Does Michaela McManus have Instagram and Twitter?
At the time of writing, McManus has 43.4k followers on her Instagram and 26.4k on Twitter.
Liv is a freelance journalist currently studying English at university. She loves covering everything from entertainment and politics to lifestyle and travel. As well as writing for My Imperfect Life, Liv has bylines in The Times, HuffPost, Den of Geek, Bustle The Metro and The Bookseller.