Who is Nam Laks from Netflix's 'Bling Empire: New York'?
Nam Laks is known as the 'Blair Waldorf of Thailand'—here's what else we know about the rising reality star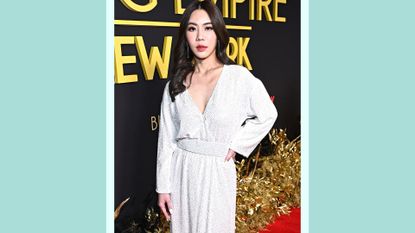 (Image credit: Getty Images/Future/Roy Rochlin/Getty Images for Netflix)
The Bling Empire: New York cast is full of CEOs, socialites and, in the case of Nam Laks, one university student who's definitely not living on your usual college-kid budget.
An East Coast spin-off of the Netflix hit reality series Bling Empire, Bling Empire: New York—which premiered on the streamer on January 20, 2023—follows yet another group of ritzy, glitzy Asian-Americans as they take on the Big Apple. Reality TV veteran Dorothy Wang, as well as Tina Leung and Lynn Ban are all featured in the sister series. But it's Laks, nicknamed the "Blair Waldorf of Thailand," that has fans' curiosity piqued, as they watch her attempt to put her life together on her own.
"Nam is used to getting whatever she wants," reads Tudum's description of the reality TV newcomer. "But now, as she's finishing up graduate school, she finds herself at a crossroads: Either she returns home, or stays in New York and faces being cut off financially."
So who exactly is Nam Laks? How old is she—and just how rich are her family? Here's everything we know about Nam Laks from Netflix's Bling Empire: New York.
Who is Nam Laks from 'Bling Empire: New York'?
Nam Laks, who we meet in the second episode of Bling Empire: New York, is a Thailand-born socialite, fashion influencer and graduate student. At the time of filming, she was finishing up a master's degree at Colombia University's Spirituality Mind Body Institute-Teacher's College in New York City. Before this, she earnt her undergraduate degree at the University of Manchester, in the UK.
Her decision to pursue the higher degree was actually at the behest of her father. "This is one of my dad's biggest things, like, he just loves when his children graduate," Nam stated in the Netflix series.

Though a self-described "daddy's girl," the TV star's extravagant spending—one Bling Empire: New York scene sees her dropping $10,000 on a single shopping spree in between classes—has led her father to threaten to cut her off financially if she doesn't secure herself a job following graduation.
In a recent interview with Prestige magazine, Nam shared that while what you see of her on screen is largely accurate, she wishes that viewers had been privy to more of her softer side.
"There are definitely parts of me that are really me on the show, but at the same time you need to understand that production, editing, and cuts mean that not everything you see is 'real'. I would definitely say that I am spoiled, and I own up to it, but I am not that spoiled. And yes, I'm definitely a daddy's girl.
"But I wish my compassionate side came out more," she continued. "I get really happy when fans come up to me and say, 'Even if you portray such a spoiled character, we can see that you're such a loving person who genuinely cares about other people'. And honestly, this also might be the reason why I got the role, because I was told during casting that I came off as very natural and genuine."
Who is Nam Laks' family? Who is her father?
Nam Laks is the daughter of Nakorn Laksanakarn, a successful Thai businessman who was previously the CEO of the Bangkok-based Natural Park PCL (NPARK), a real estate developer behind hotels, housing estates, hospitals and more in Thailand.
Nam is the youngest of three children, and she makes reference to her older brothers Nick and Nino on the show. Not much is known about her mother.
The Bling Empire: New York star confessed that her family weren't all that keen on her taking part in the series to begin with, but quickly came around to the idea. She explained to Prestige, "All my friends thought it was fabulous. Then there was my dad. At first, he was very reluctant for me to do the show, but I think when he saw me on it he was like, 'It's not that bad'. And he found it quite funny that my character was like this. I would like to say he's proud of me, but he would never admit that."
What is Nam Laks' net worth?
Nam Laks' net worth is reportedly around $100,000 as of 2023—which, interestingly, places her near the bottom of the Bling Empire: New York cast net worth list! Though we definitely wouldn't say no to that amount of money...
However, the overall fortune of the Laksanakarn family is far larger—in fact, it's estimated to be more than 1,000 times that figure, with several outlets setting their net worth between $300 million to $400 million. That could fund a lot of shopping sprees for Nam on Bling Empire...
Nam Laks birthday: how old is she?
Nam Laks was reportedly born in February 1994, making her currently 29 years old. Though her exact birthdate has not been publicized, some speculate that it is around 9th February. If this is the date of her actual birthday, that would make her an Aquarius—though if the truth is that her birthday is a little later in the month, she would be a Pisces.
Nam Laks Instagram: what's her handle?
You can catch the reality TV newcomer on Instagram at the handle @namlaks, where her 48,000-plus followers enjoy photos of Laks sharing her luxurious meals, frequent travels, and her enviable wardrobe.
What is Nam Laks up to now?
We don't know much about what Nam is up to after the first season of the show aired, but if her Instagram is anything to go by, it appears that she's splitting her time between Bangkok and New York, mostly.
Where did she land when it came to her father's ultimatum, though? Well, Nam Laks is keeping fairly coy—but she assured that, should there be a Bling Empire: New York season 2, we'll find out all about it! In the interview, she revealed, "Discussions are in the works for Season 2, so we hope good things will come out of that."
She then hinted, "My aspirations in life? Hmmm… well, I'm not going to tell you everything, you guys will just have to find out! And you'll hopefully see it in the next season! (laughs). You'll see soon where I end up.
"As for what I'm currently doing, I'm just taking some time off to be with my family and friends back home, and helping out with the business."
Catch Nam Laks in Bling Empire: New York, now streaming on Netflix.
Christina Izzo is the Deputy Editor of My Imperfect Life.
More generally, she is a writer-editor covering food and drink, travel, lifestyle and culture in New York City. She was previously the Features Editor at Rachael Ray In Season and Reveal, as well as the Food & Drink Editor and chief restaurant critic at Time Out New York.
When she's not doing all that, she can probably be found eating cheese somewhere.
With contributions from