Who is Dorothy Wang? The lowdown on the new 'Bling Empire' star
Meet Dorothy Wang, our new 'Bling Empire' favorite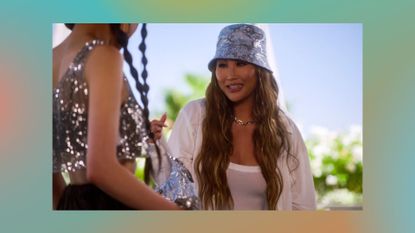 (Image credit: Netflix)
Dorothy Wang is one of two new cast members to join Netflix's Bling Empire season 2 and already, she's becoming a favorite.
The 34-year-old Chinese-American entrepreneur has joined the cast of LA's group of wealthy Asian-Americans alongside self-made businesswoman Mimi Morris and her husband Don Morris. However, this isn't her first rodeo in the world of reality TV.
Fans of the hit Netflix series starring the likes of Anna Shay, DJ Kim Lee, Kevin Kreider and Kelly Mi (to name just a few of the cast), may recognize Dorothy from Rich Kids of Beverly Hills, a now-canceled E! show. But why was she on it? Who is exactly is Dorothy Wang?
Here's everything you need to know about her, including where to find her and the rest of the Bling Empire cast on Instagram.
Who is Dorothy Wang?
Dorothy Wang was born and raised in Beverly Hills and comes from a super-wealthy family. She's the daughter of billionaire Roger Wang, the former Chief Executive Officer of Golden Eagle International Group, and has adopted a strong work ethic as a result.
As described by Netflix, "Dorothy's Chinese-born mother and father moved from Taiwan to the United States for graduate school. Her father, Roger Wang, quickly built a successful real estate business and always instilled in Dorothy and her sister the importance of hard work, family values, and giving back to the community."
She graduated from The University of Southern California with a degree in communications and she's no stranger to reality TV, having made a few appearances in several shows over the years!
How old is Dorothy?
Dorothy was born on January 27, 1988 and is currently 34-years-old.
What is Dorothy's net worth?
Dorothy Wang's net worth is estimated to be around $10 million, according to Celebrity Networth (opens in new tab). Though she has not confirmed this herself, so it could be more or less... though we doubt that!
What does Dorothy do for a living?
Dorothy is a licensed real estate broker and works for real estate firm The Agency. However, she is of course also a reality TV star and has been for quite some time. Aside from her new gig on Bling Empire, Dorothy appeared on four seasons of E!'s Rich Kids of Beverly Hills, which debuted back in 2014. The show followed the lives of a group of rich kids, whose parents were millionaires or billionaires.
When the show ended in 2016, Dorothy began filming for Famously Single, another E! show that aired in 2017. Her TV resume also includes appearances on The Steve Harvey Show and Facebook Watch's Fetch Me A Date, not to mention a host of other talk shows like Entertainment Tonight, Clevver Now, E! News special Closet Envy, Bethenny, and Hollywood Today.
However, her hustle doesn't stop there. Dorothy is also an entrepreneur with both a jewelry line named Fabuluxe and a champagne brand named Rich and Bubbly.
"There's a lot of misconceptions about me that I'm just someone that shops and parties and all that stuff," Dorothy told once E! News (opens in new tab). "I do have a more serious side and I'm trying to really figure out what I want to do with my life."
Is Dorothy friends with Nicki Hilton?
Considering the fact that she grew up in the rich kid circle of Beverly Hills, it's not hard to imagine Dorothy being friends with Nicki Hilton, or any other LA heiress. In fact, she once told E! (opens in new tab) that both Nicky and her sister Paris showed her the ropes when it came to partying in the city when they were in their early twenties. "They've always been so nice to me," she said. "They've taught me how to party. We basically went to party training."
Ah, the perks of having wealth in common!
Is Dorothy on Instagram?
The answer is, of course. Dorothy is not only on Instagram but she has a strong following of one million followers who watch her every social media move. When she's not sharing pictures of her impressive handbags and shoe collection, she's posing on jets, in cars, at restaurants or showing off her outfits.
We can't get enough—she made a big move to NYC at the end of season two so let's hope she comes back for Bling Empire season 3...
Sagal is a journalist, specialising in lifestyle, pop culture, fashion and beauty. She has written for a number of publications including Vogue, Glamour, Stylist, Evening Standard, Bustle, You Magazine, Dazed and Wonderland to name a few.