Rihanna and ASAP Rocky: the complete relationship timeline
A relationship that blossomed over the years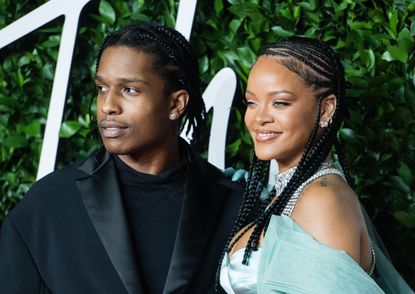 (Image credit: Samir Hussein / Getty)
Rihanna and A$AP Rocky's relationship was one of the biggest celebrity talking points last year, with everyone obsessed with pop culture's coolest couple—especially now the two have confirmed they're having a baby together! For many, it felt like a long time coming but when exactly did it all begin?
After months of speculation, news of the couple's romance was confirmed by A$AP in his cover interview with GQ in May 2021. The Harlem-bred rapper spoke candidly about falling in love with RiRi and honestly, we could all relate because who isn't absolutely besotted by her?
The two were far from strangers before getting together, having been friends for years and even collaborating in the past (back when Rihanna was still making music, that is)—a working dynamic they have leaned into once again making them the ultimate power couple. They've also been giving us some adorable PDA moments, though nothing quite as intense as Kourtney Kardashian and Travis Barker.
Here's a look back at where it all started for Rihanna and A$AP Rocky...
Rihanna and ASAP Rocky's relationship timeline
2012: Rihanna and A$AP Rocky make music together
Back in 2012, both Rihanna and A$AP were in their prime musically and has long been crossing paths within the industry. However, we got a taste of their chemistry when the two collaborated on Rihanna's single 'Cockiness (Love It)', a sensual track full of innuendos. The two performed the song together at the MTV Video Music Awards and the sexual tension was rife.
2013: Rihanna takes A$AP on tour
At this point, the two had cemented a strong friendship that grew even stronger when RiRi invited A$AP on the North American leg of her Diamonds World Tour, where he was the opening act. It's no secret that being on the road together is an intimate experience, in fact, many—like Kylie Jenner and Travis Scott—fell in love on tour so we're sure this is where foundations were laid for their future romance, whether they knew it at the time or not.
At the time, A$AP was in a relationship with model Chanel Iman, so his relationship with Rihanna was platonic. While the two had sparked some buzz following their flirty nature, any speculations about them ending up together were put on ice when A$AP and Chanel got engaged in 2014.
2015: A$AP Rocky and Chanel Iman end their engagement
Sadly, A$AP's engagement to the former Victoria's Secret model was short-lived as the pair ended their relationship in 2015. At the time, the rapper told MTV: (opens in new tab) "I got really depressed [when] me and Chanel broke up in June. I knew that–she deserves better than me. That's the truth and everybody knows it. And I don't wanna be the guy to Lauryn Hill her, if you know what I'm saying. I love her so much so that I would rather [fall back] than to be with her and hurt her. I don't want to hurt her. Not that I'm saying she's some piece of meat that I could just play with.
"Nah. I'm just saying, just to be mature about things in life—I do know where I am in life—I'm still having fun and I'm young and I need to focus on my career. I still have her. She's still in my life. It's a win/win situation."
2017: Rihanna gets a new man and A$AP is linked to Kendall Jenner
As the years go by, things feel more and more platonic between the now couple as Rihanna starts dating her most recent ex, Saudi Arabian billionaire Hassan Jameel in 2017. Meanwhile A$AP is rumoured to be dating Kendall Jenner around the same time.
June 2018: The two are pictured at a Louis Vuitton show
At this point, it feels like A$AP are very much in the friend zone but he and Rihanna still look good together when they're spotted sitting side by side on the front row at a Louis Vuitton show during Paris Fashion Week. Rihanna is still with Hassan, while A$AP appears to be single.
September 2018: A$AP attends Rihanna's annual Diamond Ball
Rihanna's Diamond Ball was one of the biggest events in Fashion in 2018, marking its fourth party after previously enduring three consecutive years of success. That same year, she invited A$AP as one of her guests and he then attended the ball again the following year in 2019.
December 2019: Rihanna and A$AP attend the British Fashion Awards together
This is the moment that had us all reviving those age-old rumors of Rihanna and A$AP's romantic connection. The two attended the British Fashion Awards 2019 together, walking the red carpet side by side and posing for pictures. They were both dressed in Rihanna's fashion brand, Fenty: Her in a mint-green satin dress and matching accessories, him in a clean black suit.
January 2020: Rihanna and Hassan Jameel split
A month after the Fashion Awards, it is announced that Rihanna is newly single, having split from long-term boyfriend, Hassan Jameel. Rihanna never commented on the breakup but a source told People (opens in new tab) that the two weren't a "good match" as "their lives were too different and it was hard to maintain a relationship".
Shortly after, Rihanna is spotted hanging out with A$AP in New York City. "They shared a hotel suite during that trip in New York," a source told The Sun (opens in new tab) at the time. "However, Rihanna is reluctant to put a label on it as it's so soon after Hassan. They're really enjoying each other's company and taking things easy as it's still early days."
They added: "It's really casual between them and she's not thinking about whether there's a future with Rocky. She's a newly-single girl having fun."
August 2020: They work together once again
Eight years after their first collaboration, Rihanna and A$AP team up professionally once again to shoot a video for Vogue and GQ, where they discuss all things skincare for the launch of Rihanna's Fenty Skin.
We're spotting a pattern here which tells us A$AP is full of support for everything RiRi does. Adorable!
December 2020: A Rihanna and A$AP relationship looks legit
By the end of 2020, several reports claim that the two are now officially a couple after months of being spotted out and about together. In fact, a source even confirms to People (opens in new tab) that Rihanna and A$AP Rocky are a couple.
"They've been inseparable the past few weeks," the insider said. "It's a new relationship, but they both seem very into it."
They continued: "They have a lot in common. ... They both are very much about helping out in the communities where they grew up... A$AP is generous, and so is Rihanna. A$AP is known for being a great guy."
At the end of December, the two are seen spending Christmas together in Barbados, Rihanna's native country, and pictures emerge of them enjoying a cruise on Christmas Eve which pretty much solidifies the dating rumors.
Rihanna then shares a picture of herself wearing a metallic bikini set and strappy heels designed by A$AP in collaboration with footwear designer Amina Muaddi: the Amina Muaddi x AWGE LSD Gladi Thigh Heel.
If that doesn't give 'supportive girlfriend', we don't know what does!
19 May 2021: A$AP Rocky calls Rihanna "the one" and confirms their relationship
Covering the May 2021 issue of GQ, A$AP opens up about his relationship with Rihanna, calling her "the one".
He explains that the two bonded on a deeper level after they rented a tour bus and embarked on a "Great American Road Trip" over the summer of 2020. "I met myself", he said of the trip. "Being able to drive and do a tour without feeling like it was an occupation or an obligated job agreement, I feel like that experience is like none other. I never experienced nothing like it."
Throughout the interview, he makes it clear that he is completely in love, adding: "[it's] so much better when you got the One. She amounts to probably, like, a million of the other ones. I think when you know, you know. She's the One."
Awww!
September 2021: The couple attend the Met Gala together
The couple looked more loved up than ever as they made their official red carpet debut as an item at the Met Gala together in New York City on September 13, 2021.
Speaking of the moment, Rihanna said: "We weren't even sure if we were going to go, so separately we were planning our looks just to be prepared," Rihanna told E! News. "We ended up getting ready together and going and I didn't even realize we were on a carpet together until somebody said, 'You're making your debut,' and I was like, 'Oh, shit.'"
The two were both in oversized ensembles, with RiRi in all black while Rocky wore a colorful quilt-style piece. It was a match made in fashion heaven.
January 2022: The pregnancy rumors are confirmed!
Rihanna Is Pregnant! Singer and Fashion Icon Expecting First Baby with A$AP Rocky https://t.co/m47yoYLtU4January 31, 2022
See more
After weeks of rumors that Rihanna and Travis were expecting a baby together, the couple decided to confirm what everyone already seem to know—RiRi is indeed pregnant!
The two were photographed during a very snowy New York walk, with Rihanna wearing a bright pink coat (which we love btw) and letting us see her bump. So adorable!
Seems pretty clear these two are in for the long haul but for now we can only say congrats on the wonderful baby news!
February 2022: New music and Fashion Week
Just as Fenty stores have debuted, RiRi took the time to discuss her pregnancy and her other baby: new music! Will fans ever get a new Rihanna album? Looks like it!
"Well, yes, you're still going to get music from me," RiRi assured us during an ET interview in February 2022. "Not a lullaby. My fans would kill me if they waited this long for a lullaby."
Fast forward a few weeks later to Fashion Week. Rihanna is bumpin' along during Milan's most notable shows. Truthfully, she might steal the show away from the models and designers on the runway thanks to her lively maternity style. She and ASAP were photographed at the Gucci show on February 25.
Sagal is a journalist, specialising in lifestyle, pop culture, fashion and beauty. She has written for a number of publications including Vogue, Glamour, Stylist, Evening Standard, Bustle, You Magazine, Dazed and Wonderland to name a few.