Simone Biles, mental health, and how we're failing our female sports stars
'I just felt like it would be a little bit better to take a backseat, work on my mindfulness,' said Simone Biles after withdrawing from the gymnastics team finals at the Olympics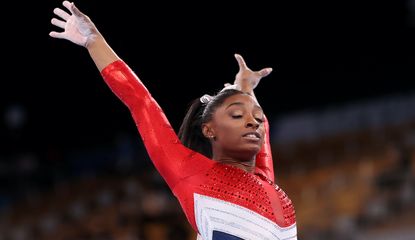 (Image credit: Getty Images)
For Simone Biles, mental health is are taking priority over her performance at the Tokyo Olympics—and rightly so.
Fans around the world were stunned to learn that the decorated American gymnast—considered the greatest of all time—decided to withdraw from the women's gymnastics team finals on July 27th after a shaky performance on the vault. Team USA ended up taking home the silver medal, behind Russia's gold.
But while her skills on the mat are gushed over globally, it's Simone Biles' courage, honesty, and leadership that ultimately prove why the talented athlete really is the greatest of all time, even when she's not performing.
---
---
Why Simone Biles dropped out of the team finals:
The excitement began weeks ago when Simone Biles became the first woman to nail the Yurchenko double pike at the 2021 GK US Classic. Many were anxious to see her perfect the move in Tokyo—and have a fifth stunt named in her honor as a result. However, pressure began to mount as the world's excitement and expectations for the young athlete grew.
On Tuesday, Biles landed a Yurchenko 1½ (instead of 2½) per ESPN and ultimately seemed shaken up during and after her performance, an unsteadiness that seemed out-of-character for the sure-footed star. After her vault at the team finals, Biles consulted with medical professionals at the international event. That's when she needed to make a move not only for herself but for her team.
"I just felt like it would be a little bit better to take a backseat, work on my mindfulness and I knew that the girls would do an absolutely great job and I didn't want to risk the team a medal for kind of my screwup because they worked way too hard for that," Biles later revealed during a press conference.
It's incredibly honorable to acknowledge your limits, avoid the risk of injury, and simultaneously lead a team toward success, and the 24-year-old seems to be doing it all with grace, which makes fans love her even more.
"I'm SO proud of these girls right here," Biles captioned on Instagram. "You girls are incredibly brave & talented! I'll forever be inspired by your determination to not give up and to fight through adversity! They stepped up when I couldn't. thanks for being there for me and having my back! forever love y'all."
Simone Biles, mental health, and pressure in sports:
Pressure in sports is nothing new, however. According to findings from the nonprofit Athletes for Hope, 35-percent of elite athletes suffer from a mental health crisis, which could manifest in a variety of ways including anxiety or eating disorders.

This taboo notion that athletes can prioritize their physical health but not their mental health is hurting many, but Biles and other top athletes including tennis great Naomi Osaka—who recently withdrew from both the French Open and Wimbledon to protect her mental wellbeing—are taking steps to end that.
Showing support for mental health awareness, Biles addressed Naomi Osaka's similar emotional hurdles during the press conference on Tuesday, July 27th. Osaka, the 23-year-old tennis champ, declined to take interviews after matches as a result of the pressure she experienced. This ultimately caused her to withdraw from those big, pre-Olympic competitions, a move that earned support from peers like Venus Williams. (You can read Osaka's decision about stepping down on her Instagram.)
"It's okay sometimes to even sit out the big competitions to focus on yourself because it shows how strong of a competitor or a person that you really are," Biles said.
"I think it's also just really important to think about how much pressure has been on her, and there's only so much that someone can take," gymnast Aly Raisman said on TODAY of Biles. "She's human, and I think sometimes people forget that. And Simone, just like everyone else, is doing the best that she can."
Concerns around mental health and the deficiencies in support around the topic have clouded these Tokyo Olympics. One of the most heartwrenching stories to come out of the weeks leading up to this year's games was that of Sha'Carri Richardson.

The track star, who is one of the fastest women in the world and finished the 100-meter qualifying heat in a mere 10.64 seconds, was suspended from the USA Track & Field after testing positive for THC. Richardson had turned to the substance to cope with the grief of losing her biological mother just days before the qualifier. "I apologize for the fact that I didn't know how to control my emotions or deal with my emotions during that time," Richardson said after her suspension went public.
Rather than provide real, actionable support and care for struggling athletes, the Olympics and the world at large shuns them, as they did with Richardson, or criticizes them, as they did with Osaka. It's piling worry and pressure on top of an already-shaky foundation, and we need to do better by them—better by Sha'Carri Richardson, Naomi Osaka, Simone Biles, and all of the women whose supernatural physical talents we celebrate and canonize, but whose very human mental wellbeing we diminish and scrutinize.
It's not clear whether or not Simone Biles will be participating in other Olympics events in the coming days, but whatever she decides to do, she'll have the support of her athletic peers and countless fans across the globe, including us.
Christina Izzo is the Deputy Editor of My Imperfect Life.
More generally, she is a writer-editor covering food and drink, travel, lifestyle and culture in New York City. She was previously the Features Editor at Rachael Ray In Season and Reveal, as well as the Food & Drink Editor and chief restaurant critic at Time Out New York.
When she's not doing all that, she can probably be found eating cheese somewhere.