What time is the 'Succession' finale? All about the oversized final episode
Our time with the Waystar crew is coming to an end. Here's what we know about that 'Succession' finale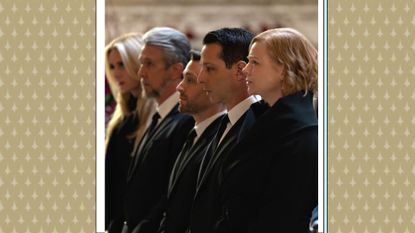 (Image credit: Macall Polay/HBO)
Succession Sundays are coming to an end, but when exactly is the Succession finale and what can we expect from the last episode of the Emmy-winning HBO hit?
Succession season 4 premiered on HBO and HBO Max on Sunday, March 26, and it prompted many questions for fans: is Shiv pregnant (and is Tom the baby daddy)? What's going on with Roman and Gerri? Will the GoJo deal actually go through? And, most importantly, how will Succession end and who will take over the world of Waystar Royco now that Logan Roy is no longer CEO (nor, er, alive)?
There's still plenty that needs clearing up in the Roy universe before the show's end, so here's when you should be marking your calendars for the Succession finale and everything we know about the final episode.
*Warning: season 4 spoilers ahead*
When is the 'Succession' finale air date?
A little Memorial Day Weekend treat, the Succession finale will air on HBO and Max on Sunday, May 28 at 9pm EST. (Americans will be happy to have Monday off—heaven knows we'll probably need a whole day to recover from the ep!)
Is the season 4 'Succession' finale the show's last?
Yes, the season 4 finale will reportedly be the last Succession episode ever. Creator Jesse Armstrong confirmed the fourth season would be the drama's last to The New Yorker back in February: "You know, there's a promise in the title of "Succession." I've never thought this could go on forever. The end has always been kind of present in my mind. From Season 2, I've been trying to think: Is it the next one, or the one after that, or is it the one after that?"
Armstrong continued: "I got together with a few of my fellow-writers before we started the writing of Season 4, in about November, December, 2021, and I sort of said, 'Look, I think this maybe should be it. But what do you think?' And we played out various scenarios: We could do a couple of short seasons, or two more seasons. Or we could go on for ages and turn the show into something rather different, and be a more rangy, freewheeling kind of fun show, where there would be good weeks and bad weeks. Or we could do something a bit more muscular and complete, and go out sort of strong. And that was definitely always my preference."
What is the 'Succession' finale runtime?
The May 28 episode may be the last, but at least it will be a supersized edition. "It's 90 minutes," Succession's composer Nicholas Britell—the maestro behind the show's exceedingly earworm-y title theme—told Variety in early May. "It's a huge episode — like a movie."
And in more good news, the extended ep will be directed by executive producer Mark Mylod, who has helmed 13 episodes of the series, including the season 3 finale "All the Bells Say" (for which he won Outstanding Directorial Achievement in Dramatic Series at the 2022 Directors Guild of America Awards) and that tensely tragic season 4 episode "Connor's Wedding," which chronicled the long-teased death of Logan Roy (Brian Cox) and how the seismic event affected his four children and his company at large.
What will happen in the 'Succession' finale?
Your guess is as good as ours, but some eagle-eyed viewers have spotted a clue in the episode title that might give some insight into what we can expect from that last episode.
Each of Succession's season finale titles were pulled from John Berryman's Pulitzer Prize-winning poem, "Dream Song 29": season one's "Nobody Is Ever Missing," season two's "This Is Not for Tears" and season three's "All the Bells Say." The fourth and final finale will follow in that tradition, taking the title "With Open Eyes." The poem is a deep-dive into the psyche of a troubled, guilt-ridden man named Henry, who falsely imagines that he has committed a murder.
Longtime Succession viewers will deduce an obvious connection between Henry's story and that of Kendall Roy, who has been living with the guilt of his own loss: that of Andrew Dodds, the waiter from Shiv and Tom's wedding, who died in a car accident while Ken was driving in the season one finale. Does that mean that people will find out about Andrew's death and the subsequent cover-up of the accident by Kendall and his late father Logan Roy?
Speaking about the connection between the poem and the episode titles, Succession's creator Jesse Armstrong told Vulture after season two: "It's true about that poem. It has a terrifying sense of that feeling Kendall has at the end of the last season, wondering if something could have happened. In Berryman's poem's case, in the end, [a death] hasn't happened. But it has happened to Kendall."
How many more 'Succession' episodes are there?
Like previous seasons (except for the nine-episode third), Succession season 4 will have 10 episodes in total. That means, at the time of publication, there is only one episode of Succession left, the big finale on Sunday, May 28. We'd say we were sad, but Gerri would just snap at us: "You might want to put down that fish taco. You're getting your melancholy everywhere."
As for deciding to end Succession after the fourth season, despite continued critical and commercial acclaim ("Connor's Wedding" drew a series' high of 2.3 million viewers, a record that the show beat the very next episode), Jesse Armstrong told The New Yorker: "It's been a difficult decision, because the collaborations—with the cast, with my fellow-writers, with Nick Britell and Mark Mylod and the other directors—they've just been so good. And I feel like I've done the best work I can do, working with them."
"HBO has been generous and would probably have done more seasons, and they have been nice about saying, 'It's your decision.' That's nice, but it's also a responsibility in the end—it feels quite perverse to stop doing it," Armstrong continued.
Catch Succession season 4 on Sundays at 9pm on HBO and Max, and the series finale on Sunday, May 28.
Christina Izzo is the Deputy Editor of My Imperfect Life.
More generally, she is a writer-editor covering food and drink, travel, lifestyle and culture in New York City. She was previously the Features Editor at Rachael Ray In Season and Reveal, as well as the Food & Drink Editor and chief restaurant critic at Time Out New York.
When she's not doing all that, she can probably be found eating cheese somewhere.