How will 'Succession' end? Fans have theories
Who in the Waystar crew will come out on top? How will 'Succession' end? Here's what fans are predicting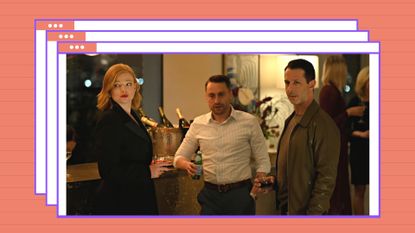 (Image credit: David Russell/HBO)
It's been the big question all season: exactly how will Succession end?
After that shocking third episode of Succession season 4, during which—*spoiler alert, but seriously where have you been?*—Waystar head honcho Logan Roy (Brian Cox) died whilst allegedly trying to fish his cell phone out of an airplane toilet, per Tom, the future of the media conglomerate is up in the air (pardon the pun). Will Logan's children finally take control of the company for real, or will it go the way of Lukas Matsson (Alexander Skarsgård) and GoJo?
We'll find that all out in the big Succession finale, coming on Sunday, May 28 (yes, if you were wondering how many seasons of Succession we will get, alas, this is the final one), but in the meantime, viewers have been busy speculating over on social media. Which Succession character, if any, will take it all? Here's what fans think.
*Warning: spoilers are obviously ahead!*
How will 'Succession' end? Fans have theories:
1. Tom will go full villain
There's a running theory in the Succession fandom that a character's choice of smartphone brand could dictate whether they're a villain or a hero. (Using the word "hero" here very loosely, because have you met the Roys?)
Shiv, Kendall, Roman and the rest of the Roy clan are all dedicated iPhone customers as we've seen in the show's many phone scenes (including that, uh, revealing little scene between Logan, Roman and Gerri last season). However, Shiv's estranged hubby Tom Wambsgans (Matthew Macfadyen) is an Android user, with his Samsung cell phone making frequent cameos throughout the series. Off the rumor that Apple doesn't allow "bad guys" to be seen using iPhones onscreen, that leaves Succession fans thinking that Tom will go full villain by the series' end.
2. Roman will die
When it comes to the Roy siblings, Kendall (Jeremy Strong) has routinely been the one that fans have been most worried about dying throughout the seasons. (Remember that scary pool-float situation from last season?) But in season 4, those concerns have redirected to Kendall's younger brother Roman (Kieran Culkin).
Roman has had a tough time of it in the fourth season, dealing with not only the death of his father (that breakdown during the funeral in the penultimate episode was heartwrenching) but also with his "break-up" (professionally or otherwise) with his mentor Gerri (J. Smith-Cameron). Several eagle-eyed viewers noted that Roman could be seen handling bottles of prescription pills several times this season, which has some worried that a drug overdose might be in the character's future.
Roman discussed death earlier in the season with Kendall, saying: "I'm not crazy myself about dying...I just didn't see it coming with dad. Very undad. So I think people would be very intrigued if there was another way through the whole situation. Life, death. You know, get loaded onto a chip and fired up someone's ass. Float around as a gas, live as a tortoise? There's got to be ways through. Death just feels very one size fits all." Foreshadowing, maybe?
I wasn't convinced he was dying but i just watched the latest ep & literally everyone kept talking about death and roman and his grief and then those two lines of king/kings and ceo/co ceo bit has me convinced roman roy is gonna die & he is my favourite#Succession #SuccessionHBO pic.twitter.com/JumIDuWQQxMay 3, 2023
See more
now tell me why roman roy is in his effy stonem era just choking back random pills to copeApril 17, 2023
See more
reading fan theories about the end of succession and too many people think that roman is going to die by su*cide pic.twitter.com/BsT6RMrcNoMay 4, 2023
See more
3. Kendall will get caught
Succession isn't the type of TV show to leave plotlines dangling, so the matter of Andrew Dodds' death from the season one finale—when an under-the-influence Kendall accidentally drove himself and the waiter off a bridge while the two were on a drug run—will surely come up again by the series' end.
Both Roman and Shiv know the truth about what happened that night, Kendall having broken down and confessed to his siblings during their mother's wedding in Italy last season, so if the newly-formed union between the Roy kids were to fall apart by the end of season four, they can use the confession to their advantage to get Kendall out of the CEO seat.
There's also the issue of Kendall ordering Hugo (Fisher Stevens) to conduct a smear campaign against his late father, which could potentially expose the fact that Logan covered up the accident to protect his son. Will Kendall end the series behind bars?
Kendall on his way to alienate his siblings who know he killed someone and could put him in jail like that 💥🫰#Succession pic.twitter.com/zh3peTrg5bApril 17, 2023
See more
By the last episode of #succession Kendall will be dead or in jail. pic.twitter.com/VM5UtXhavXApril 24, 2023
See more
The best ending to Succession would be Kendall in jail , Shiv and Kendall destroying the company in the process of trying to destroy each other, and Roman happy and surrounded by those that love him, looking to the future with hope.April 25, 2023
See more
4. Shiv will betray her bros
Siobhan has already been doing double duty as an ally to both her siblings and to Lukas, feeding the tech giant intel straight from inside her older brothers' business conversations.
Working both sides has given Shiv an advantage when it comes to the future of Waystar, especially given how much dirt she has on all of the above men: she knows about Roman's textual proclivities with Gerri, knows about Kendall's cover-up with the waiter, and knows about Lukas sending Ebba, his head of communications over at GoJo, those creepy "blood bricks." Dropping word of any of the above would destroy the men's reputations and any chances they have of heading Waystar.

"I think [Shiv] is a killer, long-term," actress Sarah Snook revealed on the Succession podcast. "I think she's the most like Logan, so in the end, inevitably, will end up to be a killer—maybe more than Kendall is."
when connor ends up president and shiv ceo of waystar this will make more sense i promise https://t.co/pFm5vH0VRfMay 2, 2023
See more
Let's all be honest, shiv deserved to be the CEO, these men don't know what they're doing and they're going insane #SuccesionHBOMay 1, 2023
See more
SHIV WILL BE CEO. THERE IS NO OTHER WAY. https://t.co/LZbYKC3YhQMay 5, 2023
See more
5. Greg will take it all
Cousin Greg has always been a bit of a joke to, well, everyone, but what if he gets the ultimate laugh by taking the whole Waystar lot?
We all know Cousin Greg is going to LBO Waystar and then the screen goes black https://t.co/MklqIhvVUlMay 2, 2023
See more
See where everybody ends up in Succession season 4, which airs on Sundays at 9pm EST on HBO and Max, with the final episode on Sunday, May 28.
Christina Izzo is the Deputy Editor of My Imperfect Life.
More generally, she is a writer-editor covering food and drink, travel, lifestyle and culture in New York City. She was previously the Features Editor at Rachael Ray In Season and Reveal, as well as the Food & Drink Editor and chief restaurant critic at Time Out New York.
When she's not doing all that, she can probably be found eating cheese somewhere.