The Pursuit of Love: watch Lily James' playful period drama
The Pursuit of Love—Nancy Mitford, the Roaring Twenties, divine clothes and Andrew (hot priest) Scott = the escapism we need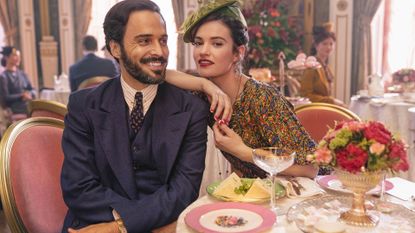 (Image credit: BBC Studios)
The Pursuit of Love: what is it and where's it set?
If you're anything like us, you've been lolling around in comfy loungewear—in between Zoom calls and the occasional, uninspired attempt at online fitness—for far too long. We've been hearing hints of a hedonistic Hot Girl Summer (HGS) on the way for a while now, but we don't want to get our hopes up just yet...However, one thing we have been able to rely on this past year is TV's ability to whisk us away to happier, more carefree times—Bridgerton, anyone?
Cue, the latest BBC / Amazon Prime co-production, The Pursuit of Love—a three-part romantic period drama, heading your way. It's set between the wars, in England and Paris, and is packed with stately homes, glamorous gals and eccentric aristocrats. it also comes with a star-studded cast and a wickedly funny script. Just the thing to ease the transition from laid-back loungewear to pool-side lounger.
Adapted and directed by Emily Mortimer from socialite Nancy Mitford's novel (based on Mitford's own unconventional family), The Pursuit of Love follows the lives, loves and enduring friendship of cousins Fanny and Linda—from the roaring twenties right through to the pre-WWII period. Lily James (who has a long pedigree in historical dramas—Rebecca, Downton Abbey and War & Peace), plays the passionate, free-spirit, Linda Radlett—who finds 'normal' life dull and longs for excitement and true love. Emily Beecham plays her more cautious cousin, Fanny, who's in search of stability after a childhood where her mother, 'The Bolter' (director and actor, Emily Mortimer), continually dumps her on Aunt Emily, as she runs off with her latest boyfriend.
Fanny spends summers with the Radlett family—at Alconleigh (the family home in Oxfordshire)—the seven Radlett siblings, sweet Aunt Sadie (Dolly Wells) and cantankerous Uncle Matthew (Dominic West, The Affair) aka, Lord Alconleigh—who hates 'foreigners', adulterers and educated women among (many) other things.
Wealthy, bohemian neighbor Lord Merlin (played by Andrew Scott—Fleabag's dangerously delicious priest, or Sherlock's Moriarty, take your pick) introduces Linda and Fanny to the decadent delights of Europe's 'Bright Young Things.' They gain a gaggle of suitors, and a husband or two, and it's at this point the girls' lives start to diverge: Fanny opts for a traditional life, while Linda is on a constant quest for adventure and her elusive soul mate.
Darker and more thoughtful than it might initially seem from the frothy mad-cap trailer, The Pursuit of Love is the perfect sidekick for your own summer of fun.
The Pursuit of Love gets release date in the US, Canada, Australia and New Zealand
Viewers in the US, Canada, Australia and New Zealand have been waiting a while, but now we have news... The Pursuit of Love starts streaming Friday, July 30 and Amazon Prime Video subscribers get to watch the dreamy drama for free.
Are you a Fanny or a Linda? Super cautious, or throw caution to the wind?
As Lily James tells the BBC "Linda really follows her heart and gut...she just always lives for love. She is who she is." At times this puts her at odds with Fanny, despite their deep friendship. Fanny takes time to find her path and to trust herself and approaches life (and love) with far more caution. But Lily makes it clear that it's both girls' journey and both approaches have value, "it's a celebration of female friendship. The book celebrates you making your own choices."
How to watch The Pursuit of Love right now
The Pursuit of Love has already aired in the UK, but all three episodes are still available to stream on BBC iPlayer. So, If you're currently outside the UK and can't wait to jump into the drama, you could use a VPN — allowing you to get a head start and watch wherever you are.
Our favorite VPN service is ExpressVPN, which is secure, reliable and offers a 30-day money-back guarantee.
Adapting Nancy Mitford's novel
Director, writer and actor, Emily Mortimer told the BBC that when she started adapting The Pursuit of Love, she "worried whether the world really needed another bit of 'poshness' on our screens". But the novel covers themes that are so relevant today, "there is something about this story being set between the wars, at a time when life was very fragile and everyone was living like there was no tomorrow".
Mitford's writing also has parallels with modern issues, Mortimer says, "she is fearless and brave...even for now, she's asking quite radical questions about what it means to be a woman".
The Pursuit of Love official trailer
Who's in the cast of The Pursuit of Love?
Emily Mortimer - Writer, Director & Executive Producer
Lily James (Rebecca, Downton Abbey and War & Peace) - Linda Radlett
Emily Beecham (Cruella, Hail, Caesar!) - Fanny Logan
Dominic West (The Wire, The Affair, The Crown) - Uncle Matthew
Andrew Scott (Fleabag's 'Hot Priest', Moriarty in Sherlock) - Lord Merlin
Assaad Bouab (Call My Agent! And Homeland) - Fabrice De Sauveterre
Emily Mortimer - 'The Bolter'
Dolly Wells - Aunt Sadie
Annabel Mullion - Aunt Emily
John Heffernan - Davey
Shazad Latif - Alfred Winchman
Freddie Fox - Tony Kroesig
James Frecheville - Christian
Beattie Edmondson - Louisa Radlett
Martha West - Jassy Radlett
Period dramas to watch if you like The Pursuit of Love
Pride and Prejudice (BBC, 1995): amps up the chemistry at the heart of Jane Austen's witty novel. Introducing sizzle—in the form of a wet-shirted Colin Firth (Mr Darcy) and sparkle—in a superb turn by Jennifer Ehle (Lizzie Bennet)
Bridgerton (Netflix, 2020): Shonda Rhimes' super-sexy, regency drama takes what we expect from historical dramas and turns it on its head. With diverse casting, a rock sound-track and a focus on the female gaze, it couldn't fail to make a stir.
Downton Abbey (ITV/PBS, from 2010): the grande dame of period drama
The much-loved, long-running TV show (and, now, films) covers the lives and loves of the Crawley family, headed up by Robert, Earl of Grantham (Hugh Bonneville) and their 'below stairs' staff.
---
---
Louise is Content Director for My Imperfect Life, helping the team to develop and grow our newest lifestyle brand. Louise has worked in content strategy, production, and audience development, for leading film, TV and entertainment companies, including the BFI, ITV and WarnerMedia, for over 15 years.
Always fascinated by the next digital trend, I'm currently obsessed with FilmTok. Otherwise, you can find me extolling the virtues of Smallville, rom-coms, Wong Kar Wei and Monty Don/Gardener's World.