The My Imperfect Life guide to: Lisbon
Visiting Lisbon? From pretty tiles to yummy pastéis de nata, here's how to plan your best trip to the Portuguese capital...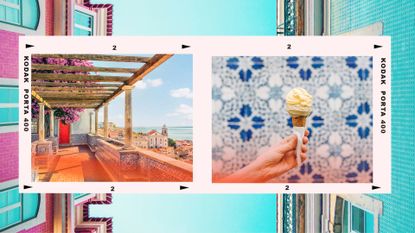 (Image credit: Getty Images)
If there's one holiday spot creating some serious buzz of late, it's Lisbon. Whether you're planning a spring weekend getaway or are after a longer summer break, the European city really does have it all: sunshine that hits its pretty tiles, colorful walls and stunning viewpoints in Instagram-worthy fashion.
It's worth knowing the best places to visit before you begin a sweaty ascent of one of Lisbon's many hills (top tip: pack your best sneakers!). We've done the legwork for you (literally) and have explored where to stay, eat, see and party for the best time in the city—including the places to fuel up on brunch, shop cute ceramics and watch the sun go down.
As you'll learn, there's much more to the Portuguese capital than munching on a pastel de nata, enjoying a thrilling tram ride or listening to local fado music (although definitely do all three, too!). Our list includes long-time local favorites as well as quieter up-and-coming recommendations to seek out before the crowds descend. You'll be thanking us later...
Meet our Lisbon experts:
Lauren is a contributing editor at My Imperfect Life and while she's originally from England, she's been calling Lisboa home since 2020. Her Portuguese is coming along nicely and she can often be spotted going up and down the hills between yoga lessons, co-working spots and cafézinhos with friends.
Mariana is the editor of My Imperfect Life. She was born and bred in Portugal and while she's a proud northerner, she loves visiting Lisboa as often as possible to explore the city. Her absolute favorite thing about the capital? The river view, with a drink in hand.
Things to do in Lisbon: The MIL guide
Stay here: 1908 Lisboa Hotel
There's plenty of choice when it comes to comfy hotels and hostels in the city—but few beat the boutique 1908 Lisboa Hotel in terms of slick design and incredible location. As well as rooms created in an airy art deco style, there's the in-house Infame restaurant where you can tuck into delicious Portuguese seafood. The hotel is also situated right beside the trendy Largo do Intendente square which is brimming with cool bars and eateries (drink at Casa Independente and snack at Palma Cantina).
For longer, more chilled stays, then Selina Secret Garden is a great option. The cool, upmarket hostel, which is nestled between the nightlife of Bairro Alto and picturesque Santos, also has a pool and a co-working space. The rooftop also doubles up as a co-working space on sunny days.
If you're looking to sample how the locals live then Outsite gives you the opportunity to experience co-habit with other like-minded people keen to explore. You'll all reside in a traditional Lisbon home, complete with a cozy lounge space and sheltered terrace that's walking distance from all the main attractions.
Brunch here: Dear Breakfast
You can't go wrong by starting your day at Dear Breakfast. The city is home to three of its stylishly decorated branches—in Bica, Chiado and Alfama—which are particularly great for people-watching. Sip on a 'pink' latte (as pretty as it sounds) or green smoothie and tuck into their delicious eggs benedict or sweet pancakes. You'll be all ready and set for a day of climbing hills...
On another morning, head to The Mill—although make sure you go early as space can be tight. The Australian-style brunch spot, which is near Bica, serves on-point flat whites as well as avo-on-toast. Step outside and catch the famous yellow tram number 28 up the hill. (Pro tip: take cash as they don't accept cards.) We also rate Amélia in Campo de Ourique and Seagull Method in Príncipe Real (or its sister branch Heim).
Mosey around: Alfama
This historic residential neighborhood, on a slope between the hilltop Castelo de São Jorge and the river Tejo, is like nothing else you've ever seen. It's one of the city's oldest areas with so many narrow, winding streets that they're not even all recorded on Google Maps. In the evening, it is famous for its restaurants hosting traditional fado performances during dinner (Madonna, who lived near Lisbon for a period, favored Mesa De Frades).
Nearby is an area called Graça, which is home to one of the city's most stunning viewpoints, the Miradouro da Senhora do Monte—stop off at the brilliant, very well-hidden bar, Secret Garden LX, right beside it (seriously—we thought someone was just having a private garden party). Down by the river, take an e-scooter and whizz along the main Praça do Comércio square to the hip LX Factory in Alcântara, a former industrial complex now home to bars, restaurants and shops.
Drink this: Ginjinha
While sipping one of the most popular Portuguese beers, Sagres, should definitely be included in your travel plans, also make time for ginjinha, a sweet cherry liqueur that originated in Lisbon and is best enjoyed from the A Ginjinha bar near Rossio square. Also, enjoy a glass of vinho verde—which literally translates to 'green wine'—at bars and restaurants across the city, including at By The Wine.
If you're after a spot to enjoy your go-to tipple, then the city isn't short of drinking dens for relaxation and fun. Enjoy a fancy cocktail at Topo Chiado (or its sister bar Topo Martim Moniz), while Lost In is a great shady spot to cool down in the heat. At night, head to Park Bar—a lively spot on top of a car park in the center—or for something more romantic Foxtrot is your best bet.
Instagram this: Elevador da Bica
If you want to wow those at home on Instagram, then the city has plenty of stunning spots to choose from. We recommend heading to the top of Elevador de Bica—its seriously steep hill means there's an incredible view overlooking the river, and the presence of one of Lisbon's iconic trams means that it ticks the box for the ideal holiday snap.
For capturing some of the city's pretty tiles and jacaranda trees (which bloom just before summer), then the Miradouro de Santa Luzia, which has sweeping views of Alfama and the river, is perfect.
If you're on the lookout for the most colorful, exquisitely tiled streets for a very Lisboeta background, then head to the Santos, Estrela and Príncipe Real neighborhoods.
Learn about: Tiles
You've probably guessed it already—it's all about the tiles over in Lisboa. To learn more about the city's patterned façades, head to Lisbon's tile museum, called the Museu Nacional do Azulejo. While it is situated in the Madre de Deus Convent, located a little way out of the center in Xabregas, it is worth the journey to see a collection featuring pieces dating back to the 1400s. Make sure to check out its beautiful on-site café, too.
If you want to get immersed in nature, the Estufa Fria greenhouse at the top of Parque Eduardo VII is home to an incredible assortment of plants. History fans should visit the ruins of the medieval Carmo Convent in Chiado, where you can learn about the infamous 1755 earthquake that rocked Lisbon.
Finally, one of the best ways to get better acquainted with the city is through its walking tours—the African Lisbon Tour will help you learn about its role in the transatlantic trade and colonization.
Grab dinner at: Javá
On one of your evenings in Lisbon, make sure you enjoy dinner at Javá. The rooftop restaurant serves up delicious Mediterranean cuisine—like octopus and lamb kofta—along with an incredible view of the iconic Ponte 25 de Abril and the Cristo Rei statue. Book ahead and get there to see the stunning sunset.
If you can't decide where to eat or are part of a large group then the food hall Time Out Market in Cais do Sodré will satisfy all tastes. Go to Marline Vieira to sample traditional Portuguese dishes, while Manteigaria is a local favorite for pastéis de nata and Davvero has the best ice cream in town.
For seafood lovers, Cervejaria Ramiro is legendary, while Ponto Final (a short ferry ride across the river) has become a cult classic. In fact, if you've watched Money Heist, the very popular Spanish Netflix hit, you might have spotted this cute little restaurant already!
Shop here: Cerâmicas na Linha
Portugal has become world-renowned for its stunning ceramics—pick up the most beautiful, locally-made vases and mugs at Cerâmicas na Linha. Just be careful about suitcase weight and space because it's easy to get carried away! You can also pick up second-hand crockery—as well as numerous other bargains—at the city's famous flea market, Feira da Ladra, in Graça on Tuesdays and Saturdays.
If you're out and about at the start of the weekend and fancy some home cooking, then stop by the upmarket Príncipe Real neighborhood, whose garden hosts a Saturday organic food market. The area is also home to numerous independent boutiques selling clothes, chocolate and skincare.
Don't miss: Arco da Rua Augusta
One of Lisbon's main streets Rua da Augusta is usually heaving with tourists and is generally best avoided. But if you make a beeline for the grand Arco da Rua Augusta at the Praça do Comércio end and take the elevator to the top, you will be treated to one of the most incredible views of the city.
If you find yourself wandering north of Parque Eduardo VII then enjoy a coffee break at the stunning Linha d'Agua café. Having one (or plenty) of coffee breaks is one of the pillars of Portuguese living, so make you immerse yourself amongst the locals with a drink at one of the quiosques in the leafy Praça das Flores square or Jardim da Estrela garden.
Want even more travel inspiration? Check out our guides to New York City and the Amalfi Coast, our Solo Travel package and our round-up of alternative city breaks for a trip away from the tourist crowds.
Lauren is a freelance writer and editor with more than six years of digital and magazine experience. Most recently, she has been the Acting Commissioning Editor of Women's Health—where she co-produced the Going For Goal podcast—and has previously also written news and features for titles including The Telegraph, Grazia, Stylist, Dazed, The Sun's Fabulous, Yahoo Style UK and Get The Gloss. She covers all aspects of lifestyle, specializing in health, beauty, and travel. Can't live without: oat milk lattes, new podcast episodes, long walks, and great skincare.
With contributions from