Vegan celebrities: these stars have all gone plant-based
Need some veggievore inspo? These vegan celebrities have famously gone all-in on the diet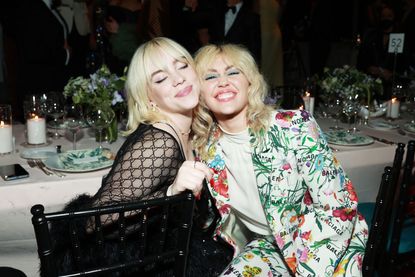 (Image credit: Matt Winkelmeyer / Getty)
Incorporating a vegan diet into your lifestyle is known to have several benefits on your overall health and happiness—not to mention it reduces animal cruelty. For those reasons and more, there are a ton of vegan celebrities who have gone the way of the plant-based lifestyle and maintained that particular diet with high praise, approval, and satisfaction.
Know that choosing to go vegan yourself will take a lot of commitment, sacrifice, and personal dedication. However, if you decide it is the right route for you, it can also be a great option for weight loss, reduced risk of heart diseases, and even lower chances for some cancers.
Many beginners start with one of the best meal prep delivery services in their area to ensure they are getting enough nutrition and doing it correctly, but how you receive your plant-based ingredients and meals is ultimately up to you.
Here are some of the best-known vegan celebrities and their personal experience with it.
---
---
Meet some of our favorite famous vegan celebrities:
1. Billie Eilish
Billie Eilish has always been a vegetarian, born and raised in a household that supports it. However, it was around 2014 that she decided to go completely vegan. She was fed up with the way animals were (and are) being treated and felt like there were better ways to go about eating healthy while keeping animals safe. (She also famously used her Met Gala 2021 look to end the sale of fur at Oscar de la Renta.)
In response to fans on Tumblr in 2018, Eilish said: "I went vegan like four years ago. There were a lot of reasons. I love animals, and I just think there's no point in creating something out of an animal when the animal is already there. Leave animals alone... Also, I'm lactose intolerant, and dairy is horrible for your skin, and my skin is VERY aware of that."
2. Lizzo
After nearly seven years of being a vegetarian, Lizzo took to veganism in 2020. The "Truth Hurts" singer regularly supports women one way or the other on TikTok, explaining: "I cannot condemn one woman or the other. I'm happy both ways, and right now, this is what's bringing me joy."
The star uses her social media platform to give interested fans a look into veganism, her favorite veggie-based TikTok recipes, her tips and tricks on navigating the new lifestyle, and videos on making all of her favorite high-protein vegan meals.
3. Evanna Lynch
Harry Potter fans know this star as the fun, kind, and kooky Luna Lovegood in the series. Evanna Lynch has been a proud vegan since she was a young child, often telling interviewees and fans that it came naturally to her.
In a 2017 interview with Emma Pocock on The Leaky Cauldron, Lynch told fans she was working on a vegan podcast and blogging about veganism "because I feel like there are so many people who are interested. It's not quite mainstream yet, but it's getting there. There are so many people who say 'I want to, but I don't know how or feel they're too lazy, so I just want to talk about that. You don't have to be a big foodie or a big animal lover. There are ways you can make little changes."
Today that podcast is titled The ChickPeeps Vegan Podcast and is aimed at vegan health and fitness tips and tricks about navigating the lifestyle correctly and being "more compassionate towards animals" in the process.
4. Beyoncé and Jay-Z
Power couple Beyoncé and Jay-Z are also big supporters of vegan diets. Beyoncé, in particular, is known for using her celebrity platform and social media sites to get fans pumped about the diet and more involved in the lifestyle. Not only have the two superstars offered free tickets for 30 years at one point to fans who made the switch over, but she also uses Instagram to promote fans going on a diet with her, saying, "44 days until Coachella!! Vegan Time!! Click the link in my bio to join me!"
5. Venus Williams
After being diagnosed with Sjögren's syndrome—an autoimmune condition known to cause joint pain and fatigue—Venus Williams has taken to veganism as a way of staying healthy. She also admits that she cheats on occasion, but it's more important to make healthy choices than to adhere to a super-strict diet.
According to an interview with ABC News, the superstar athlete explained: "I think everyone has a moment where they do have health issues. It's important to address those with a physician, but in general...people do need those alternatives even if they haven't had those life-changing issues. I never advocate living the perfect life. You have to live a balanced life. The transition can be a challenge, but the rewards are worth it."
Joining Venus and these veg-focused celebs are fellow famous vegans including Ariana Grande, Natalie Portman, Liam Hemsworth, Alicia Silverstone, Jenna Dewan, Russell Brand, Joaquin Phoenix, Zac Efron, Pamela Anderson and many more. If you're interested in transitioning into a vegan diet, be sure to check out all of our vegan content and learn more about how to do it safely!
Lauren is a freelance writer and editor with more than six years of digital and magazine experience. Most recently, she has been the Acting Commissioning Editor of Women's Health—where she co-produced the Going For Goal podcast—and has previously also written news and features for titles including The Telegraph, Grazia, Stylist, Dazed, The Sun's Fabulous, Yahoo Style UK and Get The Gloss. She covers all aspects of lifestyle, specializing in health, beauty, and travel. Can't live without: oat milk lattes, new podcast episodes, long walks, and great skincare.