Your weekly horoscope is here: January 31 - February 6
A new weekly horoscope brings an exciting week ahead...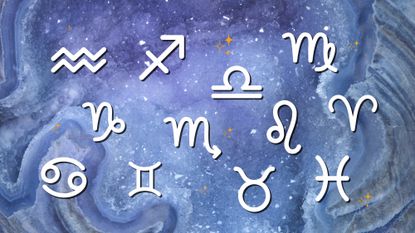 (Image credit: Future)
Welcome to your weekly horoscope—an exciting week lays ahead! As we move into February, we are under the powerful new moon. Happening in Aquarius, this lunar energy functions as a time-traveling machine, putting our minds in the future. This is an excellent time to move from the old into the new, as this lunation marks the beginning of the Lunar New Year, also known as Chinese New Year.
On February 3, Mercury goes direct, which should bring more normalcy to all things communication, tech, and commerce. However, because Mercury will be sitting next to Pluto as it turns direct, we can have our exchanges become a bit intense (beware of Mercury retroshade). Secrets and information previously buried are also bound to come to the surface. This Mercury-Pluto combination is what detectives are made of, bringing an ideal time to get to the bottom of something in the case that we are looking for some answers.
But the best news of all arrives on Thursday and Friday, which is when Mars in Capricorn will form a gorgeous connection with Jupiter in Pisces. This astrological transit is one of the best of the entire year! It is bound to help us feel energetic and courageous to go after our goals. Both romance and business dealings are bound to go well and have an excellent chance of finding success.
With no planets in retrograde motion and the wind at your back, what will you manifest for yourself in the week ahead? It's time to go for the gold!
---
Weekly horoscope: what does this week have in store for you?
Aries
This is one of the best weeks of the year to invest time and effort in your career and public reputation, Aries. As your ruler, Mars, forms a shiny alliance with lucky Jupiter, you could really get the attention of higher-ups or someone who could support your efforts. You love to take risks, and this week is asking you to do exactly that—especially with Mercury now direct clearing up the confusion that might have come up in the past three weeks.
Taurus
Venus, your planetary ruler, is now direct—which means that it's all smooth sailing from here! This week's new moon is happening in your career sector, bringing you a new beginning and an opportunity to set ambitious goals. As you prepare for this, you must think outside the box and get yourself out of your comfort zone. Since that is a theme for you in your 2022 horoscope predictions, you might as well begin now, dear Taurus!
Gemini
Mercury, your ruler, goes direct on Thursday—but because it will be sitting next to Pluto, expect intense conversations to be part of this week's menu. If you have a partner, these exchanges could be serious, and maybe quite necessary. While it might be uncomfortable, don't hide from them, Gemini. If you're single, this week's energy is ideal for getting lost in a book or working on a project that requires focus or a lot of research.
Cancer
The moon renews herself this week and so do you! Since this lunation is happening in Aquarius, a sign that you don't have a lot in common with, you could feel a little off at the beginning of the week. But what's good about this lunar energy is that it allows you to detach from emotions, allowing you to see a situation from a different perspective. This could very well manifest in an important relationship, especially as Mercury direct activates your sector of partnerships.
Leo
This week's new moon activates your seventh house of partnerships, bringing a new beginning in an important relationship. If you had issues with someone during the double retrograde season, this is the perfect time to set the record straight. Mercury's direct turn is happening in your sixth house of daily routine, which should help dissipate all the little annoyances that disturbed you in the past three weeks, dear Leo.
Virgo
It's a dreamy week for you, Virgo. The planets will be sending gorgeous vibes to the sector of your chart that rules love and romance. The Pisces moon will be activating your seventh house on Wednesday and Thursday, opening the door for a connection to deepen. If you have a partner, plan a date night. If you're single and looking, this is the perfect time to sign up for a dating app. Your ruler Mercury goes direct at the same time, allowing for the energy to begin flowing easily.
Libra
Your creativity gets a boost under this week's potent new moon, so make sure to squeeze all its juice by focusing on an art project at the beginning of the week. Venus, your ruler, is now direct, which should help you start feeling back to normal. Mercury will also go direct in your home sector, making the next few weeks ideal for redecorating and beautifying your space. You love surrounding yourself with beautiful things, so don't hesitate to invest more in your space.
Scorpio
For you, Scorpio, this new moon brings a new beginning to your home and family sector. If you haven't been connecting with your clan, this is the perfect time to do so. As Mercury meets with your planetary ruler this week, you could find yourself deeply invested in uncovering important information. While it is good to get to the bottom of it, watch your behavior, as this is a combination that could quickly turn obsessive, dear Scorpio.
Sagittarius
This is a week that is bound to energize you, Sagittarius! The new moon in Aquarius activates your communication sector, gifting you the opportunity to start a new project that could really take root in the next six months. On Wednesday, the Pisces moon will meet with Jupiter, your ruler, filling your mind with creative inspiration. The icing on the cake is brought by Mars on Friday, prompting you to act on the seed planted by the new moon. It's definitely a week to go for the gold!
Capricorn
You have been through a lot, Capricorn. Luckily, the tide is beginning to turn with Venus direct in your sign—and Mercury doing the same this week. From Wednesday on, you will be given so many cosmic opportunities, which is something to be happy about! This is a week to get crystal-clear on your goals for 2022. You've got power, style, and the gift of gab—and this week's Mars-Jupiter connection gives you a clue towards the direction you should be taking.
Aquarius
This week's new moon is happening in your sign, Aquarius, bringing the best time of the year to set intentions—we're still in Aquarius season after all. Since this lunation is activating both of your planetary rulers, Saturn and Uranus, it brings the perfect opportunity to leave the past behind and move into your future. What are the habits, or the kind of lifestyle you are foreseeing for yourself? Start putting it in place as soon as Monday arrives!
Pisces
A very sweet week is in store for you, Pisces. This week's new moon is happening in a very secluded sector of your chart, bringing the perfect moment to connect with your intuition. On Wednesday and Thursday, the moon will be in your sign forming gorgeous aspects to other planets. Regardless of what you would like to manifest for yourself, this is an incredible time to go after it. You will have the wind at your back and the support of the universe, so don't miss out on this golden opportunity.
Athena Antares is a traveling writer, astrologer, and mystic who believes in adding a touch of magic to everyday life. She has written horoscopes for numerous lifestyle publications and has dived deeply into astrological magic and manifestation spell work. In her spare time, Athena enjoys exploring new places, spending time in nature, and reading charts for her worldly clientele.