What happened to Javi in 'Yellowjackets'?
The mystery continues with season 2: what happened to Javi in 'Yellowjackets'? Here's an update on the character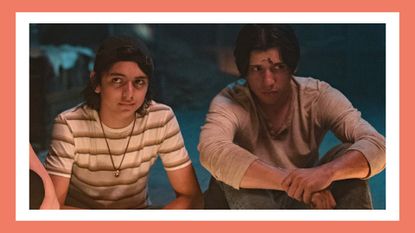 (Image credit: Kailey Schwerman/SHOWTIME)
"What happened to Javi in Yellowjackets?" is just one of the burning questions that the shocking season one finale left us with back in January 2022 (along with "How does Jackie die in Yellowjackets?" and "Is Lottie really the Antler Queen?")
Thankfully, with Yellowjackets season 2 officially here—the new episodes dropped on streaming on Friday, March 24, and premiere on Showtime on Sunday, March 26 at 9pm ET—we'll finally have answers to some of those mysteries, including what really happened to Javi Martinez (played by Luciano Leroux), the younger brother of Travis (Kevin Alves) who went missing last season.
Here's what happened to Javi so far, as well as the update that season 2 gives on the young Yellowjackets character.
*Warning: spoilers ahead!*
What happened to Javi in 'Yellowjackets'?
Preteen Javi Martinez—who, along with brother Travis and Assistant Coach Ben Scott (Steven Krueger), was one of only three male characters to survive the plane crash—is present in Yellowjackets season one until the penultimate episode, "Doomcoming."
With spirits at an all-time low (which is saying something, given that they're all stuck in the remote Canadian wilderness with little hope of rescue), the teens decide to host a Doomcoming party beneath the full moon. "We'll drink rotten berries and celebrate our impending death," Jackie (Ella Purnell) jokes.
However, Misty (Samantha Hanratty) accidentally drugs the entire group with magic mushrooms that she intended only for Coach Ben. With everyone, save for Jackie, completely high off the psychedelic 'shrooms, the party devolves into chaos, with the girls locking Jackie into a pantry, howling at the moon like a pack of wolves, and hunting Travis down with a knife. Shauna (Sophie Nélisse), who had previously bonded with Javi over art, tells the young boy to run to safety. That's the last we see of him, as he doesn't return by that season one Yellowjackets ending.
Is Javi in 'Yellowjackets' season 2?
Javi is still missing come to the premiere of Yellowjackets season 2, which picks up two months following the first season finale. In the first episode of the second season, Travis and Natalie (Sophie Thatcher) can be seen going on daily searches for Javi, even beginning their treks as early as sunrise, but they are unsuccessful in locating Travis' younger brother. At one point, the pair comes across the corpse of a fox buried in the snow and Travis has a panic attack, mistaking it for his brother's body.
Despite her support of Travis and his continued search, Natalie believes that Javi must have died after two months of surviving alone in the woods, especially given the freezing-cold winter weather they've been experiencing. Even Travis eventually acknowledges that the chances of finding Javi alive and well are slim to none.
However, Lottie (Courtney Eaton)—who has grown even more mystical since the last time we saw her, speaking French to a bear heart in the season one finale—seems to think that Javi is still alive after all this time. During Travis' panic attack, Lottie comforts him and puts a hand on his chest, during which he has a vision of a mysterious tree stump that is magically green despite all of the snow and ice around it. "Your brother's alive. I know he is," Lottie tells him.
We're not given more information than that, though we do know that, so far, adult Javi isn't accounted for in the present-day timeline of the Yellowjackets cast unlike Natalie, Lottie and the late Travis, so we don't have confirmation that he survived the group's time in the woods. Yellowjackets fans initially believed that Adam (Peter Gadiot), Shauna's artsy sidepiece, was actually adult Javi, but that theory was dispelled by the show's creative team.
"We did entertain the notion that Adam was basically Javi coming back to torment Shauna in a way, or torment the Yellowjackets," co-showrunner Jonathan Lisco told Variety. "We fairly early on dispensed with that idea. It did not feel organically right to us. It didn't feel to deliver on the promise of what we actually wanted to dramatize with her affair and their marriage."
"[Adam] being Javi come back is fun in a way, but it feels a little mustache-twirly, which is not necessarily the place we want to go," Lisco added.
So Javi might still be out there, which means we'll have to stay tuned to see what ultimately happens to the Martinez boy.
Yellowjackets season 2 premieres on Showtime on Sunday, March 26 at 9pm ET, and is available to stream on Paramount Plus.
Christina Izzo is the Deputy Editor of My Imperfect Life.
More generally, she is a writer-editor covering food and drink, travel, lifestyle and culture in New York City. She was previously the Features Editor at Rachael Ray In Season and Reveal, as well as the Food & Drink Editor and chief restaurant critic at Time Out New York.
When she's not doing all that, she can probably be found eating cheese somewhere.