Where was 'Candy' filmed? Inside the Hulu show's filming locations
The miniseries is set in 1980s Texas, but exactly where was 'Candy' filmed?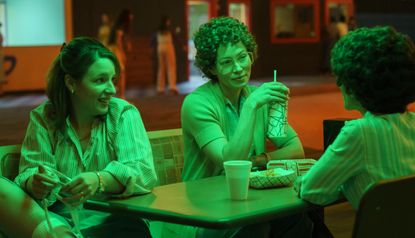 (Image credit: Tina Rowden/Hulu)
The new Hulu series Candy is based on a shockingly true murder story out of 1980s Texas, but exactly where was Candy filmed? Did production camp out in the real town of Wylie, Texas, where the events of the true-crime tale—in which stay-at-home mom Betty Gore was murdered with an ax by her close friend Candy Montgomery—actually took place?
Surprisingly, no, the leading lady of Candy, Jessica Biel, as well as costars Pablo Schreiber, Melanie Lynskey, Justin Timberlake—yes, that Justin Timberlake—and the rest of the crew didn't set foot in Texas during the filming of the five-part miniseries.
So where did filming take place for the Hulu hit? Here's what we know.
Where was 'Candy' filmed?
Standing in for Candy Montgomery's hometown of Wylie, Texas, a northeastern suburb of Dallas, was Atlanta, Georgia.
Series producer Michael Uppendahl told Showbiz Cheat Sheet: "We were based in Atlanta, and we were able to shoot it around Georgia. I was shocked at how well the things were able to match up. We really found our version of Texas in Georgia."
"I'm really proud of the look of it," Uppendahl continued. "I don't feel it was compromised by the fact that we weren't in Texas. We found these incredible houses. The Gore house really does match quite well with the actual Gore house; the exterior. And then our magnificent production designer, Jamie, built the inside, and she's just a wonder. I was very happy about the way all of it looked."
Locations in Decatur, Georgia, were also used throughout the series, including the DeKalb Courthouse, which played the part of the Collin County Courthouse where the real Candy Montgomery trial took place in October 1980.
Ironically, the answer to "where is Candy Montgomery today?" is also Georgia. After the murder trial in 1980, Montgomery and her family relocated to the Peach State and reportedly she still resides there.
She's painting the town red. Stream a new episode of Candy now. New episodes daily. #CandyOnHulu @jessicabiel @melanielynskey @schreiber_pablo @timothycsimons @rauleesparza @jasonritter pic.twitter.com/xWzlVoW6A0May 11, 2022
See more
Where was the Betty Gore crime scene?
The murder of Betty Gore, in which Candy Montgomery stabbed the housewife 41 times with a three-foot-long ax, took place at the Gore residence at 410 Dogwood Drive in the tight-knit community of Wylie, Texas.
Betty and Candy knew each other through The First United Methodist Church of Lucas and their young daughters were friends—Candy had actually gone to the Gores' place on that fateful June 1980 day meaning to pick up a swimsuit for Betty's daughter, who was spending the night at the Montgomery household. We won't spoil your curiosity about why did Candy Montgomery kill Betty, but a physical altercation occurred between the two women, resulting in Betty's death.
When Betty's husband Allan Gore, who was away on business, couldn't get in touch with his wife, he sent nearby neighbors over to his house to do a wellness check on his wife. They discovered Betty's body in the utility room of the home.
"Nothing that big happens here. I still have people ask me who move to the community what happened," Wylie resident Jacklyn Brown told The Dallas Morning News thirty years after the 1980 murder took place. "They like to drive by the house."
Drove past the Betty Gore and Darlie Routier houses. The crime that took place in these two homes were horrific. Sent chills down my spine. #BettyGore #CandyMontgomery #DarlieRoutier pic.twitter.com/23WPL0loIwMay 11, 2020
See more
What year is 'Candy' set in?
The Hulu miniseries kicks off on June 13, 1980—yes, a Friday the 13th—the day that Candy Montgomery killed her friend Betty Gore. It also covers Montgomery's murder trial, which ended on October 30, 1980.
The early 80s vibes of the show are felt in Jessica Biel's tight-cropped curls, pastel suits and oversized eyeglasses as Candy, not to mention era-appropriate references like, yes, a Target name-drop. (If you're now asking yourself "when did Target open?" you'll be very surprised by the answer.)
Of her 1980 transformation into the Texan ax murderer, Biel told Screen Rant: "I loved my look. It was so different for me; I've never had hair like that before, or really had the opportunity to dress in those incredible costumes. I loved all of her pantsuits; it was very kind of 80s chic or something...it was fun."
The grand finale of the Candy miniseries will stream on Hulu starting on Friday, May 13.
Christina Izzo is the Deputy Editor of My Imperfect Life.
More generally, she is a writer-editor covering food and drink, travel, lifestyle and culture in New York City. She was previously the Features Editor at Rachael Ray In Season and Reveal, as well as the Food & Drink Editor and chief restaurant critic at Time Out New York.
When she's not doing all that, she can probably be found eating cheese somewhere.