Where was 'Outer Banks' season 3 filmed?
From Caribbean islands to South American jungles, exactly where was 'Outer Banks' season 3 filmed?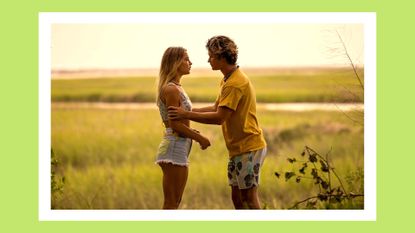 (Image credit: Jackson Lee Davis/Netflix)
From Carolina marshes to Caribbean beaches, you're not the only one curious about where was Outer Banks season 3 filmed.
The third season of the treasure-hunting teen drama hit Netflix on Thursday, February 23, bringing with it even more gold-crazy antics for our Pogues crew—played by Chase Stokes, Madelyn Cline, Jonathan Daviss, Madison Bailey and Rudy Pankow—who venture far and wide in their search for El Dorado.
Deserted islands, deep jungles and every exotic locale in between, here's what we know about those Outer Banks season 3 filming locations.
Where was 'Outer Banks' season 3 filmed?
There aren't just more twists and turns in Outer Banks season 3, there are more filming locations this time around as well.
Along with the production's home base of Charleston, South Carolina—subbing in for the North Carolina islands from which the series takes its title (more on that later)—the third season takes viewers as far as Caribbean islands and South American jungles.
Picking up where the season 2 finale left off, season 3 finds the beloved Pogues having escaped that freighter fight with Ward Cameron for the shores of a deserted island that JJ has dubbed "Poguelandia." This picturesque, coconut-filled paradise was filmed on Bathsheba Beach in Barbados, whose famous rock formations can clearly be seen in the season premiere.
Other real-life Barbadian locations have been used throughout Outer Banks' three seasons, subbing in for several tropical locales, including Guadalupe, Venezuela and the Bahamas, where the Pogues first befriended Cleo (Carlacia Grant) in season 2 and where the Cameron clan owns a massive vacation home. You can actually stay at the very seaside mansion from the show, the cliff-hugging Cove Spring House, which can accommodate up to 20 guests and boasts an in-house staff, on-site spa, commercial gym and more.
The filming locations actually helped inform the storylines of season 3, showrunner Josh Pate recently revealed to Entertainment Weekly: "Shooting in Barbados in season 2 really opened up some ideas from people that we met and stories that we heard, and then it dovetailed into the mythology that we had for the adventure story this season."
"It explores an earlier pocket of history than the Antebellum stuff that was tied to the mythology of the Royal Merchant Gold, and it ties back into different cultures from South America," Pate continued. "It was inspired by us being in Barbados and learning about the culture there and the lower Caribbean and the West Indies. The new bad guy and the culture that we explore are in that part of the world and it's a little older part of history that we're synthesizing."
Where is 'Outer Bank's set?
Though Outer Banks is set in the fictional town of Kildare in the Outer Banks, a series of barrier islands that line the coast of North Carolina, much of the filming of the Netflix series takes place one state down, in South Carolina's Charleston area.
So, why wasn't the series filmed in its titular locale? Out of political protest, actually: producers took a stand against North Carolina's discriminatory 2017 House Bill 2— commonly known as "the bathroom bill"—which forced transgender people to use the restroom designated to the gender they were assigned at birth. The show creators instead decided to bring the production to South Carolina instead.
North Carolina native Jonas Pate, who co-created Outer Banks with brother Josh, told The Fayetteville Observer back in 2019: "This tiny law is costing this town 70 good, clean, pension-paying jobs and also sending a message to those people who can bring these jobs and more that North Carolina still doesn't get it."
Many Charleston landmarks and businesses can be seen throughout Outer Banks' three seasons, including Lowndes Grove, a waterfront wedding venue that serves as the Camerons' main residence, and the Gaillard Center, which doubles as the UNC-Chapel Hill Law Library in the series.
All three seasons of Outer Banks are now available for streaming on Netflix. And pssst: here's what we know so far about Outer Banks season 4.
Christina Izzo is the Deputy Editor of My Imperfect Life.
More generally, she is a writer-editor covering food and drink, travel, lifestyle and culture in New York City. She was previously the Features Editor at Rachael Ray In Season and Reveal, as well as the Food & Drink Editor and chief restaurant critic at Time Out New York.
When she's not doing all that, she can probably be found eating cheese somewhere.