Which yoga is best for beginners? How to make stretching part of your life
It boosts both flexibility and mental health—but which yoga is best for beginners and how do you get started?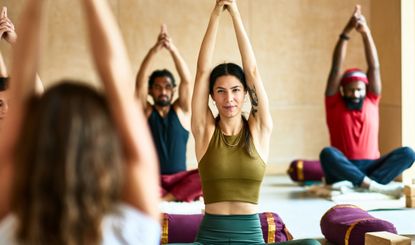 (Image credit: Getty)
If you're struggling to calm racing thoughts or are desperate to ease stiff limbs (hello, WFH!) there's only one thing for it: yoga.
Because when considering what's the best workout schedule for uncertain times, a regular stretch session as part of your weekly fitness will do your body and mind a world of good. But, before you hop into a downward dog, which yoga is best for beginners? Indeed, the practice—which has its roots in India, and involves a mixture of poses and deep breathing—comes in a daunting number of different forms.
So, if you don't know your vinyasa from your bikram, and if terms like shavasana and ujjayi have you confused as well as intrigued, allow us to flow to your rescue. Because, as you'll find out, the anxiety-reducing and flexibility-enhancing benefits are well worth taking the time to tap into. Read on to find out the best way to get started—all that's left to do is slip on some Lycra and grab one of our best yoga mats. You can namaste us later…
Which yoga is best for beginners? 7 expert tips
1. Start small
While you might be expecting to contort yourself from the get-go into the same bendy yoga positions you've long admired on Instagram, it's totally normal if you can't. In fact, expect to spend much of your early sessions wobbling around as you master the basics.
"When you are starting out, it's important to remember that there is no being good or bad at yoga," says Alana Murrin, a yoga teacher at studio Psycle, of why you shouldn't feel disheartened at the beginning. "You can take a seated position or a 'child's pose' at any time throughout your practice. Despite how the practice is sometimes portrayed, you do not need to be flexible."
2. Try everything
One of the best things about yoga is the variety—and the type you like best will ultimately be an individual choice. So discover what works best for you by trying out as many forms as possible early on.
However, for total newbies, Kat Farrants—founder of the online yoga platform Movement For Modern Life—recommends beginning with hatha or restorative yoga.
"The former is great for beginners since it is a slower-paced style—focused on building strength and calming your mind—where you hold the poses for longer, allowing you to familiarise yourself with each pose," Farrants explains. "Similarly, the latter, which works to release habitual, long-held tension, involves long, passive stretches supported by props."
3. Begin basic
Another perk of yoga, compared to other wellness activities, is how accessible it is to take part in—you don't need to part with a chunk of your salary on lots of pricey gear (although you can, of course, enhance your routine at a later date with some yoga accessories).
All you need to get going is a mat to cushion you. "Wear something breathable and functional—you can even do yoga in your pajamas, if at home," suggests Farrants. "For props, there are tons of things you can find around the house that are easily converted into props—like Tupperware, books, water bottles, blankets, ties, belts." Up for a challenge? Try out the best resistance bands for yoga.
4. Seek guidance
If you're entirely new to yoga, it's worth being taken through your first poses by an expert—to ensure you stay safe and keep your form correct. The most affordable way to do this is at an in-person class, pandemic restrictions permitting. Although, make sure you opt for a class dedicated to beginners.
"This gives you time to not only get used to some of the postures and their names but also to get used to the practice in general without feeling rushed," points out Kate Hiley, a yoga instructor at studio FLY LDN. "The naming of classes can vary from studio to studio, so speak to them directly about which session is most suitable for you."
If going to a studio isn't a possibility for you, doing your first classes via live stream, where you can interact with the instructor and ask questions, is also a very good option.
5. Take classes
Similarly, as well as signing up to sample a variety of yoga types, it's also worth seeing which instructor or studio you best chime with. Remember: don't give up on the practice entirely if you feel like a certain session didn't hit the relaxation sweet spot.
"Some you'll hate and never do again—but still pat yourself on the back for sticking with the full class," notes Chatty Dobson, yoga teacher and owner of FLEX Chelsea. "Others you'll love and want more of. But don't bother with what you don't enjoy—life's too short!" Preach.
6. Always breathe
While getting lithe and bendy might be your goal, you won't get there without some groundwork. Namely, inhaling and exhaling.
"Before you master flexibility—before you even touch your toes—breathing is key," insists Alexandra Baldi, founder of yoga studio Compass Chelsea. "The deeper your breath, the more oxygen you will send into the muscles and the deeper you can dive into the poses."
How to know if you're doing it right? "I need to hear the breath," Baldi adds. "Don't stress though, this is a work in progress and takes. Master the breath first, and over time you will see an increase in your ability to stretch."
7. Make time
Starting yoga is, in some ways, the easy bit. The challenge is to stick with the practice so it can really make a difference to your physical and emotional wellbeing.
The best time to do yoga? Whenever works for you. "Simply showing up can be the most rewarding part," says yoga teacher Hattie Thorpe-Gunner. "Busy and demanding lives can make it difficult to carve out the space in your schedule to practice—but I can promise that once you've rolled out your mat and found some time to reconnect to your body, breath and mind, you won't regret it."
If things are really hectic, Thorpe-Gunner suggests doing a few basic postures or breathing practices. "Just five or ten minutes during your day can be really powerful," she explains. "If you can manage longer, even better!"
Lauren is a freelance writer and editor with more than six years of digital and magazine experience. Most recently, she has been the Acting Commissioning Editor of Women's Health—where she co-produced the Going For Goal podcast—and has previously also written news and features for titles including The Telegraph, Grazia, Stylist, Dazed, The Sun's Fabulous, Yahoo Style UK and Get The Gloss. She covers all aspects of lifestyle, specializing in health, beauty, and travel. Can't live without: oat milk lattes, new podcast episodes, long walks, and great skincare.