The best resistance bands for yoga to add to your daily practice
Looking for the best resistance bands for yoga? These picks will seriously amp up your yoga flow
Included in this guide:
1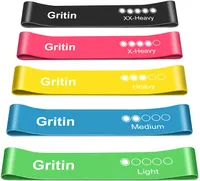 Gritin
Resistance Bands [Set of 5]
2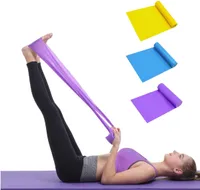 TAIYUNWEI
Resistance Bands Set [Set of 3]
3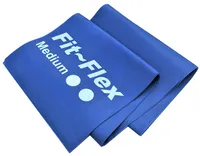 Fit-Flex
Resistance Exercise Band
4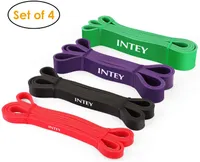 INTEY
Pull up Assist Band Exercise Resistance Bands for Workout Body Stretch Powerlifting Set of 4
5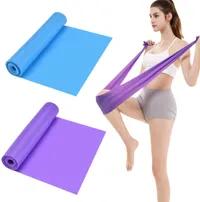 Natuce
2 Pcs 1.5 M Resistance Exercise Rubber Bands
6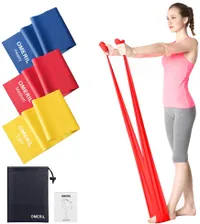 OMERIL
Resistance Bands Set [Set of 3]
7
Haquno
Resistance Bands, Non-Slip Workout Bands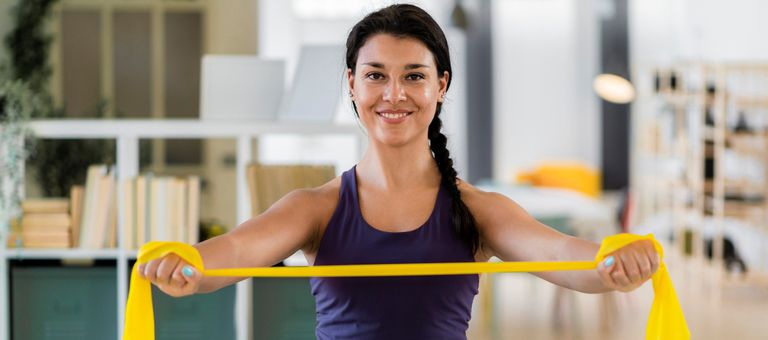 (Image credit: Getty)
The best resistance bands for yoga are powerful little fitness tools that have become an essential part of our at-home workouts.
Gone are the days where we relied on kettle bells and dumbbells to build strength and muscle. Resistance bands have made it all much easier and our living room (which has become our part-time gym) is thanking us for it, too.

When shopping for the best resistance bands for women in particular, there are a few things to keep in mind. Firstly, you have to make sure you pick the right resistance band for you. How do you work this out? If you're new to the strength-testing bands, you should always start off light and work your way up to bands with more tension. Secondly, you need to establish the type of workout you're using your resistance band for. If it's the best resistance bands for yoga that you're after, then we've got some great suggestions for you.
The best resistance bands for yoga
Gritin Resistance Bands [Set of 5]
A customer favorite on Amazon
Like most resistance bands, this Amazon's Choice set comes with five different strength levels, which means you can alternate them depending on how intense you want your work out to be.

Made with natural latex material, the resistance bands are skin-friendly and according to reviews, they provide amazing durability and won't crack easily either—and they're bright and colorful, which is always a plus.
---
TAIYUNWEI Resistance Bands Set [Set of 3]
Provides the perfect stretch for yoga
These stretchy resistance bands for yoga can easily be tailored to your training level, your strength, ability and comfort, whether you're a newbie or an experienced user.

Bought in a pack of three, in yellow, blue and purple colorways, the 1.5 meter bands are especially great for yoga practice as they help you achieve full body extension and enhance exercises on your legs, hips, waist, arms and back. They're also amazing at increasing your flexibility.
---
Fit-Flex Resistance Exercise Band
It's physiotherapist-approved!
Available in blue, red or yellow, these Fit-Flex resistance bands have been given a strong four-star rating by happy customers on Amazon. Not only is the product super purse-friendly but according to Amazon, they're used and recommended by physiotherapists and fitness professionals.

Specifically great for stretching, conditioning and strength training, they're one of the ultimate activewear accessories out there. And unlike bands with plastic handles, the simple form of a Fit-Flex band is fuss-free and easier to grip.
---
INTEY Pull up Assist Band Exercise Resistance Bands for Workout Body Stretch Powerlifting Set of 4
These bands have over 11,000 ratings
People are full of praise when it comes to INTEY's resistance bands and this particular product is a favorite. Bought in a set of four, the pull-up bands help you work out your arms, back, legs, and butt all at once, making them great yoga accessories.

However, you can also use them for body resistance training and physical therapy to help strengthen torn ligaments or muscles. So not only will they help your yoga session, they'll also help mend any injuries. What's not to love?
---
Natuce 2 Pcs 1.5 M Resistance Exercise Rubber Bands
Both effective and budget-friendly
The top Amazon's Choice for yoga bands, these Natuce resistance bands are similar to the aforementioned TAIYUNWEI resistance bands but come with a smaller price tag.

Customers love them for providing a safe and effective workout that allows you to better control any muscle tension in multiple direction, and also for improving flexibility, posture and core strength. Like some of its fellow best resistance bands for yoga, it's also super easy to adjust the tension level based on your own strength and how intense you'd like your workout.
---
OMERIL Resistance Bands Set [Set of 3]
Great for mobility and muscle training
This set of three bands are tailored to three different resistance levels, with the yellow color as the lightest, red as medium and blue as the heaviest option. OMERIL has created them especially for customers to use if they're practicing yoga, stretch training or improving mobility, or if they've been wanting to try out one of those online Pilates classes.

Customers have praised them as one of the best resistance bands for yoga because of how they stretch their body and relieve muscle tension after sitting at a desk all day.
---
Haquno Resistance Bands, Non-Slip Workout Bands
Comfortable and fuss-free
Haquno's set of two allows you to switch it up between light and heavy resistance to provide more flexibility and more versatility to your at-home workout routine.

The non-slip stretch fabric is durable enough to offer support during even the most flexible of yoga poses, but is soft enough that it won't dig into your skin or cause any irritations.
Sagal is a journalist, specialising in lifestyle, pop culture, fashion and beauty. She has written for a number of publications including Vogue, Glamour, Stylist, Evening Standard, Bustle, You Magazine, Dazed and Wonderland to name a few.