Who did Candy Montgomery have an affair with?
After that 'Candy' finale, everyone's wondering who did Candy Montgomery have an affair with? Make that *affairs*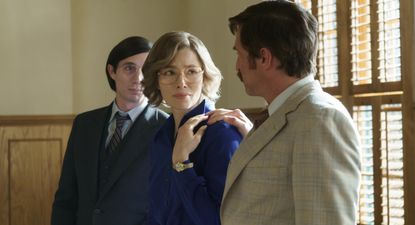 (Image credit: Tina Rowden/Hulu)
By the time the finale of Candy, Jessica Biel's Hulu series based on a shocking 1980 ax murder, rolls around, TV viewers already know the answer to the big question "Why did Candy Montgomery kill Betty?"
It all had to do with an extramarital affair, but in the final moments of the five-part series, fans were given even more shocking details about Montgomery's infidelity. And knowing what we know now, it's no surprise that our "Where is Candy Montgomery today?" guide doesn't end with the Texan housewife living happily ever after with her former husband Pat.
*Warning: spoilers ahead!*
Who did Candy Montgomery have an affair with?
The horrific 1980 murder of Betty Gore (played by Melanie Lynskey in the Hulu series) at the hands of her close friend Candy Montgomery (Jessica Biel) was all due to Montgomery's affair with Betty's husband Allan Gore (Pablo Schreiber).
After connecting at church functions and community volleyball games, Candy Montgomery and Allan Gore embarked on an extramarital affair in 1978, meeting every week at a local motel and splitting the cost. The relationship continued until late 1979 when Betty gave birth to their second daughter and Allan ended the affair.
When Betty Gore confronted Montgomery about the affair on June 13, 1980, the interaction turned violent, ending with Candy stabbing Betty 41 times with a three-foot-long ax.
Candy's husband, Pat Montgomery, remained by his wife's side following the affair—in the Hulu show, Pat (played by Timothy Simons) discovers the affair in the fourth episode, "Cover Girl," after finding a card for Candy from Allan—and throughout the Candy Montgomery trial. However, the couple divorced four years later.
But according to the final episode of Candy, Montgomery's affair with Allan Gore wasn't her only act of adultery. Here's what we know.
What could go wrong? 👀 Stream #CandyOnHulu now. @jessicabiel @melanielynskey @schreiber_pablo @timothycsimons @rauleesparza @jasonritter pic.twitter.com/GHn0NizdsBMay 11, 2022
See more
Candy Montgomery second affair: who was it?
In episode five of Candy, entitled "The Fight," Biel's Candy Montgomery is seen being questioned on the stand by the prosecution.
"Mrs. Montgomery, was the affair with Allan Gore the first you've had?" the attorney begins.
"It was the first time, yes," Candy responds.
"Was it the last one?"

Her lawyer Don Crowder (Raúl Esparza) objects repeatedly but the judge overrules and Candy is forced to answer: "No, sir."
Though Candy's affair with Allan Gore terminated in October 1979, she admits "I was with a man for a brief time from early November to mid-December" of that same year.
When asked to provide the name of the man, she replies firmly: "I will not give you his name...because it is irrelevant. And I don't want to do any damage to his family." Yes, family—meaning that, like Allan Gore, the second man that she committed adultery with also has a spouse and children.
Despite her refusal to name names, context clues hint that the man in question is likely the husband of Candy's friend and business partner Sherry Cleckler (Jessie Mueller).
Sherry, who looks distraught throughout Candy's admission, quickly leaves the courtroom once the "not guilty" verdict is read and when Montgomery later inquires after Sherry's whereabouts, her husband Pat—himself furious to hear about another one of his wife's extramarital flings—bites that she's probably trying to keep her husband away from Candy.
What is Marriage Encounter?
Throughout the series, you hear mention of a program known as Marriage Encounter, in which Betty and Allan Gore partake to revitalize their relationship.
A real-life counseling resource, Marriage Encounter is a "weekend away for couples who want to take their marriage from good to great," an experience that "helps you listen, share, and connect more deeply," the Marriage Encounter website (opens in new tab) reads. "There's no group discussion. It's just about the two of you learning to be the best, most loving and thriving couple you can be."
Presented from a Christian perspective—ironically, the Gores and the Montgomerys first met at church—the program includes "unique presentations and dynamic discussions" about family, money, sex, religion and more, held from Friday evenings through Sunday afternoons.
Allan Gore testified that his marriage to Betty improved after the couple attended the Marriage Encounter weekends, per Buzzfeed News (opens in new tab). According to Texas Monthly (opens in new tab), the sessions contributed to him ending his affair with Candy in 1979. Shortly thereafter, Candy and Pat attended a Marriage Encounter session, the outlet reports: "Though they enjoyed it, they did not have the kind of life-changing experience that Betty and Allan had had."
All episodes of the five-part Hulu series Candy are now available for streaming.
Christina Izzo is the Deputy Editor of My Imperfect Life.
More generally, she is a writer-editor covering food and drink, travel, lifestyle and culture in New York City. She was previously the Features Editor at Rachael Ray In Season and Reveal, as well as the Food & Drink Editor and chief restaurant critic at Time Out New York.
When she's not doing all that, she can probably be found eating cheese somewhere.