Who is Blackbeard, 'Outer Banks' new mystery for season 4?
He's namechecked in the third season, but who is Blackbeard and what does he have to do with 'Outer Banks' season 4?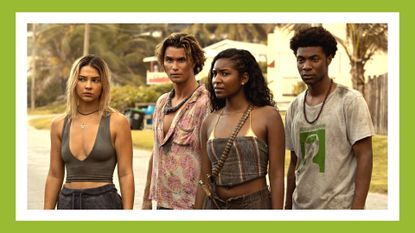 (Image credit: Jackson Lee Davis/Netflix)
With just one mention of a name, "Blackbeard," Outer Banks has already set up the next quest for our beloved Pogues crew.
Outer Banks season 3, which premiered on Netflix on Thursday, February 23, was focused on the gang's search for El Dorado, the legendary city of gold. But it looks like Outer Banks season 4, which was officially picked up by the streamer five days before the third season debuted, will have a new treasure hunt entirely—this time, we're pivoting to pirates.
Here's what we know about Blackbeard, what was said about him in that season 3 finale, and what we might be expecting come OBX season 4.
*Warning: spoilers ahead!*
Who is Blackbeard, Outer Banks' new mystery?
First thing first: who the heck is Blackbeard? Yes, Blackbeard was a real-deal English pirate, also known by the name Edward Teach, who sailed around the West Indies and the then-British colonies along the Atlantic coast, which would've included North Carolina's Outer Banks, in the early 18th century. One of the most notorious pirates in history, Blackbeard was as known for his violence as he was for his very prominent facial hair.
So, what does the nefarious seaman have to do with a Netflix show? In the last moments of the Outer Banks season 3 finale, John B (Chase Stokes), Sarah (Madelyn Cline), Kiara (Madison Bailey), JJ (Rudy Pankow) and Pope (Jonathan Daviss) are relishing in their newfound good fortune—yes, the Pogues ended up finding that hidden treasure after all—at a town celebration held in their honor, when they're approached by a mysterious man.
The man begins by expressing his admiration for the teens' work in unraveling the centuries-long mysteries of Royal Merchant, El Dorado and Denmark Tanny. "I was wondering if you would all be so kind as to look at an item of mine," he continues, pulling out a briefcase. The item is a manuscript, he tells them, but says that he's "too long in the tooth" to take on the investigation himself. "I need partners, and you all were first on my list," he tells them.
Pope takes a look at the document, which is dated 1718 and includes exhibition notes for a ship. "This is a captain's log," John B says. "This shows the exact position of the ship." "The exact location where the ship sailed and where it stopped," the man adds. When JJ inquires about the identity of the captain, the mystery man says: "Edward Teach. Blackbird."
The name of the notorious pirate prompts intrigued smiles from the teens, especially John B, who whispers, "Hot damn," before the screen goes black.
Legend has it that the real-life Blackbeard left behind a considerable—and still lost—treasure when his ship was attacked in 1718 by the British Royal Navy, who later killed and beheaded the pirate in November of that year. Will the Pogues be going after Blackbeard's bounty come season 4? You'll have to stay tuned to find out!
All three seasons of Outer Banks are now available on Netflix
Christina Izzo is the Deputy Editor of My Imperfect Life.
More generally, she is a writer-editor covering food and drink, travel, lifestyle and culture in New York City. She was previously the Features Editor at Rachael Ray In Season and Reveal, as well as the Food & Drink Editor and chief restaurant critic at Time Out New York.
When she's not doing all that, she can probably be found eating cheese somewhere.