Who is Margot Robbie married to? What we know about the 'Barbie' star's love life
She's got Ken onscreen, but who is Margot Robbie married to IRL? Let's get to know her hubby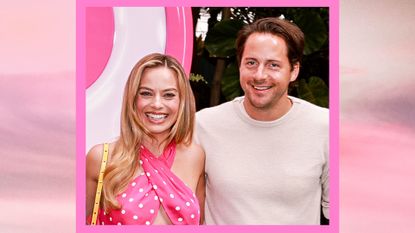 (Image credit: Matt Winkelmeyer/WireImage/Getty)
Does she have a Barbie and Ken relationship of her own? Who is Margot Robbie married to in real life?
The Oscar-nominated actress is, of course, back on the big screen as the most iconic fictional doll of all time opposite Ryan Gosling as Ken in the Barbie movie, which premiered on Friday, July 21 (if you're wondering "Is Barbie streaming yet?" we've got all the digital details).
And though we're very excited to step into that Dream World, we're also curious about Robbie's own world, especially her marriage. He's not an actor, but he is very much in the business—here's everything we know about Margot Robbie's husband.
Who is Margot Robbie married to?
The Bombshell actress has been married to 33-year-old British film producer Tom Ackerley since 2016. The couple first met on the set of the romantic war drama Suite Française in 2013, in which Robbie was portraying Celine Joseph onscreen and Ackerley was the assistant director behind the scenes. They wed in December three years later in a private ceremony on Australia's Gold Coast, though they never publicly announced their engagement prior to the wedding.
Prior to marrying the Surrey-born Brit, Margot told Vogue: "I was the ultimate single gal. The idea of relationships made me want to vomit. And then this crept up on me. We were friends for so long. I was always in love with him, but I thought, 'Oh, he would never love me back. Don't make it weird, Margot. Don't be stupid and tell him that you like him.' And then it happened, and I was like, 'Of course we're together. This makes so much sense, the way nothing has ever made sense before.'"
Though the couple keeps their relationship fairly private, Ackerley has been a regular alongside Robbie during the entire Barbie press tour, popping up on the red (er, actually pink) carpet in Los Angeles, Seoul and Robbie's native Australia.
Where did Margot Robbie honeymoon with her hubby?
Margot and Tom did eventually celebrate their nuptials with a honeymoon—but not right away, as they postponed the trip to work on the 2017 film I, Tonya, which nabbed Robbie an Oscar nomination for portraying infamous American figure skater Tonya Harding.
"We did this film instead of our honeymoon," she told Extra. "There were times we were sitting in a car parked in Atlanta freezing cold being like, 'We should be on a beach right now. We should be on a honeymoon. What are we doing?!' Following our dream."
After filming wrapped on the movie, they ended up honeymooning in tropical Tahiti, where they had a hilarious run-in at the resort's gym with talk-show host Ellen DeGeneres and an actual U.S. president.
"My husband's going to kill me for telling this story, but it's my favorite story ever," Robbie said on The Ellen Show in 2018. "Tom puts on these shorts that are like his oldest gym shorts and they're tiny. They're really short and there's nothing underneath. He was like, 'Oh come on, who are we going to run into?'"
"We walk into the gym, and running on a treadmill is Ellen, and then on the treadmill next to her is Portia, her wife. And then you [Ellen] were like, 'Have you met Obama?'" she continued. "And standing next to them is former President Barack Obama. I'm not kidding! We had to do this whole stretching class and Tom is trying not to reveal anything...the whole thing was so absurd."
Tom Ackerley movies: what has he produced?
Robbie and Ackerley co-founded a production company together in 2014, called LuckyChap Entertainment, alongside Josey McNamara and Sophia Kerr. Spotlighting female-focused film and television productions, the company is behind such flicks as I, Tonya, Dreamland, Birds of Prey, Promising Young Woman and, yes, the Barbie movie.
Prior to producing, Ackerley worked as an assistant director for films like The Brothers Grimsby, Macbeth and American Odyssey.
Who did Tom Ackerley play in 'Harry Potter'?
Ackerley popped up as an extra in the first three Harry Potter films, a fact that very much delighted his wife.
"When it comes to Harry Potter, I'm a massive, massive nerd," she said on The Graham Norton Show in 2020. "My husband is in the Harry Potter movies. I was like, 'Had you told me sooner we would've been married very quickly.' But he was an extra when he was a little kid—he was one of the Slytherin extras when Draco pushes some kids out of the way to see Buckbeak in the third book. He pushes my husband out of the way."
What is Tom Ackerley's net worth?
Ackerley's net worth is estimated to be around $4 million. His wife's is reportedly about ten times that, with her $12.5 million payday from Barbie taking her net worth to $40 million.
Margot Robbie boyfriends: who else did she date?
Prior to getting together with Tom Ackerley, Robbie reportedly dated fellow actors Alexander Skarsgård and Henry Aitken. There were also romance rumors surrounding her and her The Wolf of Wall Street co-star Leonardo DiCaprio, as well as her Focus co-star Will Smith, though neither rumor has ever been publicly confirmed.
See Robbie and Ackerley's film Barbie in theaters beginning on Friday, July 21.
Christina Izzo is the Deputy Editor of My Imperfect Life.
More generally, she is a writer-editor covering food and drink, travel, lifestyle and culture in New York City. She was previously the Features Editor at Rachael Ray In Season and Reveal, as well as the Food & Drink Editor and chief restaurant critic at Time Out New York.
When she's not doing all that, she can probably be found eating cheese somewhere.