Where is 'Barbie' streaming? How to watch the Margot Robbie blockbuster
It's the biggest—and pinkest—movie of the year, but is 'Barbie' streaming anywhere yet? Here's what to know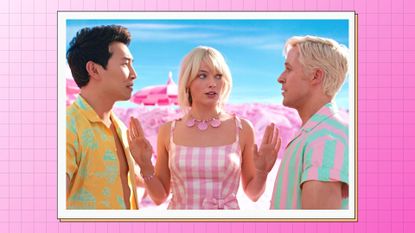 (Image credit: Warner Bros. )
It's time to enter the Dream World! But is Barbie streaming anywhere yet?
One of the most-anticipated movies of the year hit theaters on Friday, July 21, after having its big, bright-pink premiere at the Shrine Auditorium in Los Angeles on July 9. The release followed a truly iconic promo tour that garnered hilarious Barbie movie memes (we're especially partial to the Barbie vs Oppenheimer memes), too-cute Barbie outfits and the "Barbiecore" fashion trend, and AI-generated Barbie houses for every state (some of which were pretty controversial over on TikTok).
Needless to say, everyone has been very excited to see Margot Robbie, Ryan Gosling and the rest of the Barbie crew enter the plastic 'n fantastic universe of the world's most iconic fashion doll. But is Barbie available on streaming just yet? Here's everything you need to know.
Where is 'Barbie' streaming? How to watch the Margot Robbie movie
As of now, no, the Barbie movie is not available to stream. The only way to watch the Greta Gerwig-directed flick is to head out to your local cinema.
Since Barbie is being distributed by Warner Bros., when it does hit a streaming platform, it will be on Max (or HBO Max outside the United States). And it will be available on that platform this fall, Discovery CEO David Zaslav revealed to The Wrap.
In the meantime, however, you can enjoy Barbie from the comfort of your own couch when the blockbuster hits premium video-on-demand on Tuesday, September 12 at midnight Eastern Time. You can rent the flick for $24.99 or purchase it for $29.99 on select services like Amazon Prime Video, Google Play, and Vudu.
Per Decider, the digital release will include more than 30 minutes of bonus content, including the following featurettes: "Welcome to Barbie Land," "Becoming Barbie," "Playing Dress-Up," "Musical Make Believe," "All-Star Barbie Party," and "It's A Weird World."
Is 'Barbie' a musical?
No, the comedy is not a traditional musical (here's the Barbie movie plot?, in case you're curious), but it definitely does have musical elements, from that star-studded Barbie soundtrack (Dua Lipa! Lizzo! Ice Spice!) to that instantly iconic "I'm Just Ken" power ballad performed by Ryan Gosling himself.
But the musical comparisons don't end there. As director Greta Gerwig told Vogue, in crafting the look of Barbie, she pulled influences from several old Technicolor musicals, such as 1948's The Red Shoes and 1964's The Umbrellas of Cherbourg. "They have such a high level of what we came to call authentic artificiality," Gerwig said. "You have a painted sky in a soundstage. Which is an illusion, but it's also really there. The painted backdrop is really there. The tangibility of the artifice is something that we kept going back to."
Who is in the 'Barbie' cast?
Remember how we said the soundtrack was star-studded? That's nothing in comparison to who is actually featured onscreen.
There's a whole host of high-profile performers joining Margot Robbie's Barbie and Ryan Gosling's Ken, including several actresses playing different versions of Barbie herself: think Insecure's Issa Rae as President Barbie, Sex Education's Emma Mackey as Physicist Barbie and Bridgerton's Nicola Coughlin as Diplomat Barbie.
Check out the lengthy cast list below:
Margot Robbie as Barbie
Ryan Gosling as Ken
America Ferrera as Gloria
Rhea Perlman as Ruth Handler
Will Ferrell as the CEO of Mattel
Kate McKinnon as Weird Barbie
Issa Rae as President Barbie
Hari Nef as Dr. Barbie
Alexandra Shipp as Writer Barbie
Emma Mackey as Physicist Barbie
Sharon Rooney as Lawyer Barbie
Dua Lipa as the Mermaid Barbies
Nicola Coughlan as Diplomat Barbie
Ana Cruz Kayne as Judge Barbie
Ritu Arya as Journalist Barbie
Kingsley Ben-Adir as Ken #1
Simu Liu as Ken #2
Scott Evans as Ken #3
Ncuti Gatwa as Ken #4
Rob Brydon as Sugar Daddy Ken
John Cena as Kenmaid
Michael Cera as Allan
Ariana Greenblatt as Sasha
Jamie Demetriou as a Mattel employee
Connor Swindells as Aaron Dinkins
Helen Mirren as the narrator
Emerald Fennell as Midge
Watch the 'Barbie' trailer:
How long is the new 'Barbie' movie?
The runtime for the Barbie movie is one hour and 54 minutes. And the movie is rated PG-13 for some language, light violence and some sexually suggestive material.
Does 'Barbie' have a post-credits scene?
While it's become customary to expect a big summer blockbuster to end with one of those sneaky post-credit scenes, don't expect one from Barbie. Aside from a poppy credits reel that is very much in line with what you can expect from the fun-loving film, you don't have to linger in the theater waiting after the screen goes black.
Christina Izzo is the Deputy Editor of My Imperfect Life.
More generally, she is a writer-editor covering food and drink, travel, lifestyle and culture in New York City. She was previously the Features Editor at Rachael Ray In Season and Reveal, as well as the Food & Drink Editor and chief restaurant critic at Time Out New York.
When she's not doing all that, she can probably be found eating cheese somewhere.