Your weekly horoscope is here: April 25 – May 1
Your weekly horoscope is here and so is one of the most romantic astrological aspects of the year!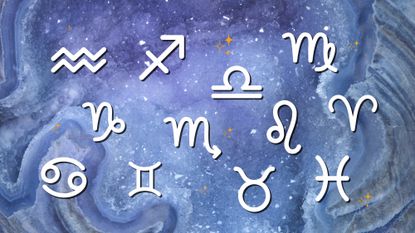 (Image credit: Future)
Welcome to your future! As we prepare to say goodbye to April and enter May (say hi to your May horoscope), we get to enjoy a week with barely any challenging planetary influences. At the beginning of the week, the moon is in Pisces, turning our minds to the ethereal and magical side of life. One of the most romantic astrological aspects of the year arrives mid-week as lover Venus meets with dreamy Neptune. This is a fabulous time to connect at a soul level with a partner, a friend, or a love interest.
On Friday, Pluto begins its five-month retrograde—and with it, comes the opportunity to travel to the deepest corners of our psyche. If you have been wanting to try any practice that awakens your connection to your subconscious mind, the next months facilitate awakening through this type of exploration.
Saturday brings the first eclipse of 2022 with the arrival of the new moon solar eclipse in Taurus (we are in Taurus season after all). Bringing the power of three new moons in one, this eclipse brings a new beginning that will develop over the next six months. Uranus, the planet of the unexpected, plays an important role. Anticipate the events around this time to liberate you and open your eyes to new and exciting possibilities. Venus and Jupiter will be kissing in the sky—a beautiful omen that speaks of this week's new beginnings being positive, expansive, and full of emotion!
Weekly horoscope: what does this week have in store for you?
Aries
This week's powerful eclipse is activating your second house of money, Aries. This could translate to more money in your bank account—but at a deeper level, it can also open a whole new creative vision that leads to new ways of generating revenue. Write down any ideas that come to you, especially if they seem a bit weird or crazy! As Pluto goes retrograde in your career sector, it's time to explore the ways your preconceived beliefs stand in the way of your success.
Taurus
This is a huge week for you, Taurus, as the eclipse happens in your sign and in your first house of self. Pay attention to the signs as well as the events that take place, as they could bring insights into your short-term and long-term future! Your connection to your community is key here, as the Venus-Jupiter conjunction in Pisces could help you attract people who will take you closer to your goals. Ask for help and you shall receive it!
Gemini
Since the beginning of the year, you've been receiving a push from the universe to actualize your career dreams, and this week's eclipse plays an important role in that story. A grand finale in the form of a promotion, an offer, a raise, or a new project could be in the cards. On a more spiritual note, the new moon eclipse deepens your connection with the universe. From this weekend on, your intuition is super-charged, so trust that it always leads you in the right direction.
Cancer
Group efforts and career go hand-in-hand for you under this week's powerful eclipse beginnings. This is a wonderful time to deepen your imprint in your community by focusing some of your efforts on the causes that you believe in. As Pluto retrogrades in your seventh house of partnerships, a subtle but significant transformation begins to take place in your most important relationships. The struggles that you experience within your bonds speak a lot of your connection with your own inner power.
Leo
For you, Leo, there could be a powerful new beginning in your sector of career. Because Uranus is part of the equation, keep in mind that a surprise or uncomfortable moment could very well be a blessing in disguise. This planet's ultimate job is to liberate you, so respond to this week's events with an open mind. If you have been thinking about signing up for a course or a master class that will add to your skillset and knowledge, this is the perfect week to do so.
Virgo
You've been receiving mad love from the universe when it comes to relationships—and this week, everything hits climax as Venus and Jupiter send shinny beams to this part of your chart. A good way to harness this energy is by establishing one-on-one connections that will help you grow in the next few years. This is an ideal week to take a relationship to the next level, but also a primed time to begin working with a coach, healer, or mentor.
Libra
Grow, expand, and see the world with new eyes, Libra! As Venus meets with Jupiter and Neptune, there is no limit to materializing your dreams. Think big and reach out to people who can help you, as these planets dissolve the barriers that might have been in your way before. As Pluto goes retrograde in your home sector, you have access to special guidance from your ancestors. All you need to do is ask for it.
Scorpio
This will be an energetically charged week, Scorpio, but it will also be full of insights. The new moon eclipse and Pluto going retrograde team up to give you a glance into your future. Life is changing so much, and so fast, and you are being asked to transform at your core and deepest level. This week's message brings insight into the partnerships and connections that are holding back from getting in touch with your desires, and fully expressing your great creativity.
Sagittarius
Home is where your heart is this week as Venus and Neptune impregnate your ruler, Jupiter, in your fourth house of family. A majorly significant event could bring something that touches your life for a really long time. We dare to say this could be your best week of the entire year. Take a risk, think big, and go for the gold during a time you are protected and supported by the universe.
Capricorn
All astrological aspects point to a very introspective week for you, Capricorn. Pluto retrograding in your sign requests that you meditate on your inner power, and maybe find new ways to express it with those around you. If you've been wanting to get something off your chest, this is the week to have tough conversations as Venus, Jupiter, and Neptune activate your throat chakra and make it easier to speak from the heart.
Aquarius
Pisces rules your second house of money, Aquarius, so if you have not received a payout, raise, or unexpected money in the last few months, this time, you could! This week's new moon solar eclipse brings a new beginning to your sector of home and family, when talks about a move or a big change in your environment could suddenly come up. On a more spiritual note, letting go of old family conditioning is also a possibility during this time.
Pisces
Make a move, Pisces! The current five planetary bodies camped in your sign give you stamina, commitment, and energy to act in a big way. Take a big risk, follow a dream, and speak your truth. This is a super-rare opportunity to get in touch with your deepest desires and reawaken your connection with your spirituality as well as your creativity. Whatever you set in motion now will have long-term effects.
Cute astrology-themed gifts
Brand
Colour
Price
Refine ☵
Sort By
Athena Antares is a traveling writer, astrologer, and mystic who believes in adding a touch of magic to everyday life. She has written horoscopes for numerous lifestyle publications and has dived deeply into astrological magic and manifestation spell work. In her spare time, Athena enjoys exploring new places, spending time in nature, and reading charts for her worldly clientele.