How to clean a yoga mat the right way
A one stop guide on how to clean a yoga mat properly if you've been working out at home.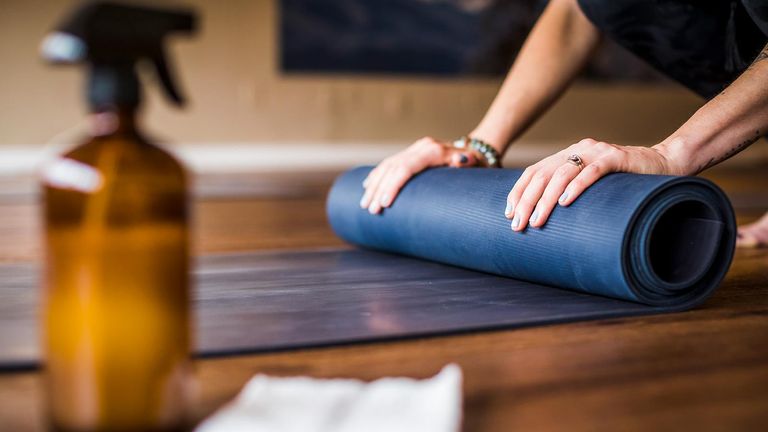 (Image credit: iStock / Getty Images Plus / VisualCommunications)
You may be wondering how to clean a yoga mat if you've been doing a lot more home workouts of late. You've already picked up on the best yoga mats out there but what's next? Hygiene has always been an important step before, during, and after exercise yet in recent times it has become even more integral to keep yourself and your equipment pristine.
But just how dirty can a yoga mat get, we hear you cry? Well, even the best and most 'antibacterial' yoga mats on the market can still be a germ magnet. Whether you're holding yoga poses in a sweat-drenched hot sauna or crunching out a strenuous set of sit-ups, it's safe to say yoga mats can become a Petri dish for germs and bacteria over time. "Making skin contact with a dirty yoga mat covered in germs and bacteria can lead to skin infections, acne, toenail fungus," warns US surgeon David A. Greuner. He adds that a particularly germ-ridden mat can even "transfer of the herpes virus and staph and strep infections in susceptible individuals." It's enough to want to throw your trusty mat out. But before you get rid, consider getting your yoga mat clean.
How often should you be cleaning your yoga mat?
Yoga mats are a bit like make-up brushes: while they can harbour many germs, cleaning them is not always high on everyone's priority list. If you exercise regularly, hygienists recommend you clean down your mat after every session. Rule of thumb is to wipe it down after every session as it could also prolong your mat's life, but if you've neglected it for a while, there are many quick and easy cleaning options to choose from.
How to clean your yoga mat
Soak in the bath
If you think your mat is in desperate need of a good soak, then it may be time to schedule bath time. Warning though, this method may only be suited on mats made from rubber, or water resistant materials. Yoga company Manduka recommends submerging your mat in bathtub filled with a shallow layer of warm water with 1tsp of gentle detergent. This doesn't have to be a long process - soak it for five minutes on each side before scrubbing it down with a sponge. If you can, allow it to air dry for 24 hours before rolling it up.
DIY sanitiser spray
An alternative to sanitising sprays is making your own version from items already in your household. Yogi Krysta Shannon has a great DIY cleaning method on her blog Yogi Approved that she claims is a "safe" and natural way to keep your yoga mat clean and cared for. All you need is a spray bottle, which is then filled with white vinegar, water, two drops of tea tree oil, and a drop of lavender essence.
Soap and water
They say simple is best and the same can be said when it comes to cleaning your yoga mat. Multiple yoga mat companies suggest diluting a gentle dish soap and giving your yoga mat a good scrub down. Although, be careful to not go overboard with the soap. Too many suds can cause your mat to become slippery (a hazard when you're attempting a seriously tricky yoga pose).
Sanitising Sprays
The quick and easy option is to purchase yoga mat-friendly sanitising sprays. There are plenty of yoga sprays on the market that take some of the hassles out of DIY cleaning. Another plus, is that they tend to smell great too. A personal favourite is the MIO Liquid Yoga Space Spray. At £21, it's pretty pricey compared to the average dish soap, but the vegan-friendly formula has the added feature of aromatherapy oils. Free People's 'Way OF Will' spray (£12) is another great option, as it contains tea tree oil for its "anti-bacterial and anti-fungal properties", as well as lavender essential oil which acts as "an antiseptic, bactericidal, and insecticidal". Simply spritz your mat down, wipe the sweat away, and let it air dry.
Deep clean in a washing machine
Depending on the type of mat you've purchased, you can wash some brands of yoga mats in the washing machine on a cold, short cycle (yes for rubber mats, stay clear for cork). It's not recommended that you do this often as frequent machine washing could eventually shorten your mats lifecycle.
L'Oréal Blackett is a journalist, presenter, and magazine editor specialising in women's lifestyle (BBC Radio, Bustle UK, Body Confidential, Daily Mirror). She also hosts popular podcast The Edit. Fuelled on coffee and a hip hop soundtrack, you can find L'Oréal sprinting a daily 5K or trying the latest HIIT class. L'Oréal also credits interviewing fitness guru Shaun T in his underwear (long story). She's currently training for her first marathon.