These skincare products went viral on TikTok in 2020. CeraVe is one of them
#TikTokMadeMeBuyIt is a hashtag for a reason. How many of the best beauty products on TikTok have you tried?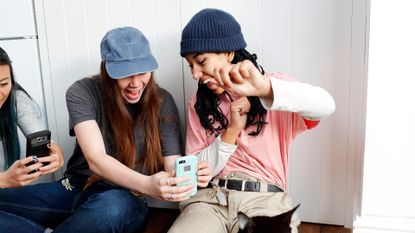 (Image credit: Getty Images/Nick David)
It's undoubtedly helped you brush up on your dance skills but the best beauty products on TikTok are also top of their game.
TikTok has become one of the most relevant social platforms globally in 2020. In fact, such is it's pulling power that it's no stretch to say TikTok has elevated CeraVe to cult status.
Suddenly this 15-year-old brand, famous for derm-approved affordable cleansers and moisturizers, is drawing a new Gen-Z following. This is largely down to Hyram, whose 5 million followers (including us) sit up and listen went he holds up CeraVe's salicylic acid-based cleanser, noting "I'm always recommending this one."
Thanks to TikTok we can also attest to a new love affair with a winged eyeliner hack, soap brows and Space Girl makeup courtesy of the app.
Crystallising the effect of the #TikTokMadeMeBuyIt hashtag, Stylight—the world's leading online search platform for fashion, beauty, and design—has rounded up the TikTok skincare products that have been trending in 2020. How many of these have you tried?
This drugstore label has received over 1000% more clicks compared to last year, according to Stylight. The reason this CeraVe lotion is so damn popular? It's filled with the good stuff - hyaluronic acid to hydrate and ceramides to lock that moisture in the skin - while leaving potential irritants like scent out.
The Ordinary is single-handedly responsible for making ingredient minimalism sexy. No wonder it has received over 400% more clicks in the past year. One product, in particular, is a stand out. Meet the AHA 30% + BHA 2% Peeling Solution, the most Googled of The Ordinary's skincare stable. An acid cocktail (glycolic/lactic/tartaric/citric/salicylic) combines with hyaluronic acid to ensure that when the acids lift away dead skin cells, your skin is buffered from dryness or irritation. Big win.
This brand may be niche but we are willing to bet that everyone you know has at least tried one Paula's Choice product. Up 100% more clicks since last year, devotees have lost their minds over this treatment, which combines retinol, a proven ingredient for smoothing wrinkles and fading hyperpigmentation, with bakuchiol, a plant version with the same benefits and a soothing demeanor.
Over 800% growth in Google searches and a video with nearly 500k views, secured this game-changer a place in TikTok's viral skincare round up. Packed with centella asiatica, you really need to watch the video to see just how this soother takes down code red skin and inflammation in minutes.
Fiona Embleton is a multi-award-winning beauty editor who has tested over 10,000 products in her 10 years + of writing and shooting beauty stories. For the past four years, she was the Senior Beauty Editor at Marie Claire, having previously worked in the role of Beauty Editor at both Stylist and Cosmopolitan. She has recently gone freelance and alongside My Imperfect Life, she has written for titles including ELLE UK, ELLE Canada, Buro 247, Harper's Bazaar Arabia, Vogue Scandinavia, and ES Magazine. Beauty journalism allowed her to marry up her first-class degree in English Literature and Language (she's a stickler for grammar and a self-confessed ingredients geek) with a passion for make-up and skincare, photography, and catwalk trends. She loves jumping on the latest internet-breaking beauty news, dissecting the best red carpet looks, and having the crème de la crème of dermatologists, make-up artists, and hairstylists on speed dial so she can tap them for the best advice. She's a discerning beauty shopper and knows it can be confusing trying to navigate what's hype and what really works. So if she really likes something, you can trust that she has reached that opinion by vetting it against everything else she's ever tried. Her career highs? Interviewing Cate Blanchett and winning a Jasmine Award for the deeply personal feature Cancer Stole My Mother's Scent.