Who is Brian Nickels from 'Bridgerton'? The story behind the show's tribute
The season one finale of 'Bridgerton' is dedicated to Brian Nickels—here's why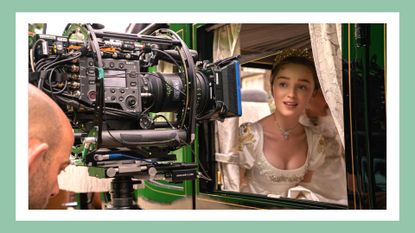 (Image credit: LIAM DANIEL/NETFLIX)
Whether you're watching for the first or fifteenth time, you might be wondering, "Who is Brian Nickels?" after that Bridgerton binge fest. That's because the show's first season is dedicated to the mystery man—but why exactly?
We've been obsessed with all things Bridgeton since it first premiered on Netflix back in December 2020, from the hilarious Bridgerton memes that have popped up to the Bridgerton cast that we follow on social media to the Bridgerton spinoff, Queen Charlotte: A Bridgerton Story, which we gobbled up as quickly as we did the O.G. series.
For those of us who have already finished the first two seasons of Bridgerton (and are anxiously awaiting the premiere of Bridgerton season 3), you may have wondered about the man to whom they dedicated the final episode of season one. Here's everything we know about Brian Nickels and his connection to the series.
Who is Brian Nickels from 'Bridgerton'?
Right before the credits rolled on the first season of Bridgerton, a dedication popped up: "In Loving Memory of Brian Nickels." The message was in memoriam of Bridgerton's stunt coordinator Brian Nickels, who died in January 2020 due to a cardiac arrest.
As a former boxer, Nickels assisted with stunt coordination in the Bridgerton boxing scenes between series star Regé-Jean Page and Martins Imhangbe, who plays Will Mondrich.
Imhangbe worked closely with Nickels and expressed sadness at hearing of his passing in an Instagram post: "Brian, immensely grateful that our paths crossed and for the dynamic and positive impact you've had in my life for the past months - you've always had my corner and filled me with uber confidence on and off set with your infectious enthusiasm and passion for what you do - you've been an incredible coach and friend."
"Struggling to accept that you're no longer here with us and my heart goes out to the family. You are a legend and a gent who will never be forgotten - rest in love and peace," he added.
Nickels' wife Simone, who worked alongside her husband, told Yahoo Movies UK: "He was one of the hardest working men ever. He lived to make other people happy. It's all he wanted to do. He didn't take any day for granted. Every day he had, he lived it to the fullest." Nickels is survived by his wife Simone and his two young children, Sienna and Rocco.
Nickels was a well-known stuntman and has been credited for many famous films and television shows. He made one of his first appearances in the James Bond 1997 classic film Tomorrow Never Dies. He later appeared in later Bond movies starring Daniel Craig in Spectre and Skyfall.
He also worked on action-packed movies in the Marvel cinematic universe such as Avengers: Age of Ultron, Thor: The Dark World, Captain America: The First Avenger and Guardians of the Galaxy.
See the sweet dedication to Nickels after that Bridgerton ending in season one. The first two seasons are available now on Netflix.
Laura Harman is a journalist who has written for Woman & Home, Grazia and Good to Know and regularly contributes to My Imperfect Life.