Bridgerton ending explained: what happens in the final episode of the addictive Netflix period drama?
Just watched the Bridgerton season finale on Netflix? We discuss everything that happens in the gripping final episode.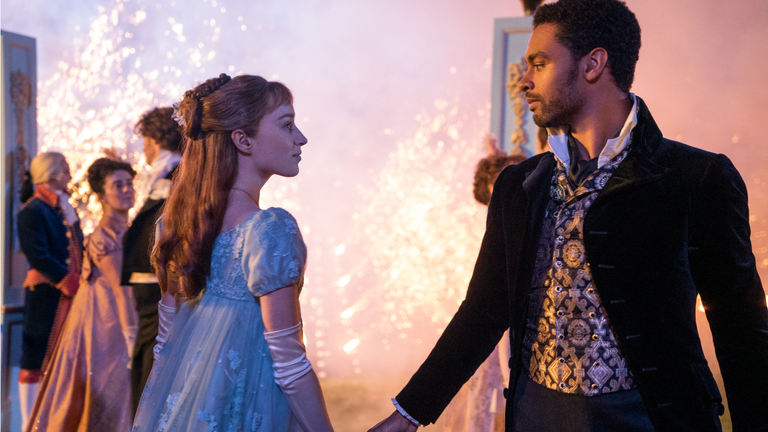 (Image credit: Netflix)
We don't know about you, but we're still on a massive comedown after watching the Bridgerton final episode on Netflix.
Whether you, like us, have already steamed ahead through all eight episodes (no judgement) or if you're impatient and want to find out what happens and who ends up with whom and who is Lady Whistledown, we have the answers to all the key questions.
*Warning* Contains spoilers.
Bridgerton finale recap: what happens in the explosive finale?
What happens to Daphne and Simon?
Things aren't looking good for the newlywed Duke and Duchess of Hastings (played by Regé-Jean Page and Phoebe Dynevor) after arguing over Simon's refusal to have children (due to a bitter vow he made to his estranged late father). The couple pose uncomfortably for a portrait, and agree to host one last ball together before separating.
Tension continues as Simon sticks to his promise. However, he agrees to visit the Bridgerton family home, where he charms Daphne's young siblings. Later, Lady Danbury, Simon's honorary godmother, criticises his pride, while Daphne persuades him of her unconditional love in a romantic, rainy scene – and Simon has a change of heart. Daphne and Simon have sex, and Simon doesn't pull out this time (as he has done before in an attempt to avoid conception). 
Does Daphne get pregnant in Bridgerton?
Yes. At the end of the episode, the couple welcome their first child: a son, who will be the next Duke of Hastings. 
Does Marina Thompson marry?
Marina believes she has terminated her pregnancy, after drinking poison tea – but a doctor confirms otherwise.
Meanwhile, Sir Philip Crane, the brother of Marina's lover, arrives to say George has died in combat. Sir Philip proposes out of duty, and Marina refuses him, but later accepts, heeding Lady Featherington's advice that she will grow to love him. But is it the last we'll see of Marina? 
What happens to Anthony Bridgerton?
Anthony has been having an on-off illicit romance with opera singer Siena Rosso, which he had previously called off because of her inferior social status. 
He finally resolves to make their relationship public – inviting Siena to the Hastings ball. But when he arrives at her doorstep, she's with another man: "You need to let me go," she tells him, saying she needs to look out for herself.
Later, Anthony tells Daphne he will begin the search for a suitable wife.
What happens to the Featheringtons?
The Featherington daughters are left without dowries due to their father's gambling. It looks like their luck is about to change after Lord Featherington wins a sum of money on a rigged boxing match, but then he's murdered by the men he scammed. Lady Featherington sobs after receiving the news her husband is dead. 
Meanwhile, poor Penelope – who has lost her father – learns Colin Bridgerton, who she is in love with, is travelling abroad. 
Who inherits the Featherington Estate?
In the season finale,  Lady Featherington is presented with a piece of paper with the name of the male heir to the family estate written on it.  "Oh, we located him, ma'am. The man who will inherit the Featherington Estate. Only – well – look," her maid tells her as she hands it over. But in true cliffhanger style, we do not learn who it is. All we can assume is that it is not good, judging by Lady Featherington's facial expression. 
Who is Lady Whistledown?
In the final scene of the episode, the identity of Lady Whistledown is finally unveiled and we learn that it is none other than Penelope Featherington -  but talk among fans on social media suggest that this didn't come as a shock to many.
Penelope is the youngest and constantly overlooked sister in her family. On top of that, the man she loves (Colin Bridgerton) only has eyes for Marina and sees her as a little sister, so you can imagine her resentment. However, just because we know who it is, doesn't mean Lady Whistledown is ready to put down her pen. In fact, her parting words at the end of season one were that "there is no ending in sight for this author", so there's no doubt she has plenty more savagery in store for us. 
Is Benedict Bridgerton gay? Will he explore his sexuality? 
The first season saw the second oldest Bridgerton brother, Benedict, introduced to a new social circle of sexually-liberated individuals. After walking in on two men having sex, he appears both surprised and attracted to it, though it is unclear whether it is the sexual freedom he desires or whether he wants to explore his own sexuality. Especially as he starts sleeping with Madame Delacroix and seems to be enjoying his new party lifestyle. Will he discover more amount his sexuality in the next season? Fans seem to think so - but we'll have to wait to find out!