How old is Emily in Emily Paris? Lily Collins has revealed her character's age and it might shock you
Say what?!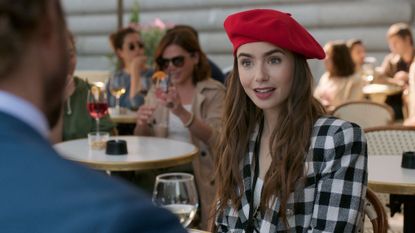 (Image credit: Netflix)
Star of the new hit Netflix series Emily in Paris (opens in new tab), Lily Collins, has revealed that her character's age in the show and we are actually quite shocked.
The series, which is reportedly set for a second season, follows Emily Cooper, a Chicago-based marketing executive who moves to Paris to provide an "American perspective" for the company Savoir, and adjusts to her new life there.
However, Lily has revealed that Emily is only just out of college when she travels halfway across the world to her new job - so how old does that make her?
How old is Emily in Emily in Paris?
In a chat with Vogue (opens in new tab), Lily said: "I don't believe we've ever given her a specific 'number' for her age, but I believe that she's pretty fresh out of college. Maybe this is her first year after graduation.I want to say she's like, 22-ish."
22?! We can only wish we had her designer wardrobe at that age...
She added: "She's had enough experience at her company in Chicago to have earned the respect of her boss. She's a smart cookie and really innovative - and this is not her first rodeo doing what she does.
"She's gone to school for this, and she's completed internships. However, she's not the person who travelled during college. She was really, really focused on her jobs in the Midwest, and I don't think she's been abroad. Basically, she's always kind of been a big fish in a small pond - and then suddenly in Paris she's a fish out of water."
The revelation seems to have caused as much of a stir as Emily's phone case (opens in new tab) and fans have taken to social media to question Emily supposed age. One said: "Excuse me but Emily is supposed to be 22?! And get that job transfer to Paris fresh out of college? Alrighty then."
Honey she most certainly is NOThttps://t.co/GKk2ECW6bv pic.twitter.com/cOkZv5Vc8lOctober 15, 2020
See more
Another said: "Emily has a MASTER'S DEGREE she is not 22!!!! Lily Collins plz".
Whatever Emily's age is, it doesn't stop us wanting season two to come immediately - especially after Lily's co-star Lucas Bravo dropped some pretty juicy hints about Emily, Camille and Gabriel earlier this week.
We can't wait!
Beth Gault is a freelance journalist and editor. She is the former news editor at fashion magazine Drapers and has written for multiple titles across lifestyle and business media, including GoodtoKnow and Woman's Own. She loves chatting about ending period poverty, is a self-confessed coffee snob, and is never one to turn down a good book.