Wondering what's going on with Love Island's Paige and Adam's breakup? Paige just spilled some MAJOR tea
Yes, Love Island's Paige and Adam have broken up following those 'cheating' rumors and Paige just revealed what went on...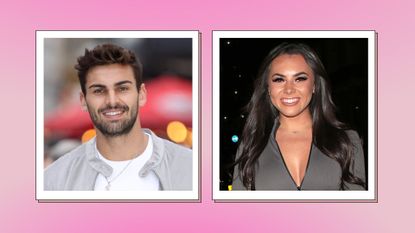 (Image credit: Getty Images / Mike Marsland/WireImage/Ricky Vigil M/GC Images)
We've officially lost yet another Love Island 2022 couple—following the first two Love Island splits of 2022, as Adam confirmed his split from Paige at the 2022 National Television Awards (NTAs). But that wasn't the end of the saga, as Paige has now had her say and addressed *that* McDonald's video on a new podcast and in a word, it's JUICY.
Despite being seemingly plain sailing throughout their time in the villa, where they narrowly missed out on the Love Island 2022 live final, all appears lost between Paige and Adam after weeks of cheating rumors and breakup speculation.
For those who need a refresher, Paige Thorne was part of the original 2022 lineup and after being coupled with Jacques O'Neill ahead of Casa Amor, struck up a new connection with infamous ex-islander, Adam Collard—who made his return as a bombshell two weeks before the final, after his original stint on the show back in 2018.
The pair made it all the way to the penultimate episode, finishing fifth, and despite their logistical issues (with Paige living in Wales and Adam in Newcastle), were making a good go of their post-Love Island relationship.
However, after Adam rebuffed claims that he'd 'cheated' on Paige—after a video allegedly showed him canoodling another woman in a Mcdonald's—breakup rumors became rife and now, they've officially split. Here's what's going on with Paige and Adam...
What did Love Island's Paige and Adam do post-villa?
During their time in the villa, Paige and Adam seemed to be pretty besotted with one another, despite the challenges they faced (bombshells, unimpressed parents, to name a few...).
Soon after the arrival of the final four bombshells—Nathalia, Lacey, Jamie and Reece—26-year-old Adam even admitted to Paige, 24, that he wanted to be exclusive! We never thought we'd see such commitment from the Adam of season four...
In the end, the couple left together just days before the final and seemed to be going strong, but have these cheating rumors thrown a spanner in the works? Let's see, shall we...
Following their Love Island departure, the pair were looking good as they appeared together at the Love Island reunion on Sunday 7 August. Since then they've been spotted strolling hand-in-hand in London a couple of times.
They were also both seen partying the night away at fellow contestant Tasha Ghouri's 24th birthday celebrations, at the capital's Mnky Hse—alongside Dami Hope, Indiyah Polack, Andrew Le Page, and of course Tasha.
However, In September, a video was shared on TikTok (taken from a private Snapchat account) appearing to show Adam with his arm around another woman in a McDonald's. Thanks to the power of the internet, the video has now wracked up millions of views, forcing Adam to set the record straight, claiming there was no wrongdoing.
The video though seems to have been the tip of the iceberg, as following their split and Adam's statement about the video—Paige has shed some light on the situation...
What did Paige say on the 'Saving Grace' podcast?
Appearing on the Saving Grace podcast with host Grace Keeling (aka TikTok's GKbarry), Paige made some bombshell claims about Adam's behavior after confirming that she is, in fact, single.
When asked about the infamous McDonald's video and whether she knew the woman Adam was seemingly getting cozy with, she said: "No, not a clue but she's come to light now."
Before alleging that despite reports of them being friends, Adam didn't know her either. She said: "They're not friends and do you know what? It's not just them videos, there are other videos, that other people don't know about. So there's a lot more to the story—of different people, of the same night and in different locations."
Paige added that at first, she tried to justify the original video (which she saw for the first time online, along with everyone else), until more videos were shared with her in her DMs, featuring 'other girls.'
Now here comes the really juicy part, Paige then claimed that one of the videos showed Adam and one of the said girls in, "VIP toilets, just the two of them."
What did Adam Collard say about those 'cheating' rumors?
At the time, Adam denied the rumors, with a rep telling the Sun that the islander had gone into the McDonald's—and while he understands 'how this video looks'—he returned home with a box of 60 nuggets, and that's all.
The rep said: "Adam headed to McDonald's after a night out with friends. His friends were alongside him when a group of girls asked for photos and Adam being his friendly self was open to posing and chatting to the girls, alongside other fans who wanted to chat in the same video.
"Adam understands how this video looks but wants to state that he left the restaurant with his friends and a box of 60 nuggets (with nothing or no one else) with the intention of getting home safely. Adam and Paige are currently dating and Adam only has eyes for her." Well until now it seems...
Have Paige and Adam broken up?
Yes, just weeks after Adam responded to the cheating allegations, the pair have gone their separate ways—with Paige spilling some major tea on why they split, on the Saving Grace podcast.
Adam confirmed the news at 2022 NTA's, where he told The Sun: "We're not together," adding, "things happen. But I mean she is a great girl."
Murmurs of a breakup had already been in the air for some time after The Sun reported that Paige was taking some time away from Adam following *that* McDonald's video.
A source told the publication: "Paige is really upset by everything that has gone on and feels like she is being humiliated. She believes Adam didn't do anything and knows women throw themselves at him.
"But it doesn't mean she doesn't find it difficult when people start gossiping about their relationship and share it on social media. Paige had told Adam she needs a break and to spend some time away from him."
It also didn't go unnoticed by fans that Paige had not liked any of Adam's recent Instagram posts and had deleted all traces of Adam from her own Insta feed—which in these modern times, does not bode well. Paige also posted a somewhat cryptic picture of herself to her IG page with the caption 'I'm good x,' which Adam had not liked or commented on...
According to Digital Spy, after Paige deleted all their pics, Adam seemed to have a thing or two to say about it—sharing a cryptic message to his Story of a man holding up a sign that read: "Stop giving a f**k what other people think."
Several news outlets then reported that Adam and Paige had officially broken up, with Love Island 2022 winner Ekin-Su Cülcüloğlu telling Mirror Online: "It's over. It's done," adding, "I think Paige can do better, that's all I can say."
What's next for Paige and Adam?
While the pair now seem to have gone their separate ways, we're still desperate to know what's next for the Love Island stars.
Interestingly, it seems that Paige especially is keen to return to some aspects of her pre-Island life. On Lorraine, she revealed that she's planning a return to her job as a paramedic. She said: "Personally, for me, I have a meeting to go back to paramedic work so that will be exciting.
"I saw an ambulance with sirens on recently and I seriously had FOMO! So I am going back into that and hearing what opportunities are out there."
When asked whether she thinks it might surprise people that she's looking to return to the day job, Paige simply explained: "I genuinely love my job—why wouldn't I go back to it?
It seems Adam is also back to his job as a personal trainer, having posted Instagram pictures of himself back in the gym. Most recently he's also taken a dream holiday to Bali.
Unfortunately, we now know that their post-Love Island lives will be spent apart, with the couple calling time on their relationship—but we're excited to see what's in store for them, as individuals...
Amy Hunt is a lifestyle writer and editor, and was previously Lifestyle Channel Editor at womanandhome.com, having been with the brand since 2015. She is passionate about everything from entertainment to books, to homes, food and wellness. When she isn't editing, researching or writing articles, he's busy burying her nose in a gripping thriller, practising yoga, or buying new homeware.