Where is Dami on Love Island from? The islander's unique accent decoded
Where is Dami on Love Island from? We've decoded the islander's unique accent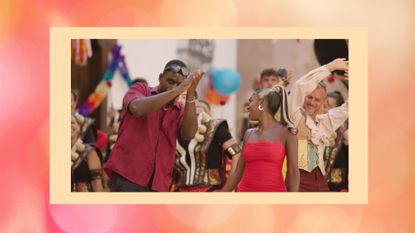 (Image credit: ITV Press Centre)
Where is Dami on Love Island from? It's the question that many Love Island 2022 viewers have been left asking over the last eight weeks, as the Irish-born islander seems to have quite a unique twang to his accent.
And even as the season is ramping up to a close with the Love Island final just hours away (make sure you head to the Love Island voting app to have your say) and the islander in the running as possibility for someone who could win Love Island 2022—along with girlfriend Indiyah—fans are still wondering.
The confusion became even more evident after yesterday's 'Meet the Parents' episode when Dami had to speak to his family over a video call, as they were unable to come to the villa, leaving viewers wondering they couldn't make it and where they were based.
So will all the confusion, here's where Dami's accent (and family) is from...
Where is Dami on Love Island from?
Dami is Irish and currently lives in Dublin (which is the capital of Ireland) but is originally from New Ross, Co Wexford, which is in the southwest of Ireland. As well as being from Ireland, Dami is also of Nigerian descent. So with all these different influences to his accent, it explains why fans may find his dialect hard to place.
Viewers have noticed that his accent seems to flip between Irish and Nigerian, even often sounding American at times.
He has previously spoken about his accent on the show, revealing that it is often mistaken for an American accent. In a convo with Amber who asked if people think he's from the US, he said: "Yeah sometimes, it's because of my accent but I can do an Irish accent too."
Why didn't Dami's family come to the villa?
Dami's family missed the 'Meet the Parents' episode, with him speaking to his sister and a friend over video call.
However, it seems that they were unable to show up in real life, as one of them contracted COVID-19, with Dami asking over the video call, 'so who got covid then?'.
Hopefully the islander will be able to catch up with his loved ones after he leaves the villa this evening...
Best Love Island gifts and merch to shop now
Brand
Colour
Price
Refine ☵
Sort By