Nicola Coughlan reveals how she discovered Bridgerton's biggest spoiler
The Bridgerton star reveals how she found out about that massive twist about her character...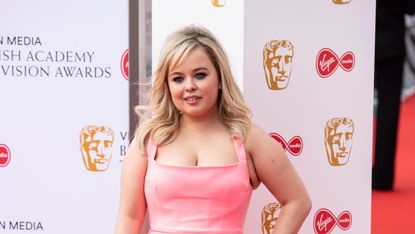 (Image credit: SOPA Images / Getty Images)
We're loving everything Bridgerton right now, from our obsession with the Bridgerton music to the hilarious Bridgerton memes that have been doing the rounds (not to mention the spoon...).
For many, Nicola Coughlan's character is one of the sweetest out of the Bridgerton cast. The adorable, kind natured, and innocent Penelope Featherington, whose character has a massive plot twist at the end of the series truly stole our hearts.
So we were excited to learn that Derry Girl, Nicola Coughlan who plays Penelope just revealed how she found out about Bridgerton's biggest spoiler, so if you haven't finished the series please be warned that there are spoilers ahead...
How did Nicola Coughlan find out Penelope Featherington's secret?
Nicola Coughlan revealed to Variety that she found out Penelope's big secret by reading fan forums online after she had already been cast.
The secret of course is that Penelope is Lady Whistledown, the old-fashioned gossip girl of the Ton and the main antagonist of the series.
Coughlan revealed to Variety that she discovered Pen's big secret by reading a fan forum for the original Julia Quinn Bridgerton novels online.
Coughlan said: " It was on a forum that I realized she was Lady Whistledown. When I saw it, I thought, 'No, no, no, no, that can't be right.' I kept re-reading it, because it didn't make sense: [I'm] being given this amazing role in a Shondaland-Netflix show, and it's that role. It's quite mind-blowing."
Many fans loved this twist. Penelope Featherington is characterized by her meek and mild manner, so the revelation that she is Lady Whistledown was a fantastic twist that many fans did not expect.
One fan claimed: "never in my wildest imagination did I think for a second that Penelope would be Lady Whistledown, that got me!"
I really enjoyed watching Bridgerton😁 , Eloise is my fav character. And never in my wildest imagination did think for a sec that Penelope would be lady whistledown, that got me! #bridgertonnetflix #BridgertonJanuary 1, 2021
See more
Other fans suspected that Penelope was Lady Whistledown from the get-go, with one simply stating: "I KNEW LADY WHISTLEDOWN WAS PENELOPE!"
Nicola assures fans that Pen was supposed to be Lady Whistledown from the start and there won't be any confusing plot holes a la Dan being revealed as Gossip Girl.
Nicola told Town & Country: " There'd be certain things where the director would say, 'We want to stand you here and do this.' And I'd think, 'I can't, because in my column, I write that they meet at this point.' So, if you went back, you'll spot me in a couple of scenes like Where's Waldo."
Laura Harman is a journalist who has written for Woman & Home, Grazia and Good to Know and regularly contributes to My Imperfect Life.