Who is Lady Whistledown in 'Bridgerton'? You might be surprised...
Been wondering who is Lady Whistledown in the 'Bridgerton' series? You've been warned: spoilers are ahead!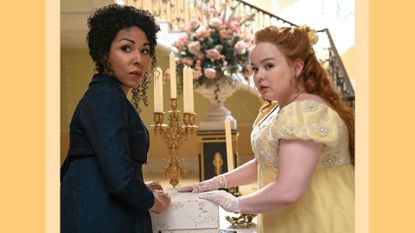 (Image credit: Liam Daniel/Netflix)
She's the maker of much drama in the Ton, but who is Lady Whistledown?
The delicious Netflix drama, which has been blessed with an incredible cast that includes Jonathan Bailey, Phoebe Dynevor and Regé-Jean Page, has enough gossip to rival, well, Gossip Girl. Plus, Bridgerton has its own iconic narrator doling out all of those Regency scandals. Exactly who narrates Bridgerton? Just Hollywood royalty herself, Julie Andrews, who voices the concealed Lady Whistledown on the series.
However, while Andrews performs the voiceovers, we know that she doesn't actually play Lady Whistledown onscreen. This is revealed to us in the final moments of season one, as we come face-to-face with the woman who, in her newsletters, has served London with all the hot high-society scandals and gossip. (If you need a refresher on that Bridgerton ending, explained, we've got you.)
But who is behind the real Lady Whistledown? Let's dive in.
*Warning: spoilers ahead!*
Who is Lady Whistledown on 'Bridgerton'?
Lady Whistledown turns out to be none other than Penelope Featherington, played by actress Nicola Coughlan. The final moments of Bridgerton season one reveal all—not only do we get a glimpse of Lady Whistledown's identity, but we also get to see her whole face as she seals off the final newsletter of the season. It's a truly shocking reveal for some but for the true detectives—and faithful readers of the Bridgerton books—it simply confirmed what we already knew.
Lady Whistledown's identity was revealed in the fourth edition of the book series, Romancing Mister Bridgerton. It bears the question: why didn't the show drag out the mystery a bit longer?
Speaking on the decision to reveal her identity so soon, showrunner Chris Van Dusen told OprahMag.com: "It felt right for the season to end where we end. I think it sets up future seasons in a really interesting way that I'm excited about."
We all saw Penelope Featherington as one of the many women in high society trying to find a suitable husband. In Penelope's case, she had been trying to catch the eye of her best friend's brother, Colin Bridgerton, even to the extent of disgracing her family with Lady Whistledown's reveal of Marina Thompson's pregnancy. This now makes perfect sense as to how Lady Whistledown knew that information.
However, the biggest shock will come to those who carefully watched her throughout season one as she states quite openly to her best friend Eloise Bridgerton that, unlike her, Penelope does not wish to avoid the traditional domestic life—the opposite of the impression we got from the subversive Lady Whistledown.
It could be assumed that while Eloise feels that marriage would mean she can have no other ambitions due to the limitations put on women at the time, Penelope sees she can have both and hopes to change London society with her place as Lady Whistledown. In season 2, things are going great for Whitledown—"She's living for it. She's so so happy, and it was fun to play that, when she was super pleased with herself," Coughlan told Netflix Tudum—that is, until Eloise figures out that the Ton's greatest gossipmonger is none other than her BFF Penelope.
That emotional confrontation between Eloise and Penelope was a doozy for the actors, Coughlan told Tudum: "It was completely devastating. Claudia and I didn't have all the scripts at once, so we thought, 'Sh*t are they going to do this? Is she going to find out? Is the friendship going to be destroyed? Is it fixable?' We talked a lot about it and took a lot of care that day because it's upsetting. Those were real tears! It was a big day on set, but Claudia and I looked out for one another."
As for what will happen with Lady Whistledown in Bridgeton season 3, the actress revealed to the outlet: "I know little to nothing about Season 3, so everything I say is pure speculation, but I think it's going to darken her a little bit. Because even her decision to pick the pen back up comes from having lost all the things she holds dear in her life in one fell swoop. She's lost Eloise, she knows Colin isn't interested in her, she's stuck with her rubbish family. She goes, 'Okay, Whistledown is amazing, I want to keep control.' But there's a cost to that."
The first two seasons of Bridgerton are available to stream on Netflix, as is the Bridgerton spinoff, Queen Charlotte: A Bridgerton Story.
Liv is a freelance journalist currently studying English at university. She loves covering everything from entertainment and politics to lifestyle and travel. As well as writing for My Imperfect Life, Liv has bylines in The Times, HuffPost, Den of Geek, Bustle The Metro and The Bookseller.

With contributions from