Where is Francesca Bridgerton? Here's who is replacing actress Ruby Stokes next season
We're all asking the same thing: where is Francesca Bridgerton in 'Bridgerton' season 2? Here's why season 3 will look different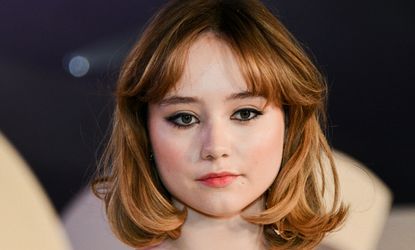 (Image credit: David M. Benett/Getty)
Seriously, where is Francesca Bridgerton? It's the question we were continuously asking ourselves throughout Bridgerton season 2, when we couldn't help but notice that the sixth Bridgerton child was nowhere to be found. o where was she?
Well, there has been a lot to unpack in the second season and while we won't give away any spoilers—though we are low-key judging you if you still haven't made time in your schedule to watch that Bridgerton lake scene—a whole host of new characters have been stealing the spotlight and bringing with them some important South Asian representation to season two: namely Kate Sharma (played brilliantly by Simone Ashley), and her sister Edwina Sharma (the equally magnificent Charithra Chandran).
When it came to Francesca Bridgerton, however, her presence was barely there. In the first season, the character, portrayed by Ruby Stoke, was referenced by her family throughout. However, she didn't actually make an appearance until the very last episode of season one. The idea (or, at least, what viewers thought) was that she would then have more of a central role in the show's sophomore season—though sadly, that's not quite what happened. Here's what we know.
The fact that they did not come up with an excuse this time around for Francesca's sudden absence this season. #Bridgerton #FreeFrannie pic.twitter.com/qx2UEYMfFKMarch 25, 2022
See more
Where is Francesca Bridgerton in 'Bridgerton' season 2?
Francesca Bridgerton did appear in the first three episodes of Bridgerton season 2. However, that was the last we saw of her. Speaking to TV Line, executive producer and showrunner Chris Van Dusen said: "I love Francesca, but we lost her midway through season two... After exhausting all other options, she unfortunately had to come out due to reasons beyond our control. Perhaps season three will be the charm."
It turns out that Ruby Stokes had a preexisting commitment to another Netflix show, Lockwood & Co, in which she plays the lead role. Her filming schedule unfortunately clashed with that of Bridgerton and meant she couldn't be more present in the season.
Who is replacing Ruby Stokes in 'Bridgerton' season 3?
Alas, it looks like season three won't be the charm for Ruby Stokes. The role for Francesca Bridgerton has had to be recast for the third season after Stokes left Bridgerton to fulfill her prior obligation to Lockwood & Co.
Whispers of a recasting made their way around December 2020, Deadline reports, when a casting notice for the role as a new series regular was put out. Francesca Bridgerton will now be played by British actress-model Hannah Dodd, most recently seen in Anatomy of a Scandal. Production for Bridgerton season three is expected to kick off this summer.
According to Netflix's official character description, "Francesca Bridgerton is a bit of a mystery within her chatty, extroverted family. Despite her reserved nature, she goes along to get along when it comes to society affairs, fortified with a dry wit and pragmatism that confound the fickle ton yet seem to draw attention when she least desires it."
When will the show focus on Francesca Bridgerton?
As we know, Bridgerton follows the Regency-set book series of the same name by Julia Quinn and according to the chronology of that, we won't be getting Francesca Bridgerton as our leading lady for a while. As the sixth eldest, Francesca's turn to marry is in the sixth book, When He Was Wicked, which we can imagine the sixth season of the show will follow if it runs in the same order.
No, this isn't a confirmation that Bridgerton will run for eight seasons like the books. But don't expect a season dedicated to Francesca anytime soon either, unless we get a huge time jump in the upcoming seasons 3 and 4 that were recently renewed by Netflix.
Either way, we'll be along for the ride!
Sagal is a journalist, specialising in lifestyle, pop culture, fashion and beauty. She has written for a number of publications including Vogue, Glamour, Stylist, Evening Standard, Bustle, You Magazine, Dazed and Wonderland to name a few.
With contributions from