Bridgerton seasons 3 and 4 have officially been announced
Who will return for Bridgerton seasons 3 and 4?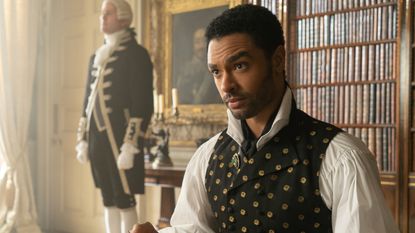 (Image credit: NETFLIX © 2020/ LIAM DANIEL)
Bridgerton fans, rejoice! Hot on the heels of the Bridgerton season 2 details being released, Netflix has just announced that seasons 3 and 4 are definitely happening.
The announcement came via Instagram with a post that read
"Esteemed members of the Ton. It seems we have a rather special announcement. Bridgerton shall return for seasons three and four. This author shall have to purchase more ink… Yours Truly, Lady Whistledown."
Since it was released, Bridgerton quickly took the world by storm becoming Netflix's most-watched original tv show ever. And, our obsession with the Bridgerton cast clearly knows no bounds; from wanting to know who Regé-Jean Page is dating, to wanting to know everything about Phoebe Dynevor who plays Daphne Bridgerton to a perfume being created that smells like the Duke of Hastings—yes, really.
What can we expect from Bridgerton seasons 3 and 4?
The next seasons are likely to focus on the love lives of the next siblings to get married. If the show follows the books written by Julia Quinn, then we should expect Bridgerton Seasons 3 and 4 to follow Benedict Bridgerton and Colin Bridgerton—since Anthony is next in line to the altar.
But, one thing is clear, Shonda Rhimes is likely to keep us guessing and, much like the shock announcement that the Duke of Hastings won't be returning for season 2, there's likely to be a few more surprises on the way.
Maybe it's time to re-read the Bridgerton books?
Sunil Makan is the digital editor of Marie Claire UK. With over 12 years of publishing experience, working on print publications and their digital counterparts, national newspapers, and digital pure plays he is an Editor, Strategist, Content Producer, and Creative Director. In his most recent role, Sunil was deputy editor of My Imperfect Life and before that, he was the Associate Editor of British Marie Claire. Prior to that he worked at ELLE, InStyle, Shortlist Media and freelanced at titles such as Mr Porter, Saks Fifth Avenue, Floral Street fragrance, and The Times.
Sunil's specialisms include Fashion, Beauty and Grooming, Lifestyle, and Culture. He has reported and covered fashion trends at International fashion weeks in London, Milan, and Paris, smelled and tested countless fragrances, beauty treatments, slathered on more serums, moisturizers, and masks than he cares to mention plus reviewed some of the best hotels in the world—and the worst.
Sunil has appeared on and led workshops and panels like the All-Party Parliamentary Group (APPG) for Creative Diversity roundtable, the British Fashion Council's Diversity and Inclusion Board, and Fujifilm reader events. A lover of—in no particular order—fragrance, fine wine, champagne, Dior, food, and chicken wings.