COSRX Hydrium Triple Hyaluronic Moisture Ampoule review: this acid packs a mighty moisturizing punch
Our COSRX Hydrium Triple Hyaluronic Moisture Ampoule review explores the effective serum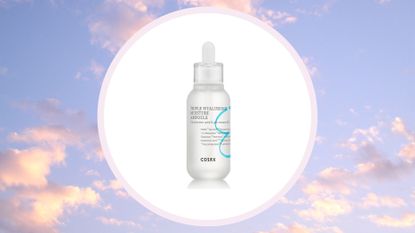 (Image credit: Future)
My Imperfect Life Verdict
Underrated with no frills but packs one of the biggest punches on the market in terms of hydration
Reasons to buy
+

A thin liquid that your skin will drink up

+

Has three different types of hyaluronic acid

+

Contains lactobionic acid, which buffs away dead cells

+

Good price for such a science-backed formula
Reasons to avoid
-

Unknown concentration of hyaluronic acid

-

Comes as a pipette, so delivery isn't pre-measures
COSRX is one of those under-the-radar cult beauty brands, but as my COSRX Hydrium Triple Hyaluronic Moisture Ampoule review shows, it's a brand we need to be shouting about more.
For those in the know, COSRX is probably most famous for its snail mucous serums. But don't let that put you off! Their HA serum is one of the best hyaluronic acid serums I've ever tried—and it by no means contains any snail by-products. What it does do though, is address the steady decline in our natural production of HA, with a no-BS approach and a hard-working serum that's also laced with lactobionic acid, a gentle exfoliating ingredient that moonlights as a humectant. One to definitely consider for your skincare routine.
The need to know
RRP: $26/£20.75
Best for: Dry, dehydrated skin
Ingredients: Undisclosed amount of hyaluronic acid. Additionally contains exfoliating lactobionic acid and vitamin B5 to hydrate and act as an anti-inflammatory.
Texture: Lightweight texture that's easily absorbed
What it aims to do: Expect deep hydration, improved radiance
How long product lasts: Used twice a day as the third step in a proper skincare product order routine, this 40ml bottle should last around two months
Is it scented? No added fragrance
A beauty editor's honest COSRX Hydrium Triple Hyaluronic Moisture Ampoule review
Use—how do you use Triple Hyaluronic Moisture Ampoule?
Apply two or three drops onto the face avoiding the eye and mouth area. Unlike a lot of hyaluronic acid serums, which you simply apply to the skin, a few drops of COSRX hyaluronic acid can also be mixed into your regular skincare or poured onto cotton or muslin pads and placed onto the skin.
A cream applied over the top of the pads creates a type of DIY sheet mask, which we love.
Experience—how does the COSRX Triple Hyaluronic Moisture Ampoule serum feel?
COSRX hyaluronic acid is what's known as a 'viscous' moisturizing serum, which means it's low in density and an especially thin liquid that your skin happily drinks up.
I love how cool this serum feels on the skin (this would be all the better if you pop yours in a mini fridge for skincare) and the smooth barrier it creates over the surface. I tend to get quite oily skin in the summer months so what I particularly love about the COSRX Triple Hyaluronic Moisture Ampoule is that it doesn't feel pore-clogging in the slightest.
Results—what does COSRX Triple Hyaluronic Moisture Ampoule serum do?
Put simply, COSRX Hyaluronic Acid is about deep hydration. To do that, its triple hyaluronic formula ensures moisture trickles through all the different skin layers. If you're wondering 'What is triple hyaluronic?', it basically means that three different types of hyaluronic acid are deployed:
The first, High Molecular Hyaluronic Acid (aka sodium hyaluronate), creates an invisible protective barrier on the skin's surface and prevents moisture loss.
Medium Molecular Hyaluronic Acid soaks into the layer below to plump skin from the inside out.
Low Molecular Hyaluronic Acid molecules (hydrolyzed hyaluronic acid) are tiny enough to reach the deeper layers, where they bind water to collagen, trapping moisture, and increase skin elasticity.
The formula also boasts exfoliating lactobionic acid, which buffs away dead cells, ensuring there are no roadblocks for the triple hyaluronic acid to reach your deepest skin cells.
Value—is the COSRX Triple Hyaluronic Moisture Ampoule serum worth it?
Even if you take nothing else away from this COSRX Hydrium Triple Hyaluronic Moisture Ampoule review, just know that this serum is 100% worth it. I can't praise COSRX Triple Hyaluronic Moisture Ampoule enough for making skin feel plumper and juicier.
There are no questionable ingredients in its list, and it's a good price point for such a science-driven formula. Every skin type would benefit from using it, especially acne-prone skin, which is often dehydrated and thus experiences higher oil production and blocked pores.
How it holds up
The triple hyaluronic acid formula in the COSRX Triple Hyaluronic Moisture Ampoule is rare for a product in this mid-range price bracket. So it's a shame that the brand hasn't disclosed just how high the concentration is.
La Roche-Posay Hyalu B5 serum similarly contains vitamin B5, but it only uses two types of hyaluronic. For a similar price, Glossier Super Bounce also contains three molecular weights of hyaluronic acid at a high concentration of 2%, alongside vitamin B5—although the formula is more gloopy than COSRX hyaluronic acid, so it doesn't give you that virtually invisible finish.
To better the COSRX Triple Hyaluronic Moisture Ampoule formula you'd have to splurge on Youth To The People Triple Peptide and Cactu Oasis Serum. It's double the price, but packed with four different weights of hyaluronic acid and a triple peptide blend to stimulate collagen production for improved wrinkles, as well as hydration.
My Imperfect Life's verdict on the COSRX Triple Hyaluronic Moisture Ampoule serum
When I first read about the COSRX hyaluronic acid in a magazine, the word 'ampoule' made me think that this product came as individual small glass vials. It's basically a pipette, which I was a little disappointed about as I like expertly measured, pre-dosed products, and thought this product lended itself well to that kind of sciencey delivery system. However, packaging aside, there's so much to love about this hyaluronic acid.
When it comes to texture, the COSRX Triple Hyaluronic Moisture Ampoule is probably one of my favorite hyaluronic acid serums, as it's non-tacky and non-greasy from the outset, but there's no compromise on all-day hydration.
There's an immediate difference to your skin when you apply it in terms of plumpness, smoothness and radiance—proof that the three layered hydration barrier is doing its job. In terms of aesthetics, I like how functional this product is. You're paying for what's inside, rather than slick packaging. Plus, the fact that the ingredient list is printed at the front of the bottle means you know exactly what you're buying.
I'd have no problem recommending the COSRX Triple Hyaluronic Moisture Ampoule to anyone, and I'll be slathering this on with abandon during the winter months.
Fiona Embleton is a multi-award-winning beauty editor who has tested over 10,000 products in her 10 years + of writing and shooting beauty stories. For the past four years, she was the Senior Beauty Editor at Marie Claire, having previously worked in the role of Beauty Editor at both Stylist and Cosmopolitan. She has recently gone freelance and alongside My Imperfect Life, she has written for titles including ELLE UK, ELLE Canada, Buro 247, Harper's Bazaar Arabia, Vogue Scandinavia, and ES Magazine. Beauty journalism allowed her to marry up her first-class degree in English Literature and Language (she's a stickler for grammar and a self-confessed ingredients geek) with a passion for make-up and skincare, photography, and catwalk trends. She loves jumping on the latest internet-breaking beauty news, dissecting the best red carpet looks, and having the crème de la crème of dermatologists, make-up artists, and hairstylists on speed dial so she can tap them for the best advice. She's a discerning beauty shopper and knows it can be confusing trying to navigate what's hype and what really works. So if she really likes something, you can trust that she has reached that opinion by vetting it against everything else she's ever tried. Her career highs? Interviewing Cate Blanchett and winning a Jasmine Award for the deeply personal feature Cancer Stole My Mother's Scent.