Ethique shampoo bar review: Is the Mintasy solid shampoo worth the hype?
Is the Ethique shampoo bar worth the hype? We gave the much hyped Mintasy solid shampoo a try...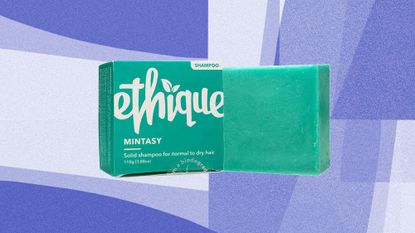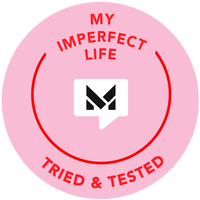 (Image credit: Ethique)
My Imperfect Life Verdict
This bar formulated with coconut oil and cocoa butter promises smooth and nourished hair—and, delivers. It's from Ethique, a vegan, plastic-free, and carbon-neutral brand, is suitable for most hair types, and is easily one of the best on the market.
Reasons to buy
+

Just one shampoo bar is the equivalent of three bottles of liquid shampoo

+

Ethique is an entirely plastic-free, vegan, and carbon-neutral brand

+

Does not contain palm oil
Reasons to avoid
-

Can be considered more expensive than some other shampoo bars

-

It needs to dry out properly between uses otherwise it might disintegrate—so invest in a soap saver

-

This does contain sulfates so bear that in mind as they can dry out hair
More and more of us are making the move from liquid shampoo to shampoo bars, and not just because they are super handy when it comes to traveling. They are great when it comes to sustainability too, reducing the need for extra plastic waste. After putting several of the best shampoo bars on the market to the test, we found that the Ethique shampoo bar was easily one of the best.
If you're new to the world of shampoo bars, then this one is the perfect place to start. Packed with nourishing ingredients, the Ethique bar helps to inject moisture and shine back into dull, dry hair. It foams up easily and quickly compared to other shampoo bars on the market, and it's also lightweight, which means it's super easy to massage into the scalp and right through to the very ends of the hair.
Plus, not only does their Mintasy solid shampoo (as above) look visually appealing thanks to its bright green color (hello perfect Insta shot), but it also smells incredible!
The need to know
RRP: $14/£12
Best for: Dry hair
Ingredients: Ghanaian cocoa butter, peppermint oil and organic creamed coconut butter
Aim of the product: To nourish hair without weighing it down
Is it scented? Yes
A beauty editor's honest review of the Ethique shampoo bar
Ethique shampoo bar: the ingredients
The hero ingredients in the solid Ethique shampoo bar Mintasy are cocoa butter, coconut oil, and peppermint extract. It is safe for use on color-treated hair and is also soap-free and pH balanced. It's formulated with sodium coco-sulfate, which is a foaming agent made from fatty acids found in coconut oil—an alternative to using palm oil.
The use of sulfates is something that divides people; while some like them because of the foaming effect, others don't because they have been known to strip hair of natural oils and cause dryness—especially in curly hair, which dries faster than other hair types. However, it's worth noting that all the ingredients that Ethique use are vegan, sustainably produced and sourced, and don't contain palm oil or petrochemicals. This means that nothing is derived from petroleum.
Like every product in Ethique's product range, their shampoo bar comes housed in a fully recyclable cardboard box and it's also completely plastic-free. The packaging that the bars are shipped in is also plastic-free and sustainable as Ethique uses cardboard and paper to wrap and send product orders.
Use—how do you use the Ethique Mintasy shampoo bar?
If you're new to shampoo bars, it's all about the adjustment process. If you want to ditch liquid shampoo and try a shampoo bar then it's worth noting that after years of using a liquid shampoo, using a shampoo bar for the first time can be a little strange. After all, we're used to just squeezing a bottle and massing the product into hair, and bar shampoo doesn't operate in quite the same way. But it's well worth sticking with it, as there are big benefits to be had.
There are two ways to use Ethique's shampoo bar—you can either wet it and create a lather in your hands, much like how you'd use a normal soap; or you can wet it and then rub it down your hair.
We would advise starting at the ends and going all the way down to the roots if you choose the second method. But, you'll have to repeat it around three times to ensure you have enough product to actually massage and cleanse your hair. It's worth noting that it can also cause tangles and knots depending on your hair texture—this is when using one of the best brushes for curly hair can really come into its own.
One thing we liked was about the Ethique shampoo bar was the fact that it's square, which means it's easier to grip and less likely to slip and slide out of the hands. When it comes to storage, it's best to use one of Ethique's plastic-free storage containers or an alternative soap saver, making sure you allow the product to fully dry out between uses and that it isn't kept in running or standing water.
Results—does the Ethique Mintasy shampoo bar work?
When we used this shampoo bar we followed it with a regular liquid conditioner. The addition of peppermint extract means that it not only smells really refreshing but also felt as if it was really helping to really cleanse the scalp, too. If you're scent adverse, fear not; the minty scent couldn't be detected after washing.
After using the bar and before conditioning, hair didn't feel too clean, but it was a little bit 'squeaky', suggesting the bar had done its job. It did feel nourished, cleansed, and super hydrated without being matted or knotty, though. When people make the change from liquid to solid shampoo some report that their hair is left feeling waxy or greasy, but we can gladly report that we didn't notice either with this product.
Value—is the Ethique Mintasy shampoo bar worth it?
The Mintasy shampoo bar, as an example of their products, costs around $14/£12 for a 110g bar of soap, which is the equivalent of around three bottles of regular liquid shampoo—so if you're wading on the shampoo bars v liquid shampoo debate, it's definitely something to consider.
What you need to know about Ethique
What are Ethique's eco-credentials?
Ethique is a sustainable brand that was created in New Zealand and launched worldwide in 2020. The brand has 12 shampoo bars, and Mintasy is ours (and many others) favorite. It's a brand that prides itself on being completely plastic-free in everything it does, from the products created right through to the packaging that is used for shipping. The fact that the shampoo bar is equivalent to three whole bottles of liquid shampoo means that not only is it saving on plastic, it's also saving water, and is most likely saving you some money.
Ethique was founded by Brianne West, a biochemist, and entrepreneur, and to this date, the company has prevented the manufacture and disposal of 9 million plastic bottles.
Ethique claims that each bottle of liquid shampoo contains up to 80% water, whereas their shampoo bars don't contain any. As the brand says, it doesn't make sense to pay for water in products when there is already water in the shower.
What other shampoo bars and products does Ethique make?
There are a total of 11 scents—including Mintasy—in the Ethique shampoo bar range, which includes citrus to floral fragrances and all with different uses in mind: there are bars for those with oily hair or for those that need a bit of volume, one perfect for shampooing and shaving and even a gentle one for little ones.
Read below for the full range of shampoo bars:
Bar Minimum: an unscented solid shampoo bar.
Frizz Wrangler: the solution for frizzy and dry hair.
Heali Kiwi: this bar is formulated with oatmeal and ancient ayurvedic oils for those with dandruff and scalp issues.
Oaty Delicious: a gentle shampoo bar that is perfect for little ones.
Mintasy: the one with coconut oil and cocoa butter and a cult following.
Pinkalicious: this one has a refreshing grapefruit scent and is great for those with normal hair.
St Celements: the yellow bar which is formulated for those with oily hair.
Sweet & Spicy: adds volume to hair that needs a little oomph.
Tip-to-Tot: great for sensitive skin, for both babies and adults alike.
Tip-to-Toe: this doubles as the perfect base for shaving.
Tone It Down: shampoo away brassy tones with this solid purple shampoo bar
Ethique also creates several other products which cover haircare (shampoo and conditioner), skincare (cleansers, moisturizers, scrubs), lip care, and body care (scrubs, moisturizers, deodorant). They even have a range of household cleaning product—in solid bar form, no less—including kitchen and bathroom cleaners.
My Imperfect Life's verdict on the Ethique Mintasy shampoo bar
Real talk—overall, this shampoo bar seriously impressed our tester. One thing that lets this bar down is that it does contain sulfates, but we managed to overlook that because it was able to hydrate, nourish, and seriously smooth hair while also ensuring it was really well cleansed.
It didn't cause hair to tangle or clump or become knotty. Instead, it was easy to brush through. The added peppermint extract in their Mintasy option makes it perfect to use in the morning as the zingy scent will help wake you up, and although it's a shame that scent doesn't last in the hair, that's not necessarily a bad thing—especially if you don't like an overpowering smell.
What about concerns with the price? Yes, the Ethique shampoo bar verges on the more expensive side in comparison to other bars, but it's also one of the biggest that we tested. And the fact that it doesn't contain any water means it's an extremely concentrated formula that is the equivalent of three bottles of shampoo—a seriously impressive stat.
Overall, we think it's well worth the money and is definitely something we would spend our money on—in fact, one of our editors now swears by it. The brand's eco-credentials alone make it a solid choice, but combine that with Ethique's pledge to plant a tree for every sale and the fact that Mintasy didn't leave our hair feeling greasy or waxy, and you've found yourself a seriously great choice to make the switch to shampoo bars without the awkward transitional stage.
Lucy Partington has been a beauty journalist for eight years, writing for titles including Stylist and Cosmopolitan. She's a true skincare nerd who's on a lifelong quest for a glowing complexion and loves nothing more than learning about new ingredients and products. She's obsessed with having perfect eyebrows and collecting eyeshadow palettes she'll probably never use.