La Roche-Posay Retinol B3 Serum review: can retinol really be gentle on my sensitive skin?
La Roche-Posay Retinol B3 Serum review: can retinol really be gentle on my sensitive skin?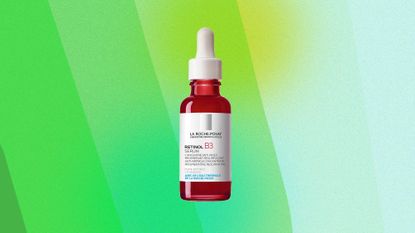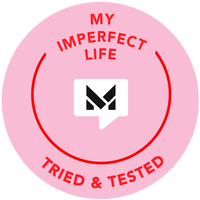 (Image credit: La Roche Posay)
My Imperfect Life Verdict
La Roche-Posay Retinol B3 Serum promises to side step issues like redness and irritation while still improving the look of lines and hyperpigmentation. We put it to the test…
Reasons to buy
+

It's lightweight

+

Suitable for all skin types, even sensitive skin

+

Additionally contains niacinamide to brighten and improve hydration

+

Gently exfoliates to soften the look of wrinkles and hyperpigmentation

+

Retinol and niacinamide are proven to help with acne

+

The dark-coated bottle protects its delicate ingredients from light and air exposure
Reasons to avoid
-

Not ideal for dry skin as it contains a high quantity of alcohol denat
If you're wondering if the best retinol serums can ever be compatible with sensitive skin, you're not alone. But La Roche-Posay Retinol B3 Serum may just surprise you.
Retinol is probably the most evidence-based anti-aging ingredient on the market. Dermatologists wax lyrical about how it is a gold standard ingredient and actually improves hyperpigmentation and collagen production (the stuffing that keeps the mattress of your skin plump and youthful) by improving cell renewal.
And yet most of us have a pretty chequered history when it comes to using retinol in our own skincare regimes as it still lives under a cloud of controversy with regards to the irritation and flaking it can cause. I can attest to that, having once used prescription-strength retinol, which even at its entry-level dose left my skin in semi-permanent snowflake territory. Meanwhile, downgrading to retinoids, a weaker derivative of retinol that most often goes by the name of retinol palmitate on packaging seems pointless as experts agree the payoff is so minimal it's hardly worth the effort.
That's why I was so pleasantly surprised by La Roche-Posay Retinol B3 Serum. I frequently wax lyrical about this French pharmacy brand, which has been known to incite beauty editors to go on frantic shopping sprees mid Paris Fashion Week on account of its efficacy at purse-friendly prices. Even my dermatologist stocks it at her clinic, which speaks volumes. So what makes this serum so great? The star of the show is the duo that sits front and centre in the formula—namely, retinol and vitamin B3, also known as niacinamide.
A quick recap: niacinamide is known for brightening skin and helping it to retain moisture while decreasing inflammation. Basically, it's the Robin to retinol's Batman as it hovers in the background, ready to swoop in to counteract any side effects. Precisely what you want in a resurfacing skincare product.
La Roche-Posay Retinol B3 Serum review: the need to know
Targets: All skin types with a gentle yet effective retinol formula.
USP: Sandwiching retinol between glycerin and niacinamide buffers the skin against side effects so you get all the benefits of retinol without the potential dryness and sensitivity.
The science behind La Roche-Posay Retinol B3 serum
For over 30 years, La Roche Posay has worked with dermatologists to crack the most tolerated formulas for sensitive skin. To that end, ingredients lists are kept simple. And, where possible, free from fragrance and soap. This clever formula uses 0.1% retinol, which is gradually released into the skin overnight. Slow-release technology is proven to accelerate cell turnover while still keeping skin placated. Hydration comes in the form of 10% glycerin, which is a cheaper but equally effective alternative to hyaluronic acid, and 2% niacinamide. The latter is crucial as niacinamide improves the skin barrier function in order to keep moisture locked in, while a 2019 study conducted in Korea found that "niacinamide protects skin cells from oxidative stress-induced by particulate matter". Put simply, this means that niacinamide protects skin cells from the aging effects of pollution as an added bonus. Studies on La Roche-Posay Retinol B3 Serum have shown that 82% of users found that their skin looked younger while 96% vouched for the fact that the product leads to softer skin and 90% said that their skin was more refined.
How To Use
As with any retinol-based skincare product, it's important to slowly integrate it into your routine. I applied this serum twice during my first two weeks using it, then three times the third and fourth and now I use it every other night and experienced zero side effects. You may wish to apply a night cream over the top but keep it simple as some skincare ingredients like AHAs and even vitamin C shouldn't be used at the same time as retinol. It's also important to wear sunscreen with an SPF30+ every day as retinol can make skin more sensitive to UV rays. And if you're tempted to wear your retinol serum during the day, don't bother - sunlight decreases the efficacy of the product.
Pricing
The recommended RRP for La Roche-Posay Retinol B3 Serum is $39.99 / £38, which is a good price for an entry-level retinol serum. The peace of mind alone is worth the money if you worry about unexpected flare-ups.
Who should buy La Roche-Posay Retinol B3 Serum
Novices who are dipping their toes in the retinol waters for the first time, and those with sensitive or acne-prone skin. The serum itself has a lightweight texture suitable for all skin types, and it absorbs quickly with a weightless feel which means it works well underneath moisturizer without the danger of pilling. The only downside is the alcohol denat in the formula, which features fourth on the ingredient list, meaning there is quite a high percentage in the product. To explain, alcohol denat ensures ingredients penetrate better and formulas are lighter and cosmetically elegant but, in large amounts, it can be drying to the skin. That said, my oil-prone, sensitive skin never felt parched so perhaps this is a product to avoid if you already suffer from dry skin.
La Roche-Posay Retinol B3 Serum: The Verdict
La Roche-Posay seems to have thought of everything, including a dark-coated bottle that protects its delicate ingredients from light and air exposure (retinol notoriously degrades when exposed to either). The hero ingredient is retinol, which improves the appearance of fine lines, wrinkles, and sun damage. There's also a high amount of niacinamide with brightening and barrier repairing benefits, and vitamin E for additional antioxidant protection.
But the real proof lies in the fact that this formula consistently left my skin feeling balanced. Sometimes a little dead skin might pill and come away while I cleansed but there was no dramatic peeling. After a month, my complexion looked clearer, more luminous and I never experienced any redness or sore-to-the-touch skin. Even my lines looked more soft focus.
Fiona Embleton is a multi-award-winning beauty editor who has tested over 10,000 products in her 10 years + of writing and shooting beauty stories. For the past four years, she was the Senior Beauty Editor at Marie Claire, having previously worked in the role of Beauty Editor at both Stylist and Cosmopolitan. She has recently gone freelance and alongside My Imperfect Life, she has written for titles including ELLE UK, ELLE Canada, Buro 247, Harper's Bazaar Arabia, Vogue Scandinavia, and ES Magazine. Beauty journalism allowed her to marry up her first-class degree in English Literature and Language (she's a stickler for grammar and a self-confessed ingredients geek) with a passion for make-up and skincare, photography, and catwalk trends. She loves jumping on the latest internet-breaking beauty news, dissecting the best red carpet looks, and having the crème de la crème of dermatologists, make-up artists, and hairstylists on speed dial so she can tap them for the best advice. She's a discerning beauty shopper and knows it can be confusing trying to navigate what's hype and what really works. So if she really likes something, you can trust that she has reached that opinion by vetting it against everything else she's ever tried. Her career highs? Interviewing Cate Blanchett and winning a Jasmine Award for the deeply personal feature Cancer Stole My Mother's Scent.