This Neom Organics scented candle doubles up as a bath oil - but is it any good?
The Neom Organics scented candle doubles up as a bath oil - and we love it!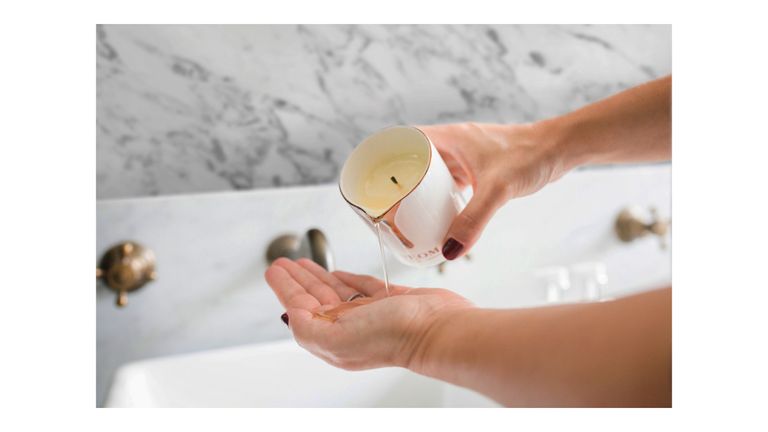 (Image credit: Neom Organics)
My Imperfect Life Verdict
Both a fabulous candle and luxurious body oil means we are most definitely fans.
Reasons to buy
+

Two products in one

+

100% natural ingredients

+

Unusual – a great gift idea
Reasons to avoid
-

Only available in one fragrance
We've learnt over the years that you get what you pay for when it comes to scented candles - and that's the case with this Neom Organics scented candle.
Those that burn slowly and have a high concentration of pure essential oils are the best because, well, they work. They fill your rooms with a gorgeous fragrance and just make you feel that little bit happier when you walk in. So the fact that Neom Organics' Real Luxury Skin Treatment Scented Candle is both a fabulous candle and luxurious body oil means we are most definitely fans.
Pricing
This Neom Organics scented candle retails for $52 (£40) for 140g, which is on a par with the ever-popular Jo Malone (from $64/£49 for 200g) and Diptyque ($61/£47 for 190g) scented candles, but when you consider that they also produce the most wonderful body oil, they represent much better value for money. The price is consistent across most retailers – even Amazon doesn't knock off any money.
The packaging
The candle is in a beautifully simple white ceramic pot with an elegant bronze ring around the top edge and a drip down one side, which reminds us of caramel sauce flowing down the side of a jug. The pot itself has a small spout so it's easier to pour the oil once melted, which is a clever touch. The branding is a little on the large side, but we're nitpicking – overall it looks super chic.
The candle
All of Neom's products are ethically sourced and contain no harsh chemicals, no artificial colours, no paraffin or mineral wax and use only 100% natural fragrances – founder Nicola Elliott is a trained aromatherapist, so has a good nose for mixing complementary scents. They have a burn time of 26 hours, so that's a good 10 sessions if the candle is burned for 2-3 hours at a time.
The main notes in the fragrance are lavender, jasmine and Brazilian rosewood to eliminate stress, combined with 21 other essential oils (what, you didn't think they were going to give up their secret blend, did you?). It's quite a heady scent – we found it fairly woody and herb-like, but tempered with lighter and fresher notes from the jasmine. But it needs to have a certain amount of potency to do its job of de-stressing.
After lighting it takes around five minutes for the fragrance to really start permeating into the air in a medium-sized room. We left ours alight for about an hour and the fragrance lingered for a good 15/20 minutes after we blew it out.
The oil
Once you've appreciated the smell of the candle, it's time to use the oil. Neom recommends lighting the candle for at least 30 minutes to allow the oil to melt and pool before using it. It goes without saying that you shouldn't pour just-burned oil straight on to your skin; let it cool a little, for a few minutes at least after you've blown out the candle, then we found dipping a fingertip into the oil is the best way to check the temperature. When you're happy that it's cool enough to massage onto your skin, pour it into the palm of your hand first, then slather over your body – you have much more control that way and will waste less.
Using the body oil is quite an intensive treatment and it's perfect for very dry skin or just to top up your skin's hydration levels once in a while. It's a wonderfully luxurious alternative to your regular body oil – it's best to use it after a long hot soak in the bath when your pores are wide open and better able to absorb all those lovely essential oils.
Neom organics real luxury skin treatment scented candle review: should you buy it?
In a word, yes. Either for yourself or as a gift, this scented candle would be on our wish list if it was 'just' a candle, but the fact that it's a luxury body oil too means we're sold. In terms of price, it's about the same as many of the other high-end scented candles on the market, and we really like its simple, elegant design. The fragrance is on the strong side, but that's exactly what you want from a scented candle. The oil feels really nice on the skin, too.
Our only gripe would be that Neom currently only offer this candle/body oil in one fragrance (this is us asking you to make the others in the range available as a Luxury Skin Treatment scented candle, Neom…). If you're not a lover of lavender, for example – and quite a few people aren't – you've hit a bit of a stumbling block.
That aside, we're huge fans. Expect other companies to follow the scented candle/body oil mash-up soon.