Best eyeshadows for dark skin—from creamy mattes to flawless shimmers
These are five of the best eyeshadows for dark skin—tried and tested by a beauty writer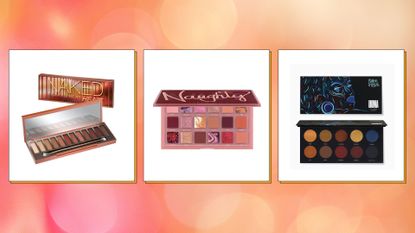 (Image credit: Future)
Among the hundreds of palettes on the market, there are plenty of eyeshadows for dark skin. As the beauty industry evolves, leading make-up brands have become more inclusive with product ranges, taking the appropriate time, effort, and research into creating formulas that specifically cater to and complement a wider range of skin tones, including darker shades.
Like most make-up products, eyeshadow palettes have historically alienated customers with deeper skin tones as products would often turn out chalky, change color when applied on dark skin, or vanish completely.
However, beauty has come a long way and thanks to the growing number of Black-owned brands like Pat McGrath, Fenty Beauty, and Uoma Beauty, as well as efforts by other leading make-up brands to expand their product ranges, shopping for the best eyeshadow palettes that suit dark skin has never been easier.
Whether you're after neutral tones for day-to-day looks or want something more vibrant and colorful, our in-house expert writer has selected our top five best eyeshadow palettes for dark skin, all of which are perfectly pigmented and will perfectly complement your makeup, including your pick of the best foundations.
What to look for in the best eyeshadows for dark skin
There are few different things to look for when choosing an eyeshadow palette for dark skin, including:
The pigment—this is arguably the most important factor to assess in eyeshadow for dark, as the pigment needs to be strong enough to make an impact
How many shades the palette offers
What the shade range is like—are the colors distinct, does it offer a selection of mattes, shimmers and glitters?
Staying power
Comfort of wear
Best eyeshadows for dark skin as tested by a beauty writer
1. Sleek MakeUP I-Divine Palette Original
Best for glamorous looks
Reasons to buy
+
Highly pigmented
+
Pretty colour selection
+
Affordable
Reasons to avoid
-
No matte options, just shimmery
Sleek's i-Divine eyeshadow palette in shade "original" is the ultimate palette for those who love a shimmering look, be it brown and gold hues or bright blues and greens. It is one of few palettes where all the shades complement a mix of darker skin tones and the formula is great too. All of the shades are super pigmented and long-lasting—I always use a lighter shade concealer as a base before applying eyeshadow and with this, I experienced no creasing or ashy texture throughout the day. It stayed put for hours.
However, my favorite thing about the eyeshadows (the gold shades in particular) was the illuminating effect they had, which is thanks to the mica particles used in the formula. This is great for creating a glam effect and the bright colors are perfect for creating celebrity-approved eyeshadow looks.
2. HUDA Beauty Naughty Nude
Best for creating the ultimate nude look
Reasons to buy
+
Pretty colour selection
+
Highly pigmented
+
Creaseless
Huda Beauty's Huda Kattan is known for her flawless filter-like make-up range, which is one of the best in the world, from glowy highlighters to flash-sculpting mascaras. One of the beauty mogul's most impressive offerings, however, is her carefully selected color patterns in the brand's eyeshadow palettes. Late last year, the brand launched an updated version of the famous New Nude palette, this time titled the Naughty Nude eyeshadow palette.
Made up of warm pink and golden tones, similar to the Charlotte Tilbury Pillow Talk Instant Eye Palette, it consists of an array of textures: five high-shine metallics, three multi-reflective marbled shimmer creams and eight velvety mattes—all of which easily glide onto the skin when applying. I found the shade "untamed"—a pigmented matte aubergine color—to be incredibly flattering on dark skin, especially when blended with "spicy". It can be hard to find eyeshadows that are shimmery but not tacky, but this palette nailed just that.
The formula was great too as I experienced zero creasing throughout the day.
3. UOMA Beauty Black Magic Palette Colour Palette in Poise
Best for going out out
Reasons to buy
+
Highly pigmented
+
Deep colours
+
Creaseless
Reasons to avoid
-
Pricey
-
No day-time colours
Founded by Nigerian-born beauty boss Sharon Chuter, UOMA beauty launched in 2019 and is a brand dedicated to providing a make-up range that suits all skin tones. The UOMA Beauty Black Magic color palette is a perfect example of how the brand does this right, with the Poise palette in particular offering a gorgeous selection of deep tones that suit darker skin.
I found all of the shades in this to be incredibly pigmented and especially loved the OMO and EJA shades, two creamy matte textures in warm brown/peach shades that easily blended together and complemented my complexion. As someone who tends to go for shimmery eyeshadows, I'm very particular with the matte shades I choose, and found this one to be just what I was looking for. It would be an excellent palette to match with the Pixi Beauty Balm, which is also ultra-pigmented.
4. Urban Decay Naked Heat Eyeshadow Palette
Best for creaseless warm tones
Reasons to buy
+
Soft on the skin
+
Highly pigmented
+
Warm tones
Reasons to avoid
-
Not a wide range of colours
If you love warm tones then this palette is for you, with Urban Decay also launching a brand new collection soon for any longtime fans. Made up of neutrals, coppers, burnt oranges, browns, golds and burgundy shades, Urban Decay's Naked Heat eyeshadow palette is a huge favorite among beauty influencers including one of my longtime favorites, Jackie Aina.
All 12 shades are a mix of shimmery and matte textures, with Lumbre and Sauced being my two favorite shades. While Lumbre is more of a night-time look thanks to its shimmery mix of gold and burgundy, Sauced paired with the shade Chaser are great for creating a natural day-to-day look. All the shades are deeply pigmented, which means a little goes a long way and you won't have to worry about creasing or topping up throughout the day as they stay put.
5. NARS Afterglow Eyeshadow Palette
Best for soft mattes and bright shimmers
Reasons to buy
+
Good selection of mattes and shimmers
+
Highly pigmented
+
Creaseless
+
Pretty packaging
NARS Cosmetics is another brand that has always been inclusive to black and brown skin tones with everything from extensive foundation and concealer ranges, to its array of eyeshadow offerings. The brand's Afterglow eyeshadow palette is one of my personal favorites due to its gorgeous color combination. Not only is it beautiful to look at but it is one of the very few palettes where I've found myself using every single shade.
While I'd definitely say it is more on the glamorous side with bright colors and shimmery textures dominating, there are a few buildable shades that can create a more understated look if you're not quite ready for something as bold a white eyeliner look just yet. The golden hues particularly complemented my skin, while the shimmery purple also looks amazing on darker skin tones. Plus, the super sleek design of the packaging is another highlight of this palette.
How to choose the best eyeshadows for dark skin
There are a few things to keep in mind when shopping for eyeshadows for deeper skin tones, as well as keeping an eye on your palette's expiration date. "For people with darker skin tones, it can be frustrating when using eyeshadows and they turn out to be chalky or ashy.
Luckily the make-up industry has stepped up its game when it comes to eyeshadow formulas," says an expert at Sleek Makeup, a brand that has always catered to darker skin tones. "Our new and improved i-Divine eyeshadow formula delivers our strongest color pay-off yet, and they're so easy to blend too." Here are some more tips for finding your perfect shade:
It's important to prep your skin before applying eyeshadow to get the best results. "The first step which is important is to prep before applying eyeshadows. This will ensure the full vibrant pigment pops on deeper skin," she explained.
Our expert also said: "I like to use an eyeshadow primer or a concealer two or three shades lighter than my skin tone first."
She also revealed that using a transition shade first to tie all the colors together is a great hack to ensure you end up with a seamless look.
"Deep and rich colors such as chocolate browns, caramel, copper, and bronze are great shades to choose from for this. Another great tip is that when using metallic shades, wet the brush or your finger first to ensure the color intensifies. Don't be afraid to play with color and remember to blend, blend, blend!"
Sagal is a journalist, specialising in lifestyle, pop culture, fashion and beauty. She has written for a number of publications including Vogue, Glamour, Stylist, Evening Standard, Bustle, You Magazine, Dazed and Wonderland to name a few.