Best foundations for oily skin: the tried and tested mattifying formulas we love
The best foundations for oily skin promise to take down unwanted shine without clogging pores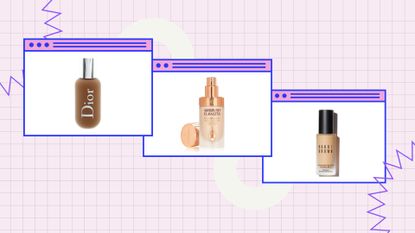 (Image credit: Future)
Our edit of the best foundations for oily skin is packed with impressive options that hit the sweet spot between flat and dull and greasy and sweaty. All of our chosen formulas dampen afternoon shine to avoid fresh breakouts, but are also devoid of those aggressively mattifying ingredients that suck the life out of naturally glowy skin.
The best foundations for any skin type should look flattering on the skin—this means blending naturally to your skin tone, while letting your natural beauty shine through but also covering up any unwanted imperfections—so it's important to choose a formula that has the right coverage and finish for you and that also comes in a range of shades so that you can find your perfect match. Look at the ingredients list too—foundations for oily skin often boast mattifying ingredients, however it's important that they don't dry out the skin too much either, as this can actually exacerbate sebum production and lead to even more oil on the skin. And the best non-comedogenic foundations usually go hand in hand with oily skin, as non-comedogenic ingredients don't clog the pores. It's also important to understand whether you need a product for oily skin or whether you need one of the best foundations for combination skin instead.
So we've tested countless foundations for oily skin in order to select the very best formulas that tick all of these boxes. On our quest we found all the below to be worthy of a spot in our list, all addressing different concerns…
Meet the Expert
Warren Dowdall is a Senior PRO artist at Bobbi Brown and a skincare expert at Darphin UK.
The best foundations for oily skin
1. Charlotte Tilbury Airbrush Flawless Foundation
Best full-coverage foundation for oily skin
Specifications
RRP: $44 / £34
Number of shades: 44 shades
Coverage: Full
Reasons to buy
+
Breakouts will be almost invisible
+
Sweat and humidity proof
+
Contains wrinkle-fighting ingredient Replexium
Reasons to avoid
-
Some may find the coverage too full for everyday use, preferring to save it for special occasions
This is cover-all-bases powerhouse does exactly what its moniker suggests: it makes skin prone to redness and breakouts look airbrushed as if with a filter. Its satin-matte finish creates a completely even canvas, ensuring enlarged pores vanish and skin looks as though its bathed in candlelight. It's appealing for those with mature skin, too, as the formula contains Replexium, an ingredient that claims to reduce the appearance of wrinkles by up to 22% after 8 weeks of use.
2. Dior Backstage Face & Body Foundation
Best oily skin foundation for a natural looking finish
Specifications
RRP: $40 / £27.50
Number of shades: 40 shades
Coverage: Medium
Reasons to buy
+
Second skin finish
+
Waterproof & sweat proof
+
Long-lasting
Reasons to avoid
-
Formula may be too fluid for those who prefer denser coverage
Given this product is a Dior pro's secret weapon backstage, imagine what it can do for us mere mortals. Put simply, this foundation is serious about improving the look of oily skin. The texture is a lot runnier than most matte foundations but it's precisely this 'second skin' finish that is the highlight here. Designed to give a subtle nude glow, whether you decide to go in light- or heavy-handed, it creates an invisible mesh on the skin that is waterproof and sweat resistant so you've got peace of mind that it won't budge.
3. Estée Lauder Double Wear Stay-In-Place Makeup
Best oily skin foundation for a wide shade range
Specifications
RRP: £29.75
Number of shades: 61 shades
Coverage: Medium
Reasons to buy
+
Huge shade range
+
24-hour wear
+
Non-crease formula
If the 61 shades aren't enough to convince you, then the arm-length credentials for combating oily skin will. At first touch, the formula is liquid. But then it dries down to a powder-like finish as soon as it hits the skin—which does mean you have to work fast when blending it in. It even promises an impressive 24 hours of wear, even when faced with sun and humidity. Best of all, it's so lightweight, you'll forget you're even wearing it, and that's surely the litmus test for any foundation.
4. Fenty Beauty PRO FILT'R Soft Matte Longwear Foundation
Best oily skin foundation for darker skin tones
Specifications
RRP: $38 / £30
Number of shades: 50 shades
Coverage: Medium to full coverage
Reasons to buy
+
Coverage is long-lasting
+
Climate-adaptive technology
Reasons to avoid
-
It contains fragrance, which may irritate sensitive skin
Rihanna's best-selling long-wear foundation is ideal if you want coverage that stays all day (and night if you're hitting the dance floor). Infinitely buildable, you can opt for a barely-there finish all over your face or layer it up. Either way, it's a lightweight, breathable formula made with climate-adaptive technology that's resistant to sweat and humidity. And with no fewer than 50 shades, it's expertly crafted not to give darker skin tones a grayish tint. It does contain fragrance though, so it might not be one of the best foundations for sensitive skin.
5. Bobbi Brown Skin Long-Wear Weightless Foundation SPF 15
Best oily skin foundation for acne-prone skin
Specifications
RRP: $50 / £35
Number of shades: 43 shades
Coverage: Full
Reasons to buy
+
Long coverage
+
Non-acnegenic
+
Won't oxidize—the tone is brilliant
Reasons to avoid
-
A bit more on the pricey side
16-hour coverage? Check. Natural mineral powders to mop up excess shine? Double check. But the real story here is how tone-perfect this base is. Oil can cause foundation to oxidize, leaving an orange cast on the skin. Developed with research on over 7,000 skin tones, this base is clever enough to correct undertones and prevent oxidization. What you see the moment you blend it in, is what you'll get for the rest of the day. One of the best foundations for acne prone skin, it contains glycerin (aka hyaluronic acid's less expensive sibling) for lightweight hydration, and it isn't just non-comedogenic, it's non-acnegenic, meaning this foundation is less likely to cause or make acne worse. And if you want more of the foundations that specifically won't clog your skin, see our guide to the best non-comedogenic foundations.
6. Neutrogena SkinClearing Liquid Makeup
Best oily skin foundation for clearing up spots
Specifications
RRP: $14.59 / £15
Number of shades: 14 shades
Coverage: Light-medium
Reasons to buy
+
Contains pore-clarifying salicylic acid
+
Dissolves oil and treats blemishes
+
Next-to-natural coverage
Reasons to avoid
-
Shade range isn't very good
If your dream foundation covers up acne marks but also clears breakouts, then the search is over. Neutrogena is known for its skin-first approach so here you'll find technology proven to dissolve oil and help boost the delivery of salicylic acid to the source of breakouts. This foundation not only treats blemishes, it helps prevent emerging breakouts, control shine and provides natural coverage. What's not to love?
7. Maybelline New York Fit Me Matte + Poreless Liquid Foundation
Best budget foundation for oily skin
Specifications
RRP: From $8.48 / From £5.99
Number of shades: 40 shades
Coverage: Medium
Reasons to buy
+
Very affordable
+
Fragrance-free
+
Provides a great finish
Reasons to avoid
-
Lack of sophisticated skincare ingredients
If you're looking for a drugstore find that's easy on the wallet, you'll love this Maybelline foundation. In fact, with over 4,000 verified reviews on Amazon, you won't be alone. This oil-free foundation expertly blurs away visible pores with virtually invisible powders that keep shine in check. The formula is fragrance-free and the finish velvety smooth—both small mercies when skin is inflamed with spots.
8. Bareminerals Matte Foundation
Best oily skin foundation for sensitive skin
Specifications
RRP: $28 / £29
Number of shades: 30 shades
Coverage: Light-medium
Reasons to buy
+
Very lightweight—doesn't feel cakey at all
+
Free-from formula
+
No need to powder over the top
Reasons to avoid
-
If you prefer traditional liquid formulas this might not be for you
Bareminerals Original Foundation is already a runaway hit with acne sufferers as it contains no additives, binders or fillers, which can rile sensitive skin. The only criticism was the slight shimmer it left behind, which is magnified on oily types. Enter this loose mattifying powder, which still retains the creaminess of the original, but now minimizes pores into the bargain without ever looking flat or cakey. It's super gentle, and should leave you feeling as though you have no make-up on at all. It does have a much smaller shade range though, which is a disappointment.
How to choose the best foundation for oily skin
For Warren Dowdall, Bobbi Brown Senior PRO Artist, it's all about balance when choosing the best foundations for oily skin. He says, "Oily skin has its own natural glow, so you don't need foundations that are light reflective. You will also want to steer clear of formulas that are heavy in oils—once they mix with sebum, they can leave skin looking patchy, shiny and uneven.
So what sort of formulations would be best? "Water-based, oil-free, matte formulas not only wear longer and control excess oil production, but also help to minimize the look of pores by absorbing light and visibly 'flattening' areas with an uneven texture," he said.
As well as looking for the words 'oil-free' and 'long-wear' on the bottle, also be sure to scan the ingredients list. Public enemy No.1, and an ingredient to swerve at all costs is mineral oil—a serial pore clogger, whether you suffer from breakouts or not. Instead enlist the help of salicylic acid, a skincare ingredient which dissolves oil and re-texturizes skin when used in foundation.
And don't forget lightweight, oil-free hydrators, Dowdall says: "There's a beauty myth that oily skin doesn't need hydration. That couldn't be further from the truth. In our efforts to mop up excess oil, we tend to over-cleanse and use astringents that can strip the skin of hydration. Although we want a matte finish, we still want water-loving, humectant ingredients like glycerin or hyaluronic acid to keep skin looking plump, bouncy and youthful."
Fiona Embleton is a multi-award-winning beauty editor who has tested over 10,000 products in her 10 years + of writing and shooting beauty stories. For the past four years, she was the Senior Beauty Editor at Marie Claire, having previously worked in the role of Beauty Editor at both Stylist and Cosmopolitan. She has recently gone freelance and alongside My Imperfect Life, she has written for titles including ELLE UK, ELLE Canada, Buro 247, Harper's Bazaar Arabia, Vogue Scandinavia, and ES Magazine. Beauty journalism allowed her to marry up her first-class degree in English Literature and Language (she's a stickler for grammar and a self-confessed ingredients geek) with a passion for make-up and skincare, photography, and catwalk trends. She loves jumping on the latest internet-breaking beauty news, dissecting the best red carpet looks, and having the crème de la crème of dermatologists, make-up artists, and hairstylists on speed dial so she can tap them for the best advice. She's a discerning beauty shopper and knows it can be confusing trying to navigate what's hype and what really works. So if she really likes something, you can trust that she has reached that opinion by vetting it against everything else she's ever tried. Her career highs? Interviewing Cate Blanchett and winning a Jasmine Award for the deeply personal feature Cancer Stole My Mother's Scent.