How to trim eyebrow hair effectively according to experts—plus the best at-home products to use
An expert-led guide on how to trim eyebrows—plus, the best eyebrow trimmer for women options to shop now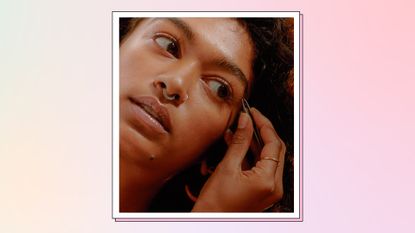 (Image credit: Getty Images)
Brows; for such small features, they can cause a great deal of strife. Fluffy, arched, bleached, pencil-thin…there are many trends, but one that always seems in style is tidy—meaning knowing how to trim eyebrow hair properly is essential.
Even beauty editors have suffered from brow-related misdemeanors and restoring goofed-up brows can be tricky, but—if you can't book an eyebrow threading —we asked the pros how to trim eyebrows for the most flattering results.
Said "results" can be different for different people; some prefer fuller, more shapely brows, others like a neat, timid arch. Whichever shape you prefer, without assiduous grooming, any kind of brow can go awry. Here's how to trim eyebrow hair yourself, according to experts.
Meet the experts on trimming eyebrow hair
Fides Baldesberger is the CEO of Rubis Tweezers and has explained how long it takes for brows to grow back, and which ingredients can help eyebrows to grow.
Sarah Amelia Fogg is a celebrity brow expert and the founder of Brows by Sarah. She has explained how often brows should be trimmed as well as how to do so properly and safely.
Your guide to trimming eyebrows
How often should you trim your eyebrows?
This really depends on the person. "Women's eyebrows aren't as thick and long as men's brows, therefore they shouldn't need to trim them as often," comments Sarah Amelia Fogg, celebrity brow expert and founder of Brows by Sarah. "There also isn't a specific rule on when you should be trimming them as everyone's brows are different, therefore they all need different care."
For example, Fogg notes that: "If you're someone with thin, sparse brows who is trying to grow the hairs, brow trimming should be kept to a minimum to promote maximum growth. However, if you have very thick, long brows then trimming may be part of your weekly grooming routine."
Do you need to prep the skin before trimming eyebrows?
Before you start your hair removal at home session and trim your eyebrows, always make sure that your face is clean. Prepare skin with an exfoliant the day before trimming your brows, which will ensure that any excess dirt and oils that are clogging up your pores are removed. (It's this dirt and oil in your pores that causes breakouts after plucking or trimming.)
Follow with your usual cleanser to ensure that your skin is completely clean. "Always use warm water to wash your face as this helps to relax the hair follicles which therefore makes them easier to remove," Fogg recommends. It's a good idea to trim or pluck your brows after a shower or bath when the hair has been softened from the warmth and steam.
What is the best way to trim your brows?
"When trying to choose the best way to trim your brows, I would recommend starting with tweezers and then moving to scissors or a trimmer if needed," Fogg says. Here's how to do it step by step.
Before you start trimming your brows, prep your skin. Tie your hair back to avoid any distractions and wash your face with warm water.
If you use a lot of product to fill in your brows, I would recommend doing so with your usual makeup so that you can see how you want them to look. This creates an easy-to-follow guide and avoids any over-trimming or mistakes.
Next, use tweezers to pluck any stray hairs. Remember to always approach with caution and never overpluck. Simply stick to tweezing hairs that are outside of your brow outline.
If tweezers aren't enough and you need to move on to scissors or a trimmer, use a spoolie to brush your brow hairs upward to see which hair needs to be trimmed.
Take your specially-designed brow scissors and trim the hairs that sit above the hairline of your brow. Be careful not to cut below the hairline as this will create sparse brows.
After the initial trim, brush the hairs back to their natural shape to assess your progress. If you feel like you need to carry on, brush the hairs up again and continue with caution.
If the hairs are simply too long and thick, use a special brow trimmer for removal. Follow the same process as with scissors, approaching slowly and with caution.
Once you've achieved your perfect brows, finish with a clear styling gel to keep the hairs in place.
What are the most common mistakes people make when trimming brows?
"The main mistake that women often make is to over-trim their brows. Once you've removed a few hairs, many women seem to get addicted and want to make their brows as neat and tidy as possible which often results in the removal of too much hair, Fogg warns.
However, if this is the case for you and you have over-trimmed, don't panic! An effective regrowth serum, such as Wow Brow from Brows by Sarah, will reactivate your hair growth while also strengthening the weak brow hairs.
Do plucked eyebrows grow back?
Sometimes. "If you are using dull tweezers that are breaking the hair rather than plucking them from the root, this could lead to hair becoming very weak and not growing back as usual," says Fides Baldesberger, CEO of Rubis Tweezers. "Also, if you are also plucking one area consistently every few days for years, this can also impact if the hair grows back as this will weaken the hair follicle."
What actually helps eyebrow growth?
Hair growth in general can be linked to genetics, some people's hair grows thicker and faster than others, this includes eyebrow hairs. But if you're starting from scratch to regrow your eyebrow hairs the first thing that'll help them grow is just leaving them alone. "Don't pluck, shave, thread, wax, anything for 6-8 weeks to get the full hair regrowth cycle, and then you can create a brow shape that you'd like," Baldesberger recommends.
Being consistent with eyebrow regrowth serums is also a great way to get brows thicker and hairs longer. "Look for plex ingredients, castor seed oil, peptides, and biotin in the INCI list, as these will help with strengthening and growing hairs," suggests Baldesberger. There are also other factors, such as not wearing an eye mask when you sleep, and not sleeping on your front that can help with regrowth, as friction between the brow hairs and the fabrics can cause sparse patches.
Should you oil your eyebrows?
Yes, oiling your brows is a good way to condition the hairs and hair follicles which in turn can lead to hair regrowth. Fides recommends using castor oil, jojoba oil, and olive oil, "as these all have hair growth and strengthening qualities, but they are also great for the skin as they won't block hair follicles or cause breakouts. They will also treat the skin underneath the brow hairs that is often overlooked when it comes to skincare."
Does Vaseline help eyebrows grow?
"Unfortunately there is little evidence to support the notion that Vaseline can promote eyebrow hair regrowth. It is a very moisturizing component so it could be nourishing the hairs and making them look stronger, but there aren't enough studies to support this," says Baldesberger.
What hormone grows eyebrows?
Prostaglandin is the hormone that signals your eyebrows to grow. "As we get older, our natural prostaglandin production declines, so taking care of your brow hairs at a younger age is very important for how our eyebrows look as we get older," says Baldesberger.
The best eyebrow trimmers for women, as tested by a beauty editor
How we tested the best eyebrow trimmers
Meet the tester
Meet the tester
Charley Williams-Howitt
Beauty editor Charley Williams-Howitt was never overly fussed about her brows, until Kate Moss promptly persuaded her to change the shape of her rather ordinary arch to something else; pencil-thin, 90s brows were in and she wanted in, too. Fast forward 20-odd years and her fascination with the perfect brow hasn't waned, preferring tools that create a full and shapely arch, but also one that gives a tidy finish. Pain-free and easy-to-use are also non-negotiables.
The best eyebrow trimmers
1. Revlon Brow Micro Scissor
Best for precise trimming
Reasons to buy
+
Targets fine hairs
+
Sharp, micro blades
+
Easy to hold
Reasons to avoid
-
Not recommended for coarser, thicker hair
I must admit that I was a little nervous about using scissors on my brows and had visions of slicing off more than needed. BUT, this clever contraption doesn't even look like a pair of scissors. It has sharp, ultra-thin blades that were able to target my fine, individual hairs so I could be precise about trimming and shaping my eyebrows. I should imagine that if your eyebrow hairs were thicker, this wouldn't allow you to grab them so easily. Fogg recommended to me: "when using scissors, trim a small length at a time and then keep brushing the hairs into your natural shape to see what progress you're making."
2. Rubis Classic Stainless Steel Slanted Tweezers
Best for removing the odd stray hair
Reasons to buy
+
Securely grasp hairs
+
Targeted removal
+
Quick fix
Reasons to avoid
-
Not recommended for shaping
-
Blades are sharp so pluck with caution
If I'm doing my makeup and I notice a rogue eyebrow hair, tweezers are my go-to quick fix. Because my eyebrow hairs are quite fine, I sometimes find it hard to grab onto hair to be able to pluck it. However, these have perfectly aligned slanted tips to give complete closure, therefore allowing me to confidently grasp and remove. Game changer. I had to be careful not to go wild and overpluck because it was so easy to do! Tweezers are best used to remove the odd stary hair, not for shaping the arch. The main focus for me is usually the glabella—the flat area between your eyebrows above the nose—and I avoid removing hairs from the top of my brows in case I change the entire shape of my brows by overplucking.
3. Wilkinson Sword Intuition Perfect Finish Eyebrow Shaper, Remover and Trimmer
Best for experienced brow shapers
Reasons to buy
+
Features a safety micro guard
+
Easy to hold
+
Budget-friendly
Reasons to avoid
-
Requires confidence; a little daunting
-
Not as precise as other methods
I have watched TikTokers confidently using a razor to carve out their perfectly-arched brows, but I am not convinced! A blade near my eyes summons all sorts of blood curdling thoughts. However, in the name of beauty testing, I give it a go. First up, the blades of the Intuition Shaper have been designed with small micro guards to help protect my skin and I must say it doesn't look as daunting as I first thought. But I chicken out. Sorry folks, but I think my eyebrows are far too non-existent and fine to take a blade to them. Most of the TikTok videos I've watched feature full, dark and coarse brows, so if this is you and you have a steady hand, try it, but ONLY use a reputable brand like this one with a guard from Wilkinson Sword.
4. Nad's Facial Precision Eyebrow Wax Wand
Best for a professional finish at home
Reasons to buy
+
No mess
+
Easy to use
+
Brilliant results
Nad's packaging may look a little old-fashioned, but this product is revolutionary for me. Never in a million years would I see myself waxing my brows at home, the whole idea just seemed disastrous and best left to the professionals. Yet this Wax Wand is an absolute cinch to use, with no sticky mess, very little ouch and gives great precise results. The kit includes the Wax Wand, cleansing wipes and reusable cotton strips. I wanted my brows to have a more prominent curve, so I applied the wax-gel by simply twisting the wand and smoothing along the bottom of my brow where hairs had started to wander. Then pop on a strip, press down and with a quick whoosh hairs are whipped out from the root. The finish is perfect.
5. Braun Mini Precision Trimmer
Best for travel and for use between appointments
Reasons to buy
+
Small and slim—great for travel
+
Easy to use
+
Removes shorter hair effortlessly
Reasons to avoid
-
Thicker hairs may take a few glides over to fully remove
I sometimes have a few very short hairs that I find impossible to get hold of with tweezers, and usually get frustrated and give up. But this nifty little device has changed that. It picks up the finest of hair thanks to the high precision head. You hold it like a pen to either trim longer hair, shape your arch or get to grips with even the trickiest of fuzz. There's no pain, just a gentle vibrating as it glides along. I love how faff-free and easy this was to use. I'll definitely be taking this away on holiday with me. NB: Please ensure that you're using a trimmer that is specifically designed for brows to avoid any damage or mistakes.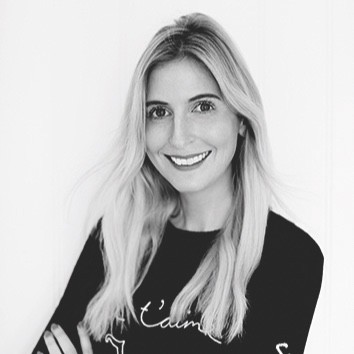 Charley Williams-Howitt has over 20 years of experience working in the beauty industry. As well as previously writing for lifestyle titles, such as woman&home, Woman and Woman's Weekly, Charley has worked for British institutions like Marks and Spencer, John Lewis, and Superdrug creating visual and editorial content cross-platform.
Starting her career in fashion at Cosmopolitan, she eventually moved to the world of makeup, moisturizers, and models, where she has interviewed celebrities and industry icons, reported backstage at MANY Fashion Weeks, shot beauty and hair editorial and scrutinized the ingredients in anything she's testing.